US private sector adds fewer jobs than expected in August - ADP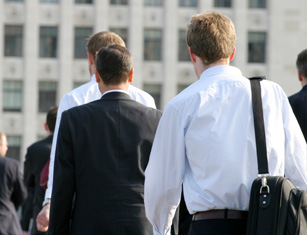 Private sector employment in the US grew much less than expected in August as the spread of the Delta variant took its toll, according to the latest data from the ADP.
Employment rose by 374,000 from July, versus expectations for a 613,000 increase. Meanwhile, the July total of jobs added was revised from 330,000 to 326,000.
Nela Richardson, chief economist at ADP, said: "Our data, which represents all workers on a company's payroll, has highlighted a downshift in the labour market recovery. We have seen a decline in new hires, following significant job growth from the first half of the year.
"Despite the slowdown, job gains are approaching 4 million this year, yet still 7 million jobs short of pre-Covid-19 levels. Service providers continue to lead growth, although the Delta variant creates uncertainty for this sector. Job gains across company sizes grew in lockstep, with small businesses trailing a bit more than usual."
Mark Zandi, chief economist of Moody's Analytics, said: "The Delta variant of Covid-19 appears to have dented the job market recovery. Job growth remains strong, but well off the pace of recent months. Job growth remains inextricably tied to the path of the pandemic."
Small businesses with fewer than 50 employees added 86,000 jobs, while medium businesses with between 50 and 499 employees added 149,000. Large businesses with more than 500 employees created a further 138,000 jobs.
The services sector added 329,000 jobs, while the goods-producing sector created 45,000 jobs.
Andrew Hunter, senior US economist at Capital Economics, said the relatively muted increase in the ADP measure of private employment would appear to suggest that the recent surge in virus cases is weighing on the economy.
"But that reading actually represents an improvement from the 326,000 gain reported in July. More generally, the ADP's poor record in tracking the official figures means that we still expect a reasonably solid 750,000 increase in non-farm payrolls in the employment report due on Friday," he said.
"Admittedly, the details show that the slowdown in private employment growth over the past couple of months has been driven mainly by leisure & hospitality, education & health and 'other services', which would be consistent with the idea that rising virus fears are prompting consumers to avoid high-contact services again.
"That said, the high-frequency activity indicators and the initial jobless claims data suggest there has only been a modest slowdown in the pace of recovery, although the sharp declines in measures of consumer confidence are a little more disconcerting."
Hunter said that even if employment growth does remain relatively strong in August, that's unlikely to be enough for a majority of Federal Reserve officials to support announcing the start of asset purchase tapering as soon as this month.
"The lingering uncertainty posed by the Delta variant suggests that an announcement at the early November meeting, is now marginally more likely."