US jobless claims fall to lowest level since April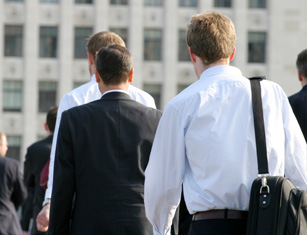 The number of Americans filing for unemployment benefits fell last week to its lowest level since last April, according to data from the Labor Department.
US initial jobless claims declined by 15,000 from the previous week's revised level to 202,000, versus expectations for a reading of 215,000. The previous week's level was revised up by 1,000.
Meanwhile, the four-week moving average came in at 211,750, down 3,000 from the previous week's average, which was revised up by 250.
The four-week average is considered more reliable as it smooths out sharp fluctuations in the more volatile weekly figures, giving a more accurate picture of the health of the labour market.
Continuing claims - i.e. the number of people already collecting unemployment benefits - rose to 1.751m from 1.703m the week before. Analysts had been expecting a level of 1.720.
Artur Baluszynski, head of research at wealth management firm Henderson Rowe, said: "With manufacturing and services ISM numbers coming in strong last week in both the US and Europe, we would expect the market to move on from the coronavirus scare and see a correction pretty fast. The jobs numbers are a noisy lagging indicator, we would like to see less volatility in next quarter's numbers moving averages higher to confirm today's reading. For now, rates are low, unemployment is low and wage pressure is minimal. Yes, we might have a jobs cycle trough behind us at 193k back in April 2019, but it does not necessarily mean a sharp reversal. As long as the economy keeps humming along, the jobs market is likely to move sideways.
"Coronavirus will definitely continue to cause some stress on global supply chains, especially in Asia, but unless we see any meaningful economic deterioration in the deficit developed world economies or in other words, the 'buyers' of global production, the negative impact should be confined mainly to China. Coronavirus is a known risk and should it develop into a complete global pandemic, we could expect a coordinated policy response across the affected regions."