Spain's PSOE and Podemos agree to cooperate on new government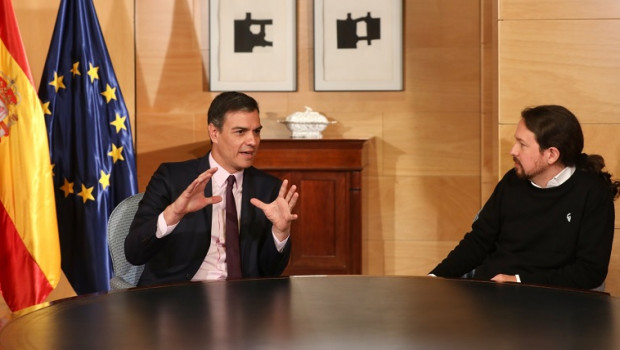 The PSOE party in Spain agreed on Tuesday to cooperate on forming a government with far-left party Podemos in its latest move to secure a majority in parliament
The Socialists won a national election in April, winning 123 seats in the 350-strong Parliament, but needed support from other parties in order to reach 176 and to be able to form a government, with PM Pedro Sánchez seemingly unsure of the right path to take.
After being thrashed at the last elections, Podemos's bargaining power was limited, given that Sanchez might opt to call fresh elections, some well-placed observers said.
However, the centre-right and centrist Popular and Citizens party, which had obtained 66 and 57 MPs, had thus far ruled out voting in favour of the Socialists or even simply abstaining, possibly in the belief that the party led by Sanchez would indeed finally succeed in garnering the support of other groups in the assembly.
Sanchez met on Tuesday with Podemos leader Pablo Iglesias and agreed to what both sides termed a "government of cooperation", which political analysts said also meant Podemos MPs would not hold any ministerial posts.
"Now we to have seek formulas to form a cooperation government," PSOE party member Adriana Lastra said.
The Podemos leader insisted that what most mattered was that his party will be part of the government and will make sure that the key issues are addressed.
"There needs to be a plural government to face the challenges that may come in the future".
With the aim of winning the backing of Podemos, PP and Citizens, on Tuesday Socialist Minister for Development Jose Luis Ábalos again warned of the risk of new elections.