Riksbank pushes out expected date of first rate hike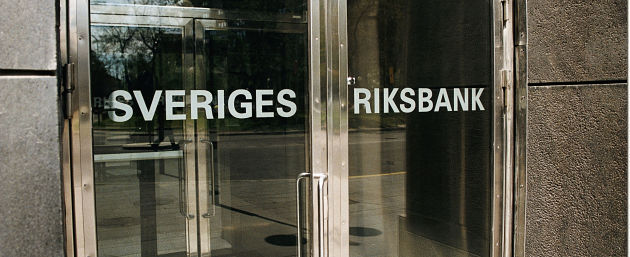 Sweden's central bank became the latest central bank to shift towards a more 'dovish' policy bias on Thursday.
The announcement appeared to come as a surprise to traders, with the country's currency falling rapidly on the back of the news, although some analysts were underwhelmed.
In just the 24 hours before the Riksbank pushed back the expected date of its first rate hike, both the Bank of Canada and the Bank of Japan had also done much the same.
Policymakers in Stockholm kept the benchmark policy rate at -0.25%, as had been widely anticipated, but now they assessed that it would remain "at this level for a somewhat longer period of time than was forecast in February."
"The repo rate is expected to be raised again towards the end of the year or at the beginning of next year and rate rises thereafter are expected to occur at a somewhat slower pace."
Previously, the Riksbank had guided towards a first rate hike in the back half of 2019, subject to its forecasts for growth and inflation panning out.
Commenting on the Riksbank's decision, analysts at Capital Economics reiterated their below consensus view that the repo rate would stay at -0.25% until 2022.
"We think that the dovish shift in tone is warranted. After all, indicators suggest that the economy ground to a halt in Q1," Capital Economics's David Oxley said in a research note sent to clients.
"Moreover, we expect headwinds from the cooling housing market and weak growth in the euro-zone to result in Swedish GDP growth slowing sharply in 2019 and to remain subdued further out."
As of 1702 BST, the US dollar was climbing by 1.01% to 9.5284 in its cross versus the Swedish krona.