Japanese economy rebounds from Covid-19 low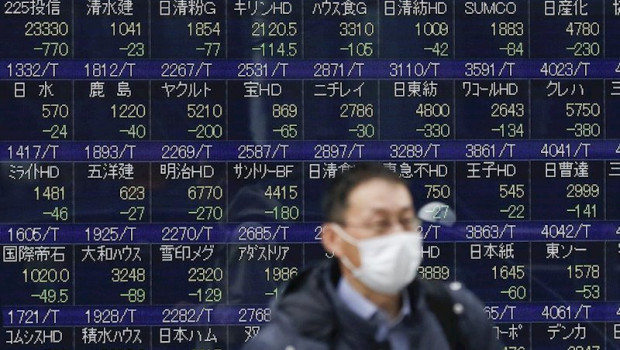 Japan's economy rebounded strongly in the last quarter, government data showed on Monday, beating forecasts.
The Covid-19 pandemic had pushed the world's third-largest economy into recession. But according to preliminary GDP estimates, the economy grew in the three months to September for the first time in four quarters.
The Cabinet Office said GDP had expanded at an annualised rate of 21.4% in the third quarter, well above forecasts for around 18.9%, according to Reuters, and the biggest increase since records began in 1980.
Quarter-on-quarter, GDP rose 5% following the second-quarter's 8.2% fall, which has been revised down from -7.9%. Analysts had been expecting third-quarter growth of around 4.4%.
The increase was largely driven by a rise in private consumption - ahead 4.7% - and improved net trade, as Japan and other countries loosened lockdown restrictions and demand increased.
However, business expenditure continued to decline, down 3.4% and the second consecutive quarter it has fallen.
The data helped boost equities around the world, with the Nikkei 225 closing 2% higher and the FTSE 100 ahead 51 points by 1015 GMT.
But the Japanese government maintained a cautious note .
"The Japanese economy for July-September 2020 is still in a severe situation due to the Covid-19, but it is showing movements of picking up later in the quarter," it said.
Miguel Chanco, senior Asia economist at Pantheon Macroeconomics, said: "The results surprised to the upside, as we expected, but trade did more of the heavy lifting that we initially thought.
"Net trade adding 2.9 percentage points to the headline rate, following the 3.3 percentage point drag in the second quarter, thanks in part of a 7.0% bounce-back in exports, which recouped less than half of the 17.4% collapse in the previous quarter, when the whole world, except for China, was virtually on lockdown."
But looking ahead, Chanco cautioned: "Renewed Covid-19 headwinds domestically and internationally suggest that economic activity will soften significantly this quarter, to 0.4%."
Joshua Mahony, senior market analyst at IG, said: "A 5% third-quarter GDP figure from Japan may not seem entirely impressive given the recent figures in the US (33.1%), UK (15.5%) and Eurozone (12.6%). However, the comparatively smaller rebound in Japanese GDP highlights their success in minimising the second-quarter contraction, with their ongoing success in controlling the virus likely to ensure a more steady and reliable recovery."