IMF's Lagarde defends 'loco' Federal Reserve after Trump slam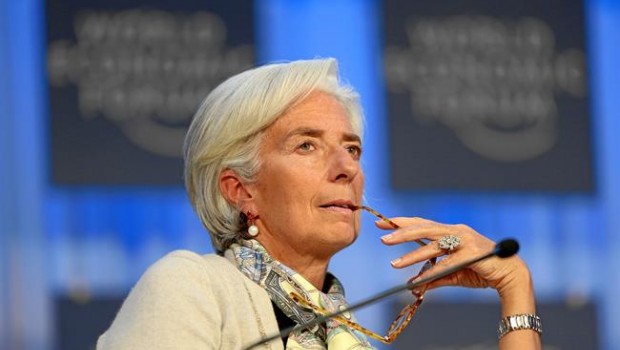 The head of the International Monetary Fund has pushed back at US President Donald Trump, claiming interest rate rises he had dismissed as "ridiculous" were "legitimate and necessary".
The Federal Reserve is looking to normalise interest rates after years of keeping them at record lows, especially as inflationary pressures are now mounting. Interest rates are 2% following two rises this year, and the Fed has signalled more increases to come.
That, combined with a number of other factors, such as the growing trade war between the US and China, has increased volatility on Wall Street and this week shares tumbled.
In an interview on Wednesday about Wall Street and how much his administration's strained relationship with China was to blame, Trump said: "That wasn't it. The problem I have is with the Fed.
"The Fed is going wild. They're raising interest rates and it's ridiculous. That's not the problem. The problem in my opinion is the Fed. The Fed is going loco."
The IMF has long been vocal in its support of the Fed, however, and on Thursday Christine Lagarde reiterated her backing.
Speaking at the IMF's annual meeting in Bali, she called US rate rises "legitimate and necessary" and said she "would not associate [Fed chairman] Jay Powell with craziness. He comes across, and members of his board, as extremely serious, solid and certainly keen to base their decisions on actual information, and to decide to communicate that properly."
She called on global leaders instead to work together, arguing that countries should look to "de-escalate trade tensions, fix the system not break it, [create] the right policy mix and that includes inclusive growth. Everyone is the brother or sister of the other."
Earlier this year, the IMF downgraded its predictions for global growth because of growing trade tensions. The Washington-based organisation said it had downgraded its prediction to 3.7% for 2018 and 2019, from 3.9%, after the US imposed trade tariffs on China.
Lukman Otunuga, research analyst at FXTM, said: "While Trump's renewed criticism of the Federal Reserve played a role behind the steep sell off, there were other key factors brewing in the background.
"It is becoming clear that global equity markets are facing a perfect storm, [with] rising US bond yields, US-China trade disputes, global growth concerns and prospects of higher US interest rates. For as long as these themes remain, appetite for stocks are likely to diminish further."
James Hughes, chief market analyst at AxiTrader, said: "Donald Trump has taken aim at the Federal Reserve, but with the central bank bidding to keep inflation under control as US companies wallow in that surplus cash, which has been repatriated from overseas in the wake of tax breaks, this was arguably a situation that was always going to happen."
Analysts at Morgan Rossiter noted: "The Federal Reserve has in our view again been unfairly criticised by Trump, although understandably so give the attraction of deflecting attention away from rising global trade tensions caused by the US administrations recent policies."