Hong Kong shoved into recession by protest chaos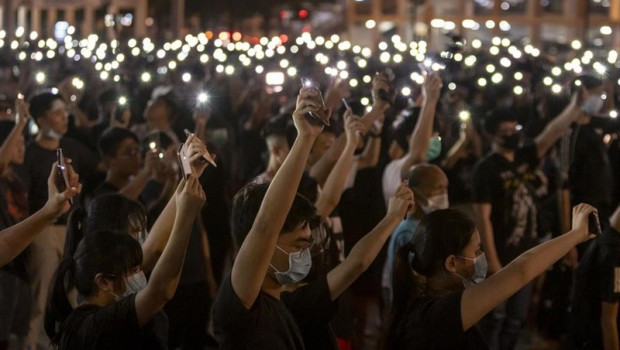 Hong Kong's economy has fallen into recession amid US-China trade uncertainty and months of protests that have resulted in shop closures, public transport interference and a drop in tourism.
Hong Kong's economy contracted by 3.2% on a quarter-on-quarter basis in the three months ended 30 September, a sharp increase from the 0.5% drop recorded during the second quarter.
The decline means that the city has entered a technical recession and, with no sign of an end to the widespread pro-democracy protests that are leaving large portions of Hong Kong at a standstill, analysts are concerned that the outlook remains bleak.
ING analyst Iris Pang said: "As the trade war is expected to linger well into 2020, and there seems to be no end to the violent protests, for the time being, Hong Kong's economy will continue to suffer from negative quarterly growth going into 2020.
"More companies will close, leading to a deterioration in employment. Without the protests, those affected by the trade stand-off might be expected to find jobs in the retail sector. But retailers are suffering too given the demonstrations, with redundancies and no paid leave commonplace."
Retail sales dropped by 23% in August when compared to the same month in 2018, as the number of tourists visiting from mainland China fell by 35%.
Consequently, ING analysts said they now expect Hong Kong's economy to suffer negative quarterly growth in each quarter of 2020, adding that the protests could inflict more damage than the SARS outbreak in the early 2000s.
Meanwhile, a note from Capital Economics noted that shipments through the city are likely to shrink in the coming months as the global economy continues to cool, leading to a further contraction in GDP in the fourth quarter.
However, the note added that the pace of the decline should ease as monetary and fiscal easing, along with a relaxation of property regulations will offer some support to demand.
Capital Economics analyst Julian Evans-Pritchard said: "The upshot is that we think that downward pressure on Hong Kong's economy will ease somewhat and that the city will avoid a destabilising financial crisis or exchange rate regime shift. Nonetheless, Hong Kong's medium-term prospects have dimmed as the protests have exposed the erosion of the city's autonomy."