Government spending may cause 'very modest' interest rate increases, Yellen says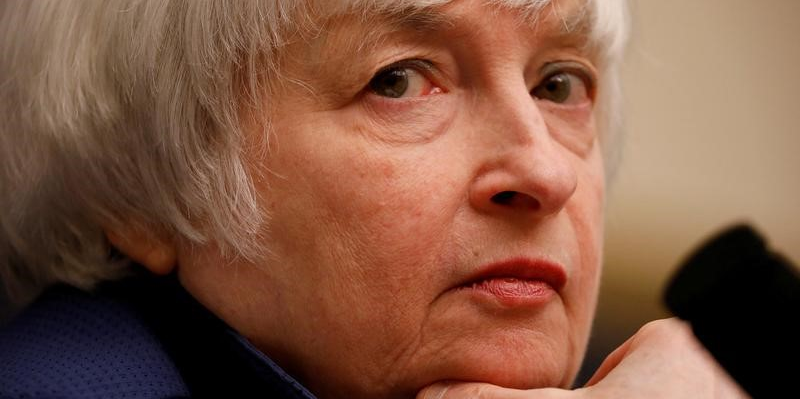 The price of money in the US may need to rise very modestly in order to keep the economy from overheating, the head of the country's Treasury said.
In an interview with The Atlantic, Treasury boss, Janet Yellen, reportedly said: "It may be that interest rates will have to rise somewhat to make sure our economy doesn't overheat [...] It could cause some very modest increases in interest rates."
Her remarks were recorded on Monday and broadcast on Tuesday.
Nevertheless, Yellen also reportedly said plans for heavy government spending would be a net positive for the economy, fostering quicker growth in future.
"These are investments our economy needs to be competitive and to be productive, and I think our economy will grow faster because of them.
"This has a demand effect on the economy but really it's going to have important supply effects on the economy."
At their 27-28 April meeting, the members of the US central bank's rate-setting body, the Federal Open Market Committee continued to emphasise that the recent rise in inflation "largely" reflected "transitory factors".
Nevertheless, in his post-meeting press conference, Fed Chairman, Jerome Powell, also indicated that some areas of the market, in reference to certain more speculative stocks and cryptocurrencies, were overvalued.
On 30 April, Dallas Fed chief, Robert Kaplan, appeared to side with Yellen, anticipating that the central bank would need to raise interest rates in 2022 and arguing in favour of immediately starting a debate about the need to start 'tapering' bond purchases.
Related to the above, according to Reuters, Kaplan told the Montgomery Area Chamber of Commerce that "we are now at a point where I'm observing excesses and imbalances in financial markets" pointing to "historically" high stock prices, tight credit spreads and surging house prices.
Nevertheless, he also said that the US economy might grow faster in 2021 than the 6.5% clip he was currently forecasting.
As well, Kaplan expected the rate of unemployment in the US would fall from 6% at present to 4% by the end of 2021.
On inflation, he reportedly predicted readings of 2.75% or more but indicated that some of the factors behind the acceleration in prices were not transitory, citing consumer spending, supply shortages, rising materials costs, labor shortages, and fiscal spending.
Kaplan currently does not wield a vote on the Federal Open Market Committee.