German GDP shrinks in second quarter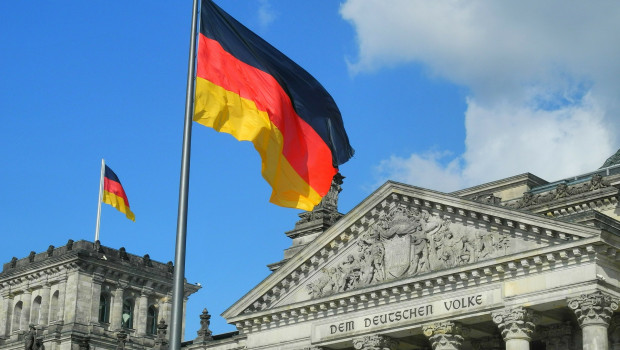 Germany's economy shrank in the second quarter as exports fell, according to preliminary data released by Destatis on Wednesday, sparking worries that the country is teetering on the brink of recession.
Gross domestic product shrank 0.1% compared to 0.4% growth in the first quarter of the year, in line with analysts' expectations.
On the year, GDP grew 0.4%, down from 0.7% but ahead of expectations for 0.1% growth.
ING economist Carsten Brzeski said "today's GDP report definitely marks the end of a golden decade for the German economy".
"Since the end of the 2008/09 recession, the economy has grown by an average of 0.5% quarter-on-quarter every quarter. In fact, the economy grew in 35 out of the last 40 quarters. However, under the surface of these impressive headline numbers, a worrisome trend has emerged. Since 3Q 2018, the economy has been in a de facto stagnation, with quarterly GDP growth at an average of zero percent."
Andrew Kenningham, chief Europe economist at Capital Economics, said: "While there is no breakdown at this stage, the press release notes that household and government expenditure, as well as investment outside the construction sector, all increased. In contrast, there was a drag on the economy from net exports, as exports declined more rapidly than imports.
"This new set-back came as no surprise after we learnt last week that industrial production contracted by 1.5% m/m in June and by nearly 2% q/q in Q2. This in turn was partly due to yet another quarterly contraction in vehicle production.
"Early signs for Q3 look ominous. Manufacturing business surveys for July were all gloomy, as was the ZEW survey for August, published yesterday. And while the services sector should continue to hold up better, there are some signs that the slump is spreading to the labour market."
Claus Vistesen, chief eurozone economist at Pantheon Macroeconomics, said the figures were "not pretty but better than we had feared" based on the monthly data.
"The risk of a recession is now elevated, but indicators for domestic private demand remain relatively resilient, especially in the services sector and with respect to consumers' spending. By contrast, leading indicators for manufacturing and construction suggest that investment is slowing, and today's data suggest that the final Q2 details will confirm this."