Fed's Powell says rate hikes may slow, but path of inflation 'highly uncertain'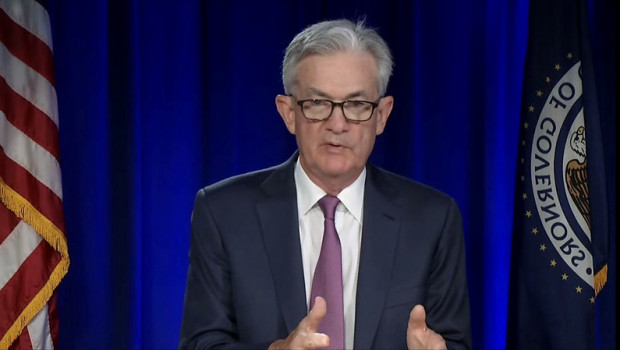 The head of the US central bank opened the door to a downshift in the pace of interest rate hikes as soon as December.
However, what now mattered most was how much more rates needed to rise and for how long they should be kept at a "restrictive" level to return inflation to 2%, he added.
Furthermore, even as he said twice that inflation remained "far too high", Jerome Powell explained that the path ahead for prices was "highly uncertain".
"Despite the tighter policy and slower growth over the past year, we have not seen clear progress on slowing inflation," Powell said in remarks prepared for a speech at the Brookings Institution.
Powell went on to stress the so-called core services inflation was what mattered most for the path ahead for inflation.
The key to that component of inflation was the labour market, he explained.
Chairman Powell also discussed how the US labour force was currently 3.5m people smaller than the Congressional Budget Office had forecast before the pandemic.
He linked that to Covid-related sickness, a wave of early retirements brought on by the pandemic, slower population growth and Covid-related deaths.
The latter two probably accounted for approximately 1.5m missing workers.
Job openings meanwhile were outstripping the number of available workers by around 4.0m.
In parallel, at 290,000 on average over the past three months, hiring was "far in excess" of the roughly 100,000 per month needed to accommodate population growth over time.
So too, wage growth had "ticked" down but was also still "well above" levels compatible with the Fed's 2.0% target for PCE inflation.
And policies to support labour supply were not the Fed's to implement.
Core goods inflation on the other hand fallen from very high levels, but it was too soon to say that it was vanquished, he said.
Housing services inflation meanwhile would likely keep rising "well into next year" and then possibly begin to fall later in 2023.
"The time for moderating the pace of rate increases may come as soon as the December meeting," he concluded.
"Given our progress in tightening policy, the timing of that moderation is far less significant than the questions of how much further we will need to raise rates to control inflation, and the length of time it will be necessary to hold policy at a restrictive level."
Powell also cautioned against a premature easing of policy and saying that "we will stay the course until the job is done."