Fed's Powell says 'probably a good time' to retire word transitory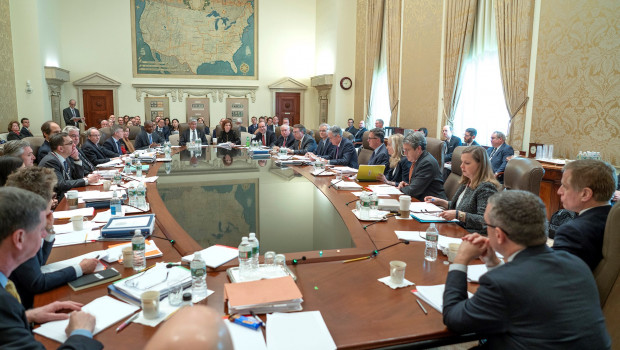 Wall Street gave back the prior session's gains after the head of the US central bank said that it was probably a "good time" time to retire the word "transitory" when talking about inflation and to "try to explain more clearly what we mean".
In testimony before the US Senate Banking Committee, Federal Reserve chairman, Jerome Powell, said that inflation had "run well above 2.0% for long enough that if you look back a few years you could say that inflation averages 2.0%."
Powell added that "transitory" meant different things to different people, but that "we tend to use it to mean that it won't leave a permanent mark in the form of higher inflation."
Hence, it was probably to explain better "what we mean".
Senator Pat Toomey, who had asked Powell what the Fed meant by transitory, went on to point out record asset prices, the fact that house prices were leading the way and that even then the Fed was planning on purchasing $35bn of mortgage backed debt in December alone.
In his prepared remarks for Tuesday's testimony had touched on a similar point, even if from a slightly different angle.
"We understand that high inflation imposes significant burdens, especially on those less able to meet the higher costs of essentials like food, housing, and transportation," Powell said.
"We are committed to our price-stability goal. We will use our tools both to support the economy and a strong labor market and to prevent higher inflation from becoming entrenched."
In the same remarks, the Fed chief also said that most most forecasters, including those at the central bank, anticipated a significant slowdown in inflation over the course of 2021.
Yet it now appeared that the factors pushing inflation higher would linger into "well into next year".
Furthermore, he said that, "the recent rise in COVID-19 cases and the emergence of the Omicron variant pose downside risks to employment and economic activity and increased uncertainty for inflation.
"Greater concerns about the virus could reduce people's willingness to work in person, which would slow progress in the labor market and intensify supply-chain disruptions."