Fed monitoring coronavirus impact and ready to act, Powell tells Congress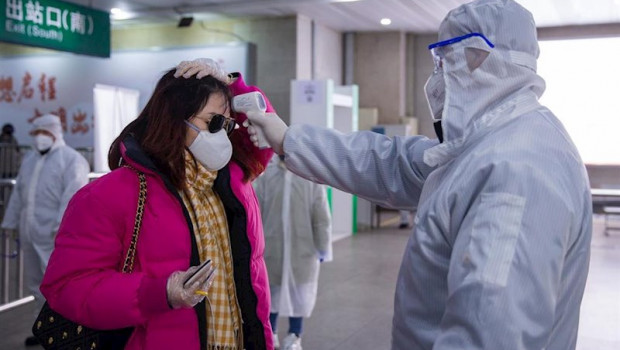 The US central bank, the Federal Reserve, is ready to move on interest rates if needed and is monitoring the fallout from the new coronavirus in China, the head of the US central bank said.
In his semi-annual Moentary Policy Report to Congress, Jerome Powell said the current level of official interest rates was the correct one to sustain the expansion, but that policymakers would act if things changed.
"In particular, we are closely monitoring the emergence of the coronavirus, which could lead to disruptions in China that spill over to the rest of the global economy," he said.
Powell added: "Of course, policy is not on a preset course. If developments emerge that cause a material reassessment of our outlook, we would respond accordingly."
And other risks to the economic outlook remained, Powell said, adding that in the next downturn fiscal policy would likely need to play a greater role due to the current low interest rate environment.
Hence the need to cut the federal budget on a sustainable path when the economy was strong, so that policymakers would have leeway to raise spending in a downturn.
Doing so would also help the economy's growth over the longer-term.
Otherwise, his message was largely upbeat, save when it came to the disparities across regions in the US and the lack of productivity growth.
The economy had showed resilience in the face of global headwinds in the backhalf of 2019 as it moved into its 11th consecutive year of expansion, the longest such stretch ever, he said.
And at 3.6%, the unemployment rate had now been near a half-century low for almost a year with "the benefits of a strong labor market [having] become more widely shared."
Inflation on the other hand had "remained low and stable", but was still running below the central bank's symmetric 2.0% target.
Meanwhile, manufacturing had been weighed down by sluggish growth overseas and "trade developments" since the start of 2019 and risks to the outlook remained, "although some of the uncertainties around trade have diminished recently".
Furthermore, labour force participation continued to be lower than in most of America's peers and there were "troubling" labor market disparities across racial and ethnic groups and across regions in the country.
Labour productivity had also been subpar throughout the current expansion.
Lastly, the Fed chairman reiterated that as banking reserves reached durably ample levels, the monetary authority would downshift towards purchasing US Treasuries "[at] a pace that will allow our balance sheet to grow in line with trend demand for our liabilities".