Fed announces 75bp hike, leaves door open to same in July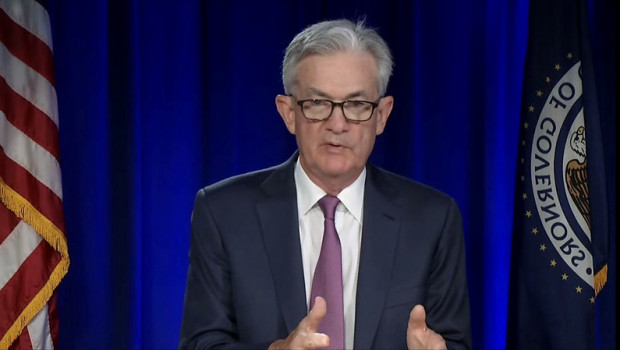 The Federal Reserve hiked interest rates by more than expected on Wednesday and left the door open to another such move in July.
The target range for the Fed funds rate was raised by 75 basis points to 1.5-1.75%, against expectations for a 50bp increase.
Nevertheless, speculation about such a move in June had been rife since the weekend.
In its policy statement, the Federal Open Market Committee said that inflation remained "elevated" reflecting supply and demand imbalances linked to the pandemic, higher energy quotes and broader price pressures.
So too, the invasion of Ukraine was creating additional upward pressure on prices and dragging on economic growth globally.
Having said that, during his press conference, Fed chairman, Jerome Powell, said that he did not expect 75 bp hikes to become "common".
"I'd like to think that out guidance is going to be credible, but we are always going to act with flexibility", he added.
Also worth noting, one FOMC member, Esther George dissented on Wednesday's decision, casting a vote for a smaller 25bp hike.
Nevertheless, some economists were unconvinced, among them Ian Shepherdson, chief economist at Pantheon Macroeconomics.
Shepherdson was openly skeptical, pointing out how Fed policymakers' forecasts for the core price deflator for personal consumption expenditures in 2022 had in fact only risen by two tenths of a percentage point to 4.3% since March.
And yet they now expected 325bp of interest rate hikes over the course of the year, against 175bp beforehand.
"An extra 150bp in hikes for two tenths on the core PCE? The Fed can't do anything about the surge in energy prices driving up the headline rate, so the only economic explanation for this aggressive swerve is that they fear that expectations could become unanchored.
"Surveys of consumer inflation expectations have risen, but wage growth peaked last summer and clearly has slowed in recent months; that's much more important, in our view.
"We think core inflation will fall faster than the Fed and markets think, especially core PCE, so we expect the rate frenzy in markets to calm over the summer as incoming inflation, wages, and housing data make it clear that the Fed does not face the catastrophe that some investors and commentators expect."
-- More to follow --