Eurozone inflation nudges lower in June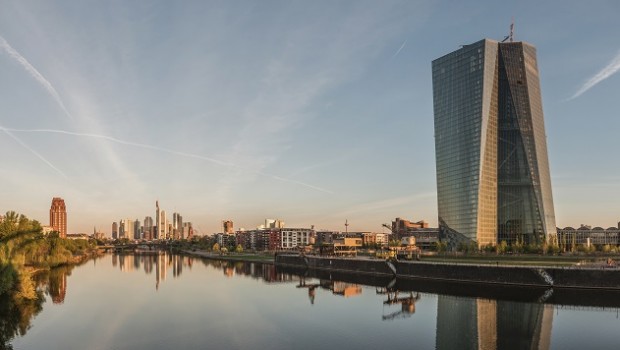 Eurozone inflation eased to 1.9% in June, official data published on Wednesday showed, in line with forecasts.
Eurostat, the European Union's statistics office, said in its 'flash' estimate that annual inflation softened 0.1 percentage point on May's 2.0%.
As well as matching consensus, the estimate was in line with the European Central Bank's target of "below, but close to" 2% for inflation.
The core rate – which strips out the volatile energy, food, alcohol and tobacco components – was also in line with consensus, easing to 0.9% from 1.0% in May.
Energy is estimated to have fallen to 12.5% from 13.1% a month earlier, while non-energy industrial goods rose to 1.2% from 0.7%. Food, alcohol and tobacco nudged ahead to 0.6% from 0.5%.
But gains in services' prices eased, with the flash estimate coming in at 0.7% compared to 1.1% in May.
Among individual members, Germany's annual inflation rate was estimated to be 2.1%, down on May's 2.4%; Spain's was flat at 2.4%; and France's and Italy's were 0.1 percentage point higher at 1.9% and 1.3%, respectively.
Claus Vistesen, chief Eurozone economist at Pantheon Macroeconomics, said: "The next six months will be wild, in both the headline and core.
"Base effects from last year's temporary VAT cut in Germany will hit the numbers next month, driving up inflation in core goods. This points to a further gain in non-energy goods inflation, but shifts in the timing of summer sales in Italy and France likely will drive down clothing inflation sharply in July.
"Elsewhere, we have a cut in VAT on electricity in Spain, which will drive down inflation electricity sharply over the next six months.
"This is all before we get to the unpredictability of a reopening bump in Covid-sensitive prices, mainly in services. All we can say is, brace for volatility."
Bert Colijn, senior economist, Eurozone, at ING, said: "Overall, the small decrease in June headline inflation is not so relevant.
"What's more important is the imminent surge in goods and services inflation. For now, most of the evidence points to this being largely temporary, but upside risk to the inflation outlook haven't been this substantial for years, and should keep the ECB on the edge of its seat."