Eurozone industrial production eases in May, missing forecasts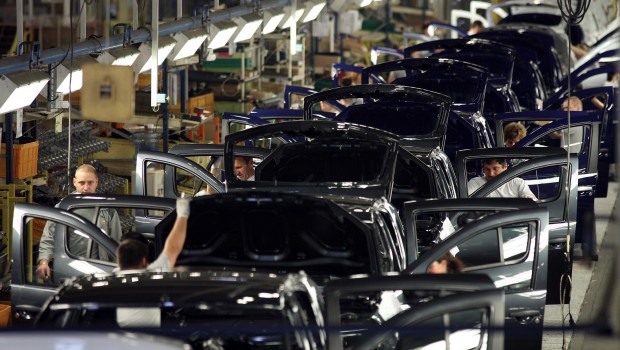 Industrial production fell across the Eurozone in May, official data showed on Wednesday, held back by supply constraints.
According to Eurostat, the European Commission's statistics office, seasonally-adjusted industrial production eased 1.0% -below analyst expectations for a 0.3% decline - and by 0.9% in the wider bloc month-on-month. In April, production rose by 0.6% in the Eurozone and by 0.5% in the European Union.
Within May's figure, production of non-durable goods was off 2.3%, energy declined 1.9%, capital goods fell 1.6% and intermediate goods was down 0.2%. Only durable consumer goods saw a rise in production, up 1.6%.
Germany, the bloc's biggest economy, reported a 0.6% decline, against April's figure of 0.0%. Spain fell 0.8%, France 0.3% and Italy 1.5%.
Year-on-year, industrial production was ahead 20.5% and 21.2% in the Eurozone and EU respectively.
The manufacturing sector has been hit by disruption to supply chains in recent months, caused primarily by the pandemic, with the automotive market in particular rocked by a global shortage of semiconductors.
Bert Colijn, senior economist, Eurozone, at ING, said: "Supply chain problems continue to weigh on the Eurozone industry, causing production to fall.
"Auto production is a big culprit for the monthly decline in May, which…is now about 15% below production levels seen in November."
But he added: "The outlook for the manufacturing industry remains bright despite disappointing production figures. Surveys suggest that demand continues to flow in at a very fast pace and that backlogs of work are increasing. This means that the big production rebound has not peaked, but mainly pauses because of the limited availability of inputs.
"We expect further improvement when supply chain problems are resolved, and much more support to the GDP recovery from manufacturing in the third and fourth quarters."
Melanie Debono, senior Europe economist at Pantheon Macroeconomics, said: "The decline was no surprise, given timelier national data pointing to a fall in softness in Germany, France and Italy.
"If production held steady in June, it would have fallen by 0.2% over the second quarter as a whole. This is much weaker than the first quarter's 1.1% quarter-on-quarter increase, and would mean that the sector was a small drag on GDP growth in the second quarter. We are hopeful for a rebound in June, given the continued strength in the business surveys.
"Looking ahead, it's likely that supply constraints will continue to weigh on industry until at least the end of the year, but we suspect that industry will still make a positive contribution to GDP growth during the second half."