Enormous blast rocks Beirut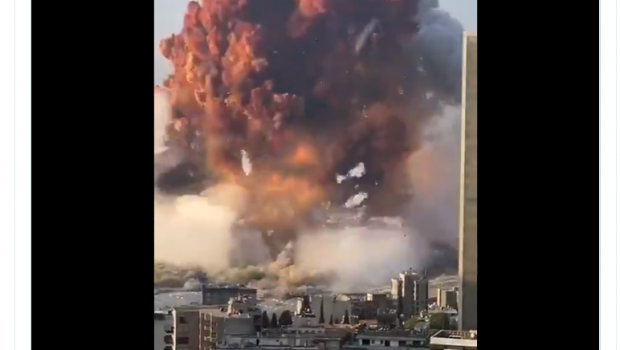 An enormous blast rocked all of Beirut shortly before 1700 BST with initial reports citing official sources saying that it was the result of an accidental fire at a fireworks depot.
3rd video from another angle. Initial reports that explosion occurred due to accidental fire break in fireworks cache #Lebanon #Beirutpic.twitter.com/1WnCO6N0HI

— Hemat (@Himat75) August 4, 2020
WATCH: Aftermath of Beirut's massive explosion. Many feared dead pic.twitter.com/55siEnzLSU

— BNO News (@BNONews) August 4, 2020
The blast came ahead of the expected verdict in a trial against four members of Iran-backed Hezbollah for the 2005 assassination of former Prime Minister Rafik Hariri, BBC reported.
A second possible explosion was reported at the Hariri residence in the city.
Stocks on Wall Street appeared unfazed by the news, as did crude oil futures, with front-dated Brent up by just 0.29% to $44.28 a barrel on ICE as of 1817 BST.
December gold futures however were 1.64% higher to $2,018.8/oz..
Commenting on the explosion right after it happened, Dr.Matthew Schmidt, an Associate Professor of National Security and Political Science at the University of New Haven said: "We don't know what caused it, but this was an extraordinary explosion. All we know so far is that ceilings collapsed for miles around and there are a lot of injured, and surely in the hours to come, sadly, many dead.
"If it was terrorism it would represent a really terrifying escalation in capability. But again, all we know is that it happened at port facility. There is no indication this is terrorism related, but we can't rule anything out."
There was also some speculation on Twitter, on the part of local observers, that the explosion might be linked to an arms depot.
The head of Lebanon's General Security ministry, Abbas Ibrahim, later reportedly confirmed that the explosion, which resulted in a mushroom cloud reaching high above the city took place at a storage depot for highly explosive materials, although it was not clear to whom the materials had belonged.
According to The Independent, the materials had reportedly been seized from a ship several months before.
Lebanese Army source just told me no cause confirmed yet for explosions in Beirut but possibly a "container of fireworks was burning and the fire spread to reach a nitrate warehouse that led to this massive explosions."

— Abby Sewell (@sewella) August 4, 2020