Coronavirus helps push China inflation to eight-year high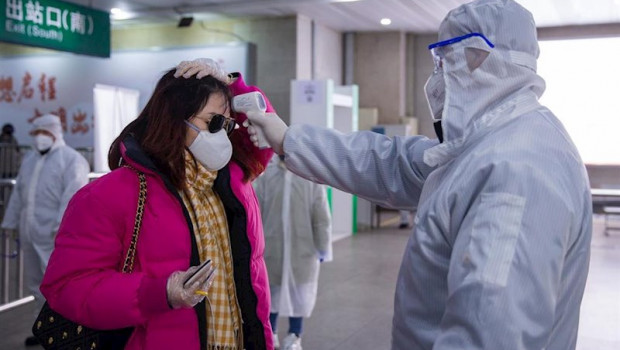 Inflation in China has surged to an eight-year high, after the coronavirus outbreak disrupted supply chains and households scrambled to stock up on essentials.
China's National Bureau of Statistics said the country's consumer price index rose to 5.4% in January, the highest since 2011. It was also ahead of consensus; most analysts had been looking for a rise of around 4.9%. In December, CPI rose 4.5%.
Food prices surged 20.6%, while the price of pork – which has been under pressure since last year's outbreak of swine fever – soared 116% year-on-year.
The NBS attributed the hike in January's CPI to the Lunar New Year holiday and the coronavirus outbreak. Since the virus first emerged in December in Wuhan, the capital city of the Hubei province, there have been around 900 deaths and more than 40,000 reported cases in the country. Wuhan, which has around 11.0m residents, has been under lockdown for weeks as the authorities seek to control the outbreak.
The World Health Organisation declared it a global emergency at the end of January.
Freya Beamish, chief Asia economist at Pantheon Macroeconomics, said: "We got this one wrong. Services inflation tends to leap in the month of the Lunar New Year if the timing differs from the year before. On this occasion, however, we had thought that virus-related discounting would provide more of an offset to those calendar distortions.
"Instead, services inflation increased to 1.5% in January, from 1.2% in December, though it was due a bounce. We were caught out too by food inflation."
However, most analysts agreed that despite the surge in CPI, China's economy was still likely to suffer longer-term as the outbreak disrupted the movement of goods and services.
Said Pantheon Macroeconomic's Beamish: "January likely was the peak. Food inflation should now pull back, while energy inflation will soon peak. Services inflation also will correct down after the holiday, while discounting as a result of virus-damaged demand will also kick in this month."
In a note, analysts at Rabobank asked: "How does one see inflation moving in an economy where much of it is under lock and key, but where those parts that are in demand do not have enough supply? A very mixed, and ugly, picture of biting deflation and inflation that economic models are not set up to assume.
"It certainly will not make the People's Bank of China's job any easier, even if it is clear that it will be throwing money at the economy ahead."
Ipek Ozkardeskaya, senior analyst at Swissquote Bank, said: "The surge in inflation revived worries that the People's Bank of China would have less freedom to ease its monetary policy to give support to the Chinese economy hit by the coronavirus outbreak, following more than a year-and-a-half long trade frictions with the US."
Separately, the NBS said producer prices had risen 0.1% year-on-year, reversing a 0.5% decline in December. The data were helped by the truce in the US-China trade war, although analysts warned that coronavirus would likely depress the figures going forward.