China's manufacturing sector softens in June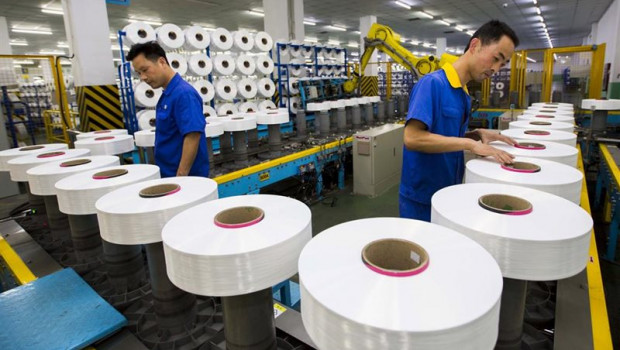 Economic growth in China eased in June, official data showed on Wednesday, as the country's manufacturing and services sectors both softened.
The country's manufacturing purchasing manager's index was 50.9 in June, little changed on May's 51.0, according to the National Bureau of Statistics. The reading was only marginally higher than consensus, for 50.8
The non-manufacturing PMI was 53.5, meanwhile, compared to May's 55.2 and below the consensus, for 55.3.
It was weighed down by the services sector, with its sub-index dropping to 52.3 from 54.3 in May, after Covid outbreaks hit hospitality and catering companies particularly hard. In contrast, construction held steady at 60.1.
As a result, the composite PMI eased to 52.9 from 54.2 a month earlier.
A reading above 50.0 indicates growth, while a reading below it indicates contraction.
Iris Pang, chief economist, Greater China, at ING, said the slight drop in manufacturing PMI was "largely a result of Covid, which has affected factory output and also some new export orders, due to the rising waves of infections and resultant restrictions in some neighbouring economies.
"The Chinese government policy to deter speculation on commodity prices has also lowered input prices. These factors combined yielded a lower PMI in June."
But she added: "When I look at the economy, the growth engines are still there. Consumption is moderately strong and is improving. External demand has yet to peak, and therefore China's exports could be stronger when Covid subsides elsewhere in the world."
Freya Beamish, chief Asia economist at Pantheon Macroeconomics, said: "The official manufacturing PMI was little changed…but there is a lot going on in the details. The output sub-index fell to 51.9, from 52.7, but the domestic and foreign new orders sub-indices were closer to stable, suggesting that the output softening is temporary. Backlogs were also cleared at a slower pace.
"In contrast, the stock of finished goods index rose to levels that we associated with re-stocking, even though it remains well below 50. That points to a curb on goods prices rises, but the lag is long.
"Commodity prices have been choppier in the past few months, and that is still feeding through; we think price rises will pick up again next month. For now, these data suggest a more modest rise in PPI inflation in June, to 9.3%, from May's 9.0%."
TD Securities said: "We expect manufacturing momentum to continue to ease. A weakening credit impulse, as the authorities attempt to cap any build in leverage, especially in the real estate sector, is expected to cap manufacturing sentiment. We expect services to continue to outperform, as China's Retail sector builds up momentum.
"However, as indicated in the June services PMI, recovery was not as strong as expected this month, suggesting some lingering caution among consumers and retailers."