China resumes liquidity injections as data disappoints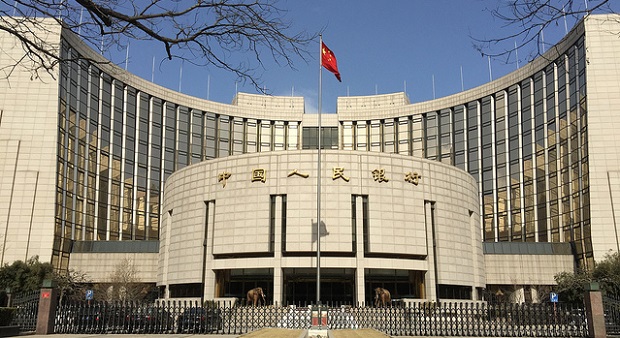 China's central bank reacted to rising bond yields by injecting 60bn yuan ($8.8bn) into the country's banking system on Wednesday morning, as data showed a shrinking money supply and fewer new bank loans than expected.
Making its first injection for two weeks, the People's Bank of China acted as bond yields spiked sharply in September to their highest level since June. The PBoC on Wednesday conducted 60bn yuan of seven-day reverse repos at an interest rate of 2.55%, unchanged from the previous operation.
The bank said its move was aimed at offsetting the impact of tax payments and government bond issuances and keeping liquidity in the banking system at a reasonable and ample level, according to China Daily.
Domestic and regional shares remain under pressure amid trade tensions and fears over a debt bubble, with the Shanghai Composite Index closing close to a four-year low and alongside the Hang Seng both technically in bear market territory. Meanwhile the benchmark MSCI Asia Pacific Index fell for a tenth consecutive day to extend its decline to almost 5% in its worst run since 2002, with South Korean and Indonesian equity indices both down roughly 15% this year.
The lack of response from equities suggests the PBoC will have to inject a lot more money into the Chinese economy to stop the slide, said Kathleen Brooks at Capital Index, with the money supply shrinking and recent trade balance figures also a hindrance as they suggest exports have been impacted by US trade policy.
"Although this figure sounds huge in comparison to Western money supply levels, it is worth noting that this is one of the lowest ever levels for money supply in China, and the money supply is shrinking at the same time as the economy is slowing, which could exacerbate economic conditions.
"This also gives the PBOC room to inject more liquidity into the financial system if they deem fears over levels of bad debt to be inferior to fears about the health of the Chinese. This is the path that the Federal Reserve took in 2008, it pumped money into the US financial system to ease credit crunch fears emanating from the financial crisis that was caused by bad debt."
Among other data on Wednesday also showed the Chinese money supply was shrinking, with the headline M2 figure slipping to 8.2% for August, down from 8.5% in July.
Lending data from the PBoC also revealed credit growth stabilised in August, though economists said further policy easing is likely to be needed to prevent it from slipping again in the coming months.
Chinese banks RMB 1,280bn in net new local currency loans in August, down from RMB 1,450bn a month before and below the Bloomberg consensus of RMB 1,400bn.
The PBOC's measure of aggregate financing to the real economy increased by a net RMB 1,520bn, up from RMB 1,042bn and ahead of the expected RMB 1,300bn.
New lending figures are highly seasonal and almost always rise in August, Capital Economics noted, with year-on-year bank loan growth holding steady at 13.2% and a slowdown seen in some other forms of credit as regulatory tightening continued to weigh on shadow financing, with AFRE growth declining from 10.3% to 10.1%, the slowest pace since 2005.
"But there was an offsetting pick-up in the outstanding value of government bonds. As a result, the broad measure credit growth that we calculate, which adds government bonds to the AFRE data and which is arguably the best overall measure of the trend, held steady at a multi-year low of 10.9%," said economist Julian Evans-Pritchard.
"The upshot is that the jump in local government bond issuance last month, part of official efforts to support infrastructure spending, helped to avert a further slowdown in overall credit growth. Local governments won't be able to continue issuing bonds at this pace for much longer given that they are close to hitting their annual quotas. Policymakers will soon need to turn to other measures, such as further monetary easing or a relaxation of constraints on off-budget local government borrowing, in order to put a floor beneath credit growth and help prop up economic activity."