Societe Generale net income rises 16pc in first half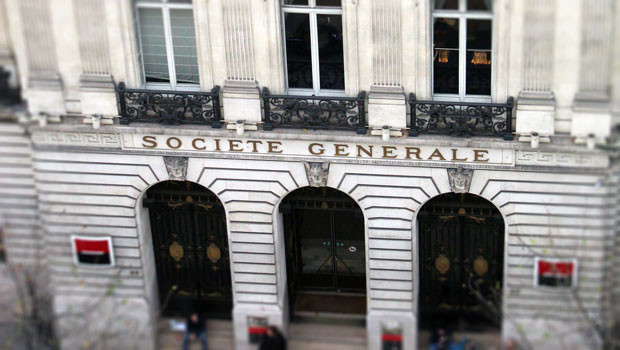 Societe Generale reported underlying group net income of €3.1bn in its first half on Wednesday, up 16.3% year-on-year, although its reported net income was a negative figure, at €640m.
The French banking giant said its underlying profitability in the first six months of the year, or return on tangible equity, was 10.8%.
Looking at the second quarter, it reported revenue growth of 12.8% across all of its business, along with "good cost control" and an improvement in its cost-to-income ratio to 61.8%.
Its cost of risk was described as "low" at 15 basis points, with a "limited level" of defaults.
Societe Generale said it had now exited from Russia in the wake of the country's ongoing invasion of Ukraine, recording a €3.3bn profit and loss impact before tax, and a "very limited" impact on capital.
Underlying group net income totalled €1.5bn in the second quarter, or -€1.5bn on a reported basis, while its underlying profitability was 10.5%.
The bank said its CET1 ratio was 12.9% at the end of June, 360 basis points over its maximum distributable amount, as it launched its 2021 share buyback programme of €915m.
It said it had a 2022 distribution provision of €1.44 per share at the end of the first half.
Looking ahead, Societe Generale said it was targeting revenue growth in 2025 above or equal to 3% of its 2021 to 2025 compound annual growth rate, as well as an improvement in its cost-to-income ratio below or equal to 62%.
Its expected profitability in 2025 would be a 10% return on tangible equity, with a target CET1 ratio of 12% post-Basel IV.
The board said it would maintain its payout policy at 50% of underlying group net income, with up to 40% of the distribution being in the form of share buybacks.
"The second quarter concluded two years of intense and disciplined execution of our various strategic projects," said chief executive officer Fréderic Oudéa.
"We have successfully simplified and strengthened the resilience of our business model, transformed our businesses to support the changing needs of our customers and the far-reaching transformations around digital technologies and ESG, and invested in a targeted manner in businesses with strong growth potential.
"We combined, in the first half, strong growth in revenues and underlying profitability above 10% and we were able to manage our exit from the Russian activities without significant capital impact and without handicapping the group's strategic developments."
Oudéa said those dynamics and performances meant the company was "confident" both in the short term, in an "undeniably more uncertain" environment, and in the medium term.
"By 2025, having reaped all the benefits of the numerous strategic and operating efficiency initiatives under way, we confirm our ability to deliver profitability of 10% on the basis of a target core tier 1 capital ratio of 12%, while maintaining an attractive distribution policy for our shareholders."
At 1343 CEST (1243 BST), shares in Societe Generale were up 2.68% at €22.22.
Reporting by Josh White at Sharecast.com.