Serco signs £800m contract with MoJ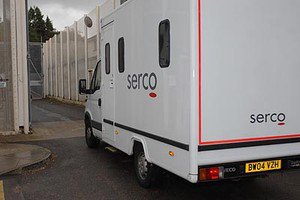 Serco has signed a 10-year, £800m contract with the UK Ministry of Justice (MoJ) to provide prisoner escort and custody services for the South of England.
The new contract, which begins on 29 August 2020, will put Serco in charge of transporting prisoners between prisons and courts, as well as the custody of prisoners while at court.
The company said it was investing in a new fleet of vehicles and an IT upgrade programme which it reckons will deliver further improvements to the "strong performance and innovation" it has already delivered over recent years.
The contract will incur mobilisation and transformation costs of around £4m that will be charged to profit in 2020 in accordance with IFRS15.
Chief executive officer Rupert Soames said: "We are delighted to have been awarded this major contract to provide prisoner escort and custody services for the Ministry of Justice across the whole of the South of England region.
"Looking after prisoners as they are transported between secure locations and during their time in court is a sensitive and demanding role and their welfare and security is at the heart of our operations. In recent years our performance has steadily and significantly improved, and today our team provides an outstanding service in what are often very challenging conditions."
At 1120 GMT, Serco shares were up 1.1% at 156.73p.