Roche gets approval in China for Tecentriq lunc cancer therapy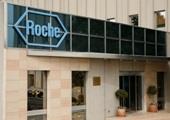 Roche announced on Friday that China's National Medical Products Administration (NMPA) has approved 'Tecentriq' (atezolizumab) in combination with chemotherapy, being carboplatin and etoposide, for the first-line treatment of patients with extensive-stage small cell lung cancer (ES-SCLC).
The Swiss drugmaker described lung cancer as the most common cancer, and the leading cause of cancer death in China.
It said overall, SCLC accounted for around 15% of all lung cancer cases and, with two-thirds of patients diagnosed at the 'extensive' stage, the prognosis for people with that form of the disease was poor.
The average five-year survival for people with ES-SCLC was only 2%, the company explained.
It said the approval was based on results from the phase 3 'IMpower133' study, which showed that Tecentriq in combination with chemotherapy helped people live "significantly" longer compared with chemotherapy alone.
The combination also significantly reduced the risk of disease worsening or death compared with chemotherapy alone, Roche said.
Follow-up analysis suggested that at 18 months, the overall survival rate was 34% for people receiving the Tecentriq-based treatment, compared to 21% for people receiving chemotherapy alone.
Safety for the Tecentriq and chemotherapy combination appeared consistent with the known safety profile of Tecentriq, Roche said.
The results represented the first clinically meaningful advance in the first-line treatment of ES-SCLC in more than 20 years, it added.
In January 2020, the NMPA also accepted the supplemental biologics license application (sBLA) for Tecentriq in combination with 'Avastin', or bevacizumab, for the treatment of people with unresectable hepatocellular carcinoma (HCC), the most common form of liver cancer, who had not received prior systemic therapy.
The submission was based on the results from the phase 3 'IMbrave150' study, which met both of its co-primary endpoints, demonstrating statistically significant and clinically meaningful improvements in overall survival and progression-free survival compared with the current standard of care, sorafenib.
Roche said it had an "extensive" development programme for Tecentriq, including multiple ongoing and planned phase 3 studies across lung, genitourinary, skin, breast, gastrointestinal, gynaecological, and head and neck cancers.
That included studies evaluating Tecentriq both alone and in combination with other medicines.
"Small cell lung cancer is an area of major unmet need in China and one that has seen limited advances until now," said Roche's chief medical officer and head of global product development, Levi Garraway.
"This approval makes Tecentriq the first cancer immunotherapy available in China for the initial treatment of extensive-stage small cell lung cancer less than a year after the US FDA and EMA approvals, marking a swift and important step forward for patients with this aggressive and difficult-to-treat disease."