Banks accused of forex rigging in FCA investigation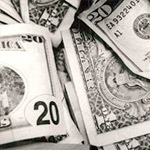 The Financial Conduct Authority (FCA) has accused six banks of system and control failures as the result of its investigation into the alleged manipulation of global currency markets.
Final negotiations on the investigations will take place in November, now that the FCA has posted letters out to the taxpayer-owned Royal Bank of Scotland, Barclays, JPMorgan, Citigroup and UBS among others, detailing initial findings.
The inquiry was launched as part of an international effort by over 20 different global authorities to establish if and how 15 banks managed to rig part of the $5.3tn a day forex market in London.
With regards to a suspected breach in the regulating rules, this probe aims to catch and eliminate any corruption lurking in financial market regions.
The fines could total £1.5bn but a settlement would mitigate costs substantially.
A similar controversy occurred during the Libor scandal, where the FCA fined a group of banks and institutions over £360mn for rigging another interest rate benchmark.
The total amount paid out over Libor reached $6bn, or £3.7bn, and FCA head Martin Wheatley has said this new instance of rule-breaking is "every bit as bad", according to The Independent.
None of the banks have confirmed or denied the receipt of any letters.