Exclusive: UBS's Andrea Orcel did take a hair cut on 'buy out' from Santander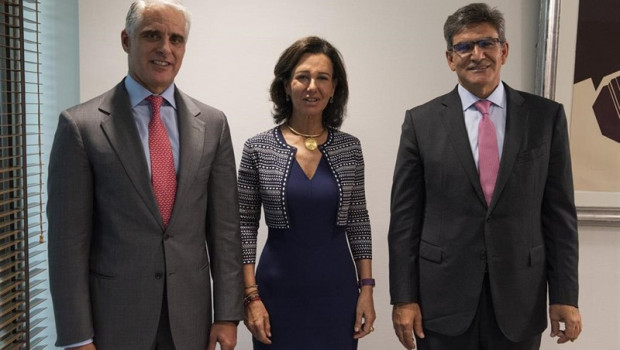 Madrid and London got a reprieve on Friday from the summer of 2019 heatwave that had blanketed most of Europe, with maximum temperatures falling to a relatively cool 31 and 24 degrees centigrade, respectively, but in Santander's boardroom just the opposite was probably true.
Santander's corporate governance controls were squarely in the market spotlight at the end of the week, after a flurry of reports, which appeared to call into question - yet again - the lender's handling of the appointment of former UBS investment bank chief, Andrea Orcel, on 25 September 2018, and its sudden U-turn just a few months afterwards, on 15 January.
Some of those same reports also appeared to leave some of the arguments of Santander's lawyers in serious doubt and, according to sources, at one point Orcel even thought that he had reached an agreement with the lender for an amicable parting of ways.
A report published in the Spanish press early on Friday, citing the long-awaited reply from Santander's lawyers to the €100.0m lawsuit presented by Orcel against the lender for "breach of contract" on 27 May, alleged that at the turn of the year the former UBS banker had obtained €13.7m in deferred bonuses from the Swiss bank.
More to the point, Orcel had refused to deduct that amount from the 'buy-out' of "up to €35.0m" in shares that Santander had agreed to pay him in order to compensate for the deferred bonuses and awards that he stood to lose by switching employers, that report said.
In a statement reportedly published later on Friday by Santander itself, which was not immediately visible on Santander's corporate website nor on that of Spain's stockmarket regulator, the CNMV, the lender reiterated that Mr.Orcel had not been willing to deduct the €13.7m received from UBS in April from his signing-on fee.
Santander reportedly also said that it had decided to go public "in view of leaks, which have occurred with the purpose of creating a wrong impression of the facts."
It also accused Mr.Orcel of "dubious ethical and moral behaviour", saying that it had learned that in January the banker had begun recording telephone conversations with Santander executives.
Nonetheless, one of the sources that agreed to speak to Sharecast on condition of anonymity was quick to point out what he saw as a potentially misleading information, explaining that "recording your calls in Spain is legal and normal and admissible as evidence according to legal experts."
For their part, Santander's lawyers reportedly added that Orcel's refusal to deduct those bonuses from his compensation had pushed the cost of hiring him past the lender's original expectations; hence the board's decision to walk back on its decision.
The lawyers also alleged that at the end of December 2018 Orcel asked Santander to compensate him for the interest and dividends that he had foregone by throwing his hat into the ring with the lender - to the tune of an additional €3.7m - further cementing the case against his hiring.
But according to the same person who was familiar with the matter, as far back as on 24 September - when the lender's board inked an 'offer letter' to Mr.Orcel - Santander was already aware that Mr.Orcel would receive those bonuses from UBS and the agreement had clearly stated that Santander would make him whole on any losses suffered below €35.0m coming from his UBS leave behinds.
Apparently also contradicting the claims of the lender's lawyers, the same source told Sharecast that Orcel had in fact shown his willingness to deduct those awards from the compensation that was now due to him from the lender.
A second source also explained to Sharecast that the compensation package agreed with Santander on 24 September had been designed, from the start, to take into account various factors, including the fact that the Italian banker would have to change his residence from a relatively low tax jurisdiction, namely Switzerland, to a relatively high one, Spain.
Furthermore, the package already included an implicit 'hair cut' with respect to what Orcel would have earned had he stayed at UBS.
As well, that second source emphasised how the real value of any share based compensation was in fact, typically, quite sensitive to the performance of the underlying share price and in some cases the recipients faced potentially considerable downside risks, as the previous financial crisis had shown.
Already during the previous week, reports had questioned the rationale provided on 15 January by Santander not to proceed with Orcel's hiring.
On that occasion, Santander had said in a statement to the market: "[It has] become clear that the cost to Santander of compensating Mr Orcel for the deferred awards he has earned over the past seven years, and other benefits previously awarded to him, would be a sum significantly above the Board's original expectations at the time of the appointment."
Yet according to reports published two weeks before, the offer letter signed by Orcel the day before his appointment, on 24 September, and in which Santander had set out the terms of its new CEO's remuneration package, the lender had agreed to pay annual gross compensation of up to €10.0m gross.
The letter, which had apparently been signed by the Secretary of Santander's Board, Jaime Perez Renovales, also stipulated that Mr.Orcel would receive a one-time sign-on bonus of €17.0m in cash.
For the board and the remuneration committee's members not to have both agreed to an offer letter that included specifics related to financial matters for such a high-level appointment to be extended might be seen to call into question the corporate governance controls in place at Santander.
So too, the lender's assertion to the market, as per its official statement to the market on 15 January, that it did not know that it might have to pay as much as approximately €52.0m to bring Orcel onboard had apparently already been cast into doubt.
Worth noting, the second source familiar with the matter also indicated to Sharecast that they believed that the offer letter, albeit subject to shareholder approval, which Santander had effectively blocked by rescinding its offer, was indeed legally binding.
On the other hand, according to people who had seen the letter, it also stated that Orcel would make his "best efforts" to negotiate a reduction in the price tag for his transfer to Santander with UBS.
But a verbatim interpretation of that phrase would not appear to imply that Orcel was expected to succeed to any degree nor that the agreement was conditional on his doing so.
Strictly in investment terms, the risks appeared to be at least three-fold, that lax corporate governance could result in a higher cost of capital for Santander and hence a lower share price for its shareholders, that they might lead to or could already have led to poor decisions by Santander in other matters - thus also negatively impacting on the share price - and that it might result in some sort of response on the part of regulators.
In plain English, such an acrimonious and public spat is highly unusual among the world's largest banks, especially at a systemically important lender such as Santander, indeed the euro area's largest by market capitalisation.
And at least some investors appeared to agree, certainly in part at least.
Come late April, ISS Governance, a proxy adviser for institutional shareholders, went public saying that the botched hiring had damaged Santander's reputation and went as far as questioning the actions of its board; in particular, those of its vice chairman and head of its appointments and remunerations committees, Bruce Carnegie-Brown.
Both ISS and Glass Lewis, the Canadian corporate governance consultancy, reportedly recommended that shareholders vote against Carnegie-Brown's reappointment at the bank's annual shareholders meeting on 12 April.
Carnegie-Brown should be held responsible for the high street lender's poor succession planning, ISS and Glass Lewis reportedly said at the time.
The head of the remunerations committee was finally kept on board, although only with 78% of shareholders's approval.
It must be noted that Santander's chairman is capable of wielding around 40% of the voting rights because many retail investors often delegate them to her.
Leaving the question of the robustness of Santander's governance controls to one side for a moment, in itself the practice by which Santander solicits retail investors for their votes each year has been criticised by some observers in Spain and by others, who say it gives the chairman, Ana Patricia Botin, too much influence, while at the same time reducing accountability.
Other aspects of the reported response from Santander's lawyers - as per that same media report published early on Friday, which was echoed by other outlets - also appeared to be called into serious question.
The lawyers reportedly included in their counter arguments a video recording of Orcel, in which he says that he supports the decision taken by Santander's board not to proceed with his hiring.
Sharecast's second source said that video does exist but that it was recorded after Mr.Orcel and Santander had reached an amicable settlement.
In so far as Santander honoured the terms of the agreement, then Orcel preferred to part on amicable terms, the source explained.
Seeing that Santander had not stood by its part of the agreement, Mr. Orcel decided to go to court.
That same media report also said that the European Central Bank had not issued a final authorisation regarding Orcel's hiring.
Indeed, one of the terms stipulated in the offer letter to Mr.Orcel was reportedly that, for his hiring to be effective, the ECB must first deem him to be "fit and proper".
But here again, that second source explained to Sharecast that earlier media reports were wide of the mark.
Regulators never expressly approve a hiring, although they can block one, the source said.
In this case, the ECB chose not to do so.
Santander did not respond to a request for comment on this article.