Pound strengthens on Brexit trade deal hopes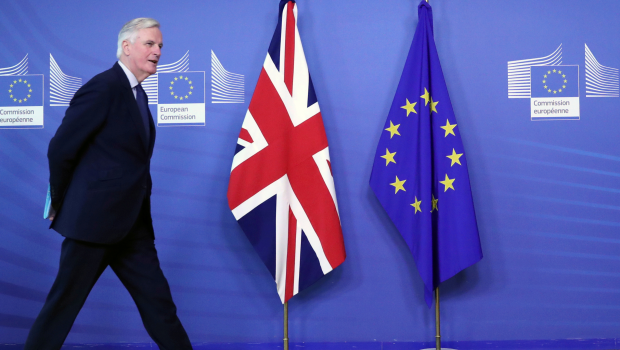 The pound rose against both the euro and dollar on Monday morning as the final round of Brexit trade negotiations geared up in Brussels.
Michael Gove, the Cabinet Office minister, is heading to Brussels to meet European Commission vice president Maros Sefcovic, with the ninth round of scheduled talks formally starting on Tuesday.
So far neither side has been able to agree terms, increasing the likelihood of the UK having to trade with the European Union under World Trade Organization rules after the transition period ends on 31 December.
However, markets generally remain optimistic that a deal could yet be agreed, with both equities and sterling strengthening. As at 1100 BST, the pound was up 0.68% against the euro at €1.1031 and 0.80% against the dollar at $1.2846.
The talks, which will be led by London and Brussels' chief negotiators David Frost and Michel Barnier, will last for three days. An update on their progress is expected on Thursday.
Over the weekend, Frost said a deal was "very much possible, but equally very far from certain" but conceded that informal discussions held in recent weeks had been "relatively positive".
An EU spokesman told the BBC that Barnier was neither optimistic nor pessimistic, but was determined to strike a deal.
Joshua Mahony, senior market analyst at IG, said: "The sterling rise seen this morning serves to highlight the hopes that we could see some sort of breakthrough as we enter the final straight, with rumours of concessions on both sides serving to highlight the possibility we have turned the corner.
"As things stand, markets have become accustomed to the idea that talks could fail, leaving the potential for significant sterling gains if Boris Johnson manages to emerge with a positive deal from these late talks."
But TD Securities warned: "Focus returns to the UK with lockdown risks rising just as Brexit negotiations resume. This, we think, could see sterling begin to come under renewed pressure and leaves us inclined to fade sterling's latest uptick."