Pound shoots higher as Farage says Brexit party won't stand in Tory seats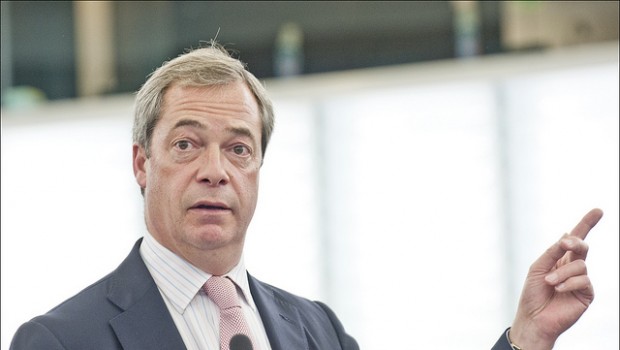 Sterling shot higher on Monday after Nigel Farage said the Brexit party will not stand in the 317 seats won by the Conservatives at the 2017 general election, boosting Boris Johnson's chances of success in the upcoming election.
At 1245 GMT, sterling was up 0.8% against the dollar at 1.2875 and 0.6% higher versus the euro at 1.1668.
Speaking at a campaign rally in Hartlepool, Brexit party leader Farage said the party would concentrate on seats held by Labour and other pro-Remain parties in a bid to "prevent the risk of a second Brexit referendum".
Farage said the decision was based on polling, which indicated that standing in seats in London, the South and the South West could split the vote of pro-Brexit candidates, allowing pro-Remain candidates to win.
Prime Minister Boris Johnson was quick to respond on Twitter. "We welcome Nigel Farage's recognition that another gridlocked hung Parliament is the greatest threat to getting Brexit done," he said.
"If we had another hung Parliament it would lead to two more chaotic referendums next year."
Labour chair Ian Lavery said the Brexit party decision was part of a bid to satisfy US President Donald Trump and privatise parts of the NHS.
"This is a Nigel Farage and Boris Johnson alliance with Donald Trump to sell out our country and send £500 million per week from our NHS to US drugs companies," he said. "We urge voters to reject this Thatcherite 1980s tribute act, which would lead to more savage Tory attacks on working class communities. Our NHS is not for sale."
Neil Wilson, chief market analyst at Markets.com, said Farage has handed the Tories "an early Christmas present".
"The pound is stronger since a clear, decisive election win for the Conservatives will provide clarity on Brexit - anything else becomes messy," Wilson said.
"This is a big boost to the Conservative Party as the Brexit Party had talked about fielding 600 candidates. It changes the electoral map. Mr Farage seems to have been persuaded by Boris Johnson's commitment not to extend the transition period beyond December 2020. Mr Farage and everyone else knew it would have been crazy politics for the Brexit Party to take Leave votes away from the Tories and enable a pro-Remain grouping to take seats."
Wilson said it's "a massive moment" for the campaign and gives the Tories a clear run at Downing Street.
"But it will not make it any easier to hoover up seats from opposition parties - the risk of the Brexit Party sucking in Leaver votes in areas being targeted by the Tories remains. For Labour and in particular the Lib Dems in the south of England, it's going to make life very hard to dislodge incumbent Tories."
Oanda analyst Craig Erlam said that "while this undoubtedly helps the Tories, it only does so to a limited extent as it still makes life hard in the seats it needs to secure a majority".
"Moreover, if the Brexit party isn't careful, they could split the vote in a number of the other seats and unintentionally hand victory to one of the remain/second referendum candidates. Sterling may be higher but a hung Parliament is still far more likely than if they focused on Brexit-backing constituencies that the Conservatives stand little chance of winning. I imagine this is still where they'll put the most effort."