Week ahead: Will Bank of England discuss tightening on Super Thursday?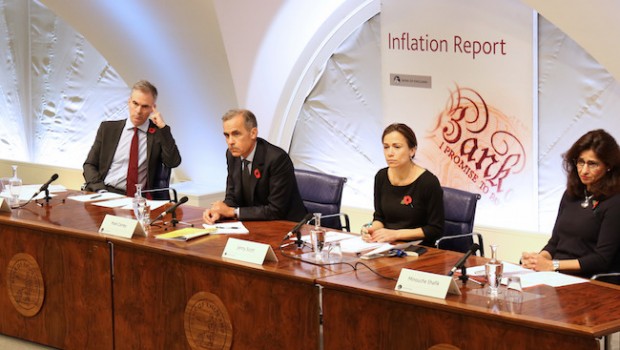 The Bank of England's Super Thursday is the main event next week, with a quieter week for eurozone and US data, with company results including AA, BP, Compass and GlaxoSmithKline.
While the Bank's monetary policy committee are not expected to loosen the belt on policy, it will be a Super Thursday for Mark Carney as the bank releases its quarterly inflation report and the Governor publishes his open letter explaining why consumer price inflation overshot the 2% target by more than one percentage point in November.
Furthermore, while not interest rate hike is anticipated, the MPC's minutes and the press conference afterwards will face scrutiny over the guidance for the likely path for UK interest rates this year.
"Overall we expect the Bank to remain in wait-and-see mode after its November hike and refrain from revising its communication in the absence of relevant events or data since the last inflation report," said economists at Barclays.
"Emboldened by constructive sentiment and healthy Q4 growth, it might be open to discussing an alternative tightening path. However, we would see that as an unnecessary risk and instead we retain our call for a next hike in November 2018."
Investec was in line with most in predicting a unanimous 9-0 vote to hold Bank rate steady.
"It is possible that, with the BoE on a very gradual normalisation path, a Monetary Policy Committee (MPC) member or two might have judged it appropriate to raise rates at this time," said economist Victoria Clarke.
The crucial issue for this Thursday, she said, is what guidance the BoE gives on the likely path for UK interest rates going forward. "In November, the Bank appeared broadly content with the market path for interest rates outlined in that report, namely around two hikes over 2018 and 2019. One question for next week is whether the BoE wishes to signal a slightly more aggressive pace of rate rises, perhaps signalling the possibility of three rate rises over this time."
Other macro events include UK service purchasing managers' index data on Monday ahead of Chinese, eurozone and US services PMI on Tuesday, Wednesday's ECB non-monetary policy's meeting, then Thursday's RICS housing price report and Chinese and German trade data ahead of the BoE events.
The week finished with UK industrial data and Chinese CPI.
The result flow will see Electrocomponents and Randgold on Monday; BP accompanied by Babcock, Hargreaves Lansdown and Ocado on Tuesday; GSK along with Redrow, Rio Tinto, Severn Trent, Smurift Kappa and Tullow Oil on Wednesday; and AA and Compass joined by Ashmore, Bellway, Smith & Nephew, Sophos, TalkTalk, Tate & Lyle on Thursday; with Victrex on Friday.
Monday February 05
INTERNATIONAL ECONOMIC ANNOUNCEMENTS
PMI Composite (GER) (08:55)
PMI Services (GER) (08:55)
PMI Composite (EU) (09:00)
PMI Services (EU) (09:00)
Retail Sales (EU) (10:00)
PMI Composite (US) (14:45)
PMI Services (US) (14:45)
ISM Non-Manufacturing (US) (15:00)
UK ECONOMIC ANNOUNCEMENTS
PMI Services (09:30)
TRADING ANNOUNCEMENTS
Electrocomponents, Ryanair Holdings
AGMS
Cerillion, Future
FINAL DIVIDEND PAYMENT DATE
Britvic, ITE Group, UDG Healthcare Public Limited Company
INTERIM DIVIDEND PAYMENT DATEBT Group, Dart Group
Tuesday February 06
INTERNATIONAL ECONOMIC ANNOUNCEMENTS
Balance of Trade (US) (00:00)
Factory Orders (GER) (07:00)
UK ECONOMIC ANNOUNCEMENTS
Retail Sales (00:01)
FINALS
Amino Technologies, BP, Ocado Group, RM, St. Modwen Properties
INTERIMS
Frontier Developments, Hargreaves Lansdown, Mattioli Woods
GMS
London Capital Group Holdings
AGMS
JPMorgan Indian Investment Trust, Numis Corporation
FINAL DIVIDEND PAYMENT DATE
Mitchells & Butlers, Schroder Asia Pacific Fund
INTERIM DIVIDEND PAYMENT DATEJohnson Matthey, Workspace Group
QUARTERLY PAYMENT DATEJPMorgan Asian Investment Trust
QUARTERLY EX-DIVIDEND DATESchlumberger Ltd.
Wednesday February 07
INTERNATIONAL ECONOMIC ANNOUNCEMENTS
Consumer Credit (US) (20:00)
Industrial Production (GER) (06:00)
MBA Mortgage Applications (US) (12:00)
UK ECONOMIC ANNOUNCEMENTS
Halifax House Price Index (08:30)
FINALS
GlaxoSmithKline, Rio Tinto, Sampo OYJ, Smurfit Kappa Group, Tullow Oil
INTERIMS
Redrow
TRADING ANNOUNCEMENTS
Anglo Pacific Group, Grainger, Severn Trent, Severn Trent
AGMS
Artemis VCT, Blackrock Frontiers Investment Trust, Daily Mail and General Trust A (Non.V), Grainger, Imperial Brands , Income & Growth VCT , Nektan (DI)
FINAL DIVIDEND PAYMENT DATE
Brewin Dolphin Holdings, Cerillion , Henderson Alternative Strategies Trust , JPMorgan Chinese Inv Trust
INTERIM DIVIDEND PAYMENT DATE
Ashtead Group, Halma, K3 Capital Group , Mitie Group
Thursday February 08
INTERNATIONAL ECONOMIC ANNOUNCEMENTS
Balance of Trade (GER) (07:00)
Continuing Claims (US) (13:30)
Current Account (GER) (07:00)
Initial Jobless Claims (US) (13:30)
UK ECONOMIC ANNOUNCEMENTS
BoE Interest Rate Decision (12:00)
RICS Housing Market Survey (00:01)
FINALS
Beazley, Smith & Nephew
INTERIMS
Ashmore Group
TRADING ANNOUNCEMENTS
AA, Bellway, Compass Group, DFS Furniture, EI Group, IGas Energy, Maintel Holdings, Sophos Group, TalkTalk Telecom Group, Tate & Lyle, Thomas Cook Group
SPECIAL EX-DIVIDEND DATE
Aberforth Smaller Companies Trust, Best of the Best, Cambian Group
EGMS
Petro Matad Ltd.
AGMS
Compass Group, Dewhurst, Dunedin Smaller Companies Inv Trust, easyJet, On The Beach Group , Premier Asset Management Group, Thomas Cook Group, Urban&Civic
INTERIM DIVIDEND PAYMENT DATETongaat-Hulett Ltd., Xafinity
INTERIM EX-DIVIDEND DATEAbsrforth Split Level Income Trust , Daejan Holdings, Van Elle Holdings, Warehouse Reit
QUARTERLY EX-DIVIDEND DATEChenavari Toro Income Fund Limited NPV, IBM Corp., Impact Healthcare Reit , Picton Property Income Ltd
FINAL DIVIDEND PAYMENT DATE
ZPG Plc
FINAL EX-DIVIDEND DATE
Aberforth Smaller Companies Trust, Catco Reinsurance Opportunities Fund Ltd (DI), Impax Asset Management Group, JPMorgan Russian Securities, Nexus Infrastructre , Sage Group, Treatt
Friday February 09
INTERNATIONAL ECONOMIC ANNOUNCEMENTS
Wholesales Inventories (US) (15:00)
UK ECONOMIC ANNOUNCEMENTS
Balance of Trade (09:30)
Industrial Production (09:30)
Manufacturing Production (09:30)
GMS
Victrex, WH Ireland Group
SPECIAL DIVIDEND PAYMENT DATE
Scottish Inv Trust, Sky
EGMS
GCP Infrastructure Investments Ltd
AGMS
GCP Infrastructure Investments Ltd, Port Erin Biopharma Investments Ltd, Shaftesbury, Victrex plc
FINAL DIVIDEND PAYMENT DATE
Blackrock Frontiers Investment Trust, Connect Group, Countryside Properties, Daily Mail and General Trust A (Non.V), Grainger, Gulf Investment Fund, Numis Corporation, Patisserie Holdings , Schroder UK Mid Cap Fund, Scottish Inv Trust, Servoca
INTERIM DIVIDEND PAYMENT DATEBisichi Mining, KCOM Group, Micro Focus International, QinetiQ Group
QUARTERLY PAYMENT DATEBritish Land Company