Week ahead: Lenders, Bank of England and Fed in focus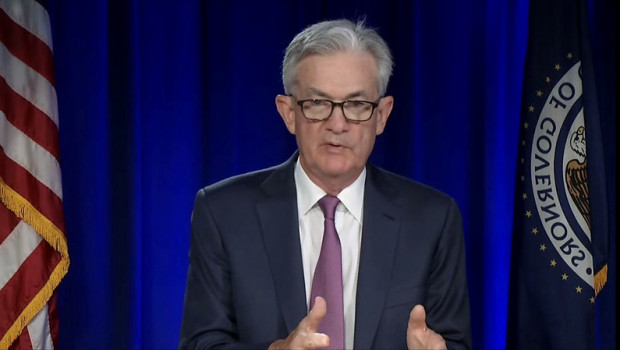 All eyes over the coming week were expected to continue to be on the US and European banking sectors and to what extent, or not, calm returned to the sector.
It was against that backdrop that policymakers at both the Bank of England and the Federal Reserve would meet to decide on interest rates.
In the case of the BoE and probably because it was less further along in its rate hiking, consensus was for a 25 basis point hike in Bank Rate to 4.25%.
Nonetheless, a hike wasn't a foregone conclusion, Michael Hewson, chief market analyst at CMC Markets UK said, further pointing out how over just the last few sessions market estimates of the so-called terminal rate had fallen from 4.8% to 4.25%.
As for the Fed, the consensus for its meeting on Wednesday was a 25bp hike in the target range for the Fed funds rate to 4.75-5.0%.
But in the US, which had hiked rates the most, a pause was also possible.
Michael Gapen at Bank of America and his team were still anticipating 25bp hikes at the next three meetings.
But if the volatility continued into Wednesday's meeting then the Fed might pause, they judged.
Nonetheless, their baseline policy path had shifted from "predominantly to the upside" to "more balanced and wider".
BofA analysts also believed market forecasts were too "binary".
"Despite some compelling historical examples, there seems to be no discussion of the third option-temporary cuts," they said in a research note sent to clients.
"While that is not our base case and it is not something central banks like to do, we think it is a plausible scenario, particularly for the Fed."
At 62.0%, the implied odds of a 25bp Fed hike on Wednesday according to Fed funds futures, no move was more likely.
Commenting on the conundrum facing the Federal Reserve, former International Monetary Fund managing director, Kenneth Rogoff, told the Financial Times that it would "probably" opt for a 25bp hike - if the banking sector had calmed down.
Otherwise, the central bank could continue to guide higher but it would need to take a pause.
Yet the Fed could not lightly dismiss core inflation north of 5%, he added.
Monday 20 March
INTERIMS
Jubilee Metals Group
INTERNATIONAL ECONOMIC ANNOUNCEMENTS
Balance of Trade (EU) (10:00)
Producer Price Index (GER) (07:00)
GMS
Metal Tiger
FINALS
Spectra Systems Corporation
SPECIAL EX-DIVIDEND DATE
Essentra
EGMS
Commercial International Bank (Egypt) SAE GDR (Reg S)
AGMS
Pantheon Resources, Sydbank A/S Sydbank Ord Shs
FINAL DIVIDEND PAYMENT DATE
Shaftesbury Capital
Tuesday 21 March
INTERIMS
SCS Group , YouGov
QUARTERLY PAYMENT DATE
Unilever
INTERNATIONAL ECONOMIC ANNOUNCEMENTS
Existing Home Sales (US) (14:00)
ZEW Survey (EU) - Economic Sentiment (10:00)
ZEW Survey (GER) - Current Situation (10:00)
ZEW Survey (GER) - Economic Sentiment (10:00)
FINALS
Alliance Pharma, Aptitude Software Group , Boku, Inc (DI) Reg S Cat 3/144A, Equals Group , Ergomed , Fintel, Gamma Communications, Henry Boot, Kape Technologies, Kingfisher, Luceco , Luceco , Oxford Nanopore Technologies , Quixant, Science Group , Staffline Group, The Pebble Group, Tissue Regenix Group, Zotefoams
AGMS
BlackRock Sustainable American Income Trust, BlackRock Sustainable American Income Trust, Gresham House Renewable Energy VCT 1 , Gresham House Renewable Energy VCT 2, React Group , Starvest, Sureserve Group, Wynnstay Group
UK ECONOMIC ANNOUNCEMENTS
Public Sector Net Borrowing (07:00)
FINAL DIVIDEND PAYMENT DATE
Impax Asset Management Group
Wednesday 22 March
INTERIMS
Sareum Holdings
INTERNATIONAL ECONOMIC ANNOUNCEMENTS
Crude Oil Inventories (US) (14:30)
Current Account (EU) (09:00)
MBA Mortgage Applications (US) (11:00)
FINALS
Anpario, BioPharma Credit , BlackBird, Essentra, Fevertree Drinks, Genel Energy, Gresham House, Hostelworld Group , Judges Scientific, LSL Property Services, MPAC Group, Pendragon, Ten Entertainment Group , Vistry Group
ANNUAL REPORT
Taylor Wimpey
SPECIAL DIVIDEND PAYMENT DATE
Foresight Solar & Technology VCT
AGMS
Abrdn Private Equity Opportunities Trust, Asia Strategic Holdings Limited NPV (DI), Harmony Energy Income Trust, Titon Holdings
TRADING ANNOUNCEMENTS
Bloomsbury Publishing
UK ECONOMIC ANNOUNCEMENTS
Consumer Price Index (06:00)
Producer Price Index (06:00)
Retail Price Index (06:00)
Thursday 23 March
INTERIM EX-DIVIDEND DATE
Close Brothers Group, Craneware, Finsbury Food Group, Fonix Mobile , Hargreaves Services, Thorpe (F.W.), Volution Group
QUARTERLY EX-DIVIDEND DATE
British American Tobacco, Vaalco Energy, Inc (DI), Wheaton Precious Metals Corp.NPV (CDI)
INTERNATIONAL ECONOMIC ANNOUNCEMENTS
Continuing Claims (US) (12:30)
Current Account (US) (12:30)
Initial Jobless Claims (US) (12:30)
New Homes Sales (US) (14:00)
FINALS
Gulf Keystone Petroleum Ltd Com Shs (DI), Playtech, Pollen Street, Portmeirion Group, Safestyle UK , Sopheon
AGMS
Bankers Inv Trust, Bankmuscat (S.A.O.G) GDR (Reg S), Blackrock Throgmorton Trust, Crest Nicholson Holdings, Driver Group, Hardide, Hyundai Motor Company GDR (Reg S), IDOX, LPA Group, Zaim Credit Systems
UK ECONOMIC ANNOUNCEMENTS
BoE Interest Rate Decision (12:00)
FINAL DIVIDEND PAYMENT DATE
Jersey Electricity 'A' Shares
FINAL EX-DIVIDEND DATE
Chemring Group, CLS Holdings, Conduit Holdings Limited Com Shs (DI), Glanbia (CDI), HGCapital Trust, Hikma Pharmaceuticals, Maven Income & Growth 3 VCT, MTI Wireless Edge Ltd., Nichols, OSB Group , Pearson, Schroders, XP Power Ltd. (DI)
Friday 24 March
INTERIMS
Smiths Group, Wetherspoon (J.D.)
INTERIM DIVIDEND PAYMENT DATE
Berkeley Group Holdings (The), Heath (Samuel) & Sons, Mattioli Woods
QUARTERLY PAYMENT DATE
Real Estate Credit Investments Ltd
INTERNATIONAL ECONOMIC ANNOUNCEMENTS
Durable Goods Orders (US) (12:30)
GMS
Midatech Pharma
FINALS
Ceres Power Holdings
SPECIAL DIVIDEND PAYMENT DATE
Riverstone Credit Opportunities Income
EGMS
SME Credit Realisation Fund Limited NPV
AGMS
Crestchic, Faron Pharmaceuticals Oy (DI), Kitwave Group
UK ECONOMIC ANNOUNCEMENTS
GFK Consumer Confidence (00:01)
Retail Sales (07:00)
FINAL DIVIDEND PAYMENT DATE
Henderson Opportunities Trust, Hercules Site Services