Week ahead: Hammond unlikely to spring surprises; results from Prudential, Balfour Beatty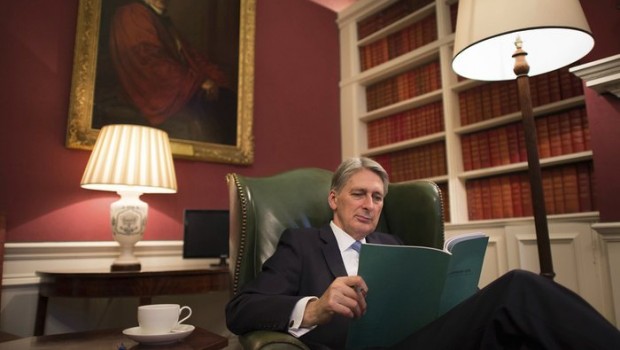 Chancellor Philip Hammond will deliver the spring statement on Tuesday, while the UK company diary is still fairly bustling, with updates from the likes of Balfour Beatty, Morrisons, Prudential, JD Wetherspoon and troubled Interserve.
The Chancellor is not expected to make any major policy announcements at next week's statement, which has been slimmed-down to just a reading of the revised forecasts from the Office for Budget Responsibility.
Unlike the autumn Budget statement, this is likely to be a low-key affair, said Michael Hewson at CMC Markets. "The Chancellor will be pleased to see that he is on course to reduce government borrowing by at least £10bn more than expected due to higher than expected tax receipts.
"He is likely to find himself under pressure to loosen the purse strings, however that may have to wait until October when we have a better idea of the type of deal that is on the table from the EU."
The OBR's updated economic and fiscal forecasts will be as detailed as ever and could see the cumulative government borrowing forecast out to 2022–23 fall by £46bn to £166bn, said economists at RBC Capital Markets.
For the Gilt market, the focus will be on the UK Debt Management Office's new gilt sales remit for 2018–19. RBC expects gross gilt issuance could drop to £98bn, which would be the first sub-£100bn total since 2007–08.
Also on Tuesday we will have US consumer price index that follows very firm headline and core numbers last time. RBC expects a much more modest outcome this month, which "should calm fears of an imminent inflationary problem".
Eurozone industrial production data on Wednesday will be one of the first pieces of harder data for the first quarter, confirming whether the strong momentum from last year is continuing, with German CPI and US retail sales also on the day. Friday will see eurozone CPI.
COMPANY NEWS
After a quiet Monday for company reporting, include Antofagasta, Cairn Energy, Close Brothers, Computacenter and TP Icap on Tuesday; Wednesday sees Balfour Beatty, Gem Diamonds, Hikma, Marshalls, Morrison, Prudential; then on Thursday it's Just Group, Kier, Old Mutual, OneSavings Bank, Phoenix Group, Savills and Spirax-Sarco on Thursday, finishing the week with Investec, SThree and JD Wetherspoon.
Antofagasta's full year results will see a focus on the Chilean copper miner's medium-term production profile, which has not been updated since September 2016, said Deutsche Bank
"The main catalyst this year may be the approval of the Los Pelambres expansion. Board approval is expected this year after the EIA has been approved. The incoming Pinera administration could also offer some upside risks if they push ahead with any regulatory or fiscal reforms."
Balfour Beatty's shares fell 15% in the wake of the Carillion debacle, but has rebounded somewhat in March helped by bargain hunting after recent contract wins and asset sales to pay down debt. The consensus forecast from Factset points to £7.8bn revenue, £145m PBT and EPS of 19.61p.
UBS expects sales including JVs of £8.35bn, pre-exceptional PBT of £165m, pre-ex EPS of 21.4p and a final DPS of 2.4p to be declared. "While the group remains in recovery mode, we expect confidence about improved earnings to strengthen and therefore we anticipate a positive outlook for 2018 and 2019."
Interserve has also been rocked by Carillion's collapse making its own debt negotiations even harder. Sparked by rising costs, the company has warned on profits a number of times over the past year. But shares in the outsourcing group have spiked this week on reports of a rescue deal from a pub entrepreneur Alan McIntosh, with markets expecting an announcement any day, it seems.
Cineworld, which has just completed its takeover of US peer Regal Entertainment, will publish final results on Thursday. Deutsche Bank predicting the initial reaction to be led by current year trading for Regal in North America, the shorter-term film slate outlook, further guidance on the Regal investment opportunity thought to be about £220m net capex per year, confidence in quantum of merger synergies with $100m targeted, an update on debt for the enlarged business and the performance of the 'old' Cineworld estate.
Prudential's full year result is likely to be a "little messy", said UBS, given US tax reform, with some deferrred tax assets written-off, so "we would look for some guidance as to earnings uplift going forward". There has been lot of recent news around a UK annuity sale and so investors will be looking for an update on this.
On TP Icap, Morgan Stanley expect fourth quarter revenues to be down on last year's, consistent with results from peers and investment banks. Analysts forecast second half revenue of £850m. "The outlook should be strong we think."
Ahead of its interim results Wetherspoon's has already revealed total revenue growth of 4.3%, with like-for-like sales up 6.0% in the second quarter and 6.1% in the first. The cheap and cheerful pub operator did not give an update on its profit margins, as it usually does, but just that underlying profit before tax was ahead of expectations.
Morgan Stanley forecasts half-year EBIT up 11% to £72m, PBT up 15% to £59m and adjusted EPS up 21% to 41.6p. "We expect the company to announce an interim dividend of 4.0p (flat) and 12.0p for the full year (flat), implying a dividend yield of 1.0%, with the focus remaining buybacks and freehold reversions," analysts wrote, with £51m and £15m respectively mentioned at the past trading update.
Monday March 12
INTERIMS
Diurnal Group, Seeing Machines Ltd.
Q4
Grupo Clarin SA GDR (Reg S)
FINALS
Clarkson, Eve Sleep PLC, Global Ports Holding, Grupo Clarin SA GDR (Reg S), Hutchison China Meditech Ltd, Medica Group , Pennant International Group, Polymetal International
EGMS
HaiKe Chemical Group Ltd. (DI), PJSC Megafon GDR (Reg S)
Tuesday March 13
INTERNATIONAL ECONOMIC ANNOUNCEMENTS
Consumer Price Index (US) (12:30)
FINALS
Antofagasta, Applegreen, Baillie Gifford Shin Nippon, Bango, Brady, Cairn Energy, Computacenter, Crossrider , Fevertree Drinks, French Connection Group, Glenveagh Properties, Goals Soccer Centres, Gresham Technologies, H&T Group, LMS Capital, Menzies(John), Midwich Group, Non-Standard Finance, Restore, Smart Metering Systems, Stadium Group, Surgical Innovations Group, TP ICAP, XLMedia, Zotefoams
INTERIMS
Close Brothers Group, Eagle Eye Solutions Group
ANNUAL REPORT
Hunting, William Hill
AGMS
BlackRock Commodities Income Inv Trust, CC Japan Income & Growth Trust
FINAL DIVIDEND PAYMENT DATE
Renew Holdings
Wednesday March 14
INTERNATIONAL ECONOMIC ANNOUNCEMENTS
Business Inventories (US) (14:00)
Consumer Price Index (GER) (07:00)
Industrial Production (EU) (10:00)
MBA Mortgage Applications (US) (12:00)
Producer Price Index (US) (12:30)
FINALS
Advanced Medical Solutions Group, Balfour Beatty, Burford Capital, Charles Taylor, Dignity, EKF Diagnostics Holdings , EMIS Group, Empresaria Group, Forterra, Futura Medical, Hikma Pharmaceuticals, Marshall Motor Holdings, Marshalls, Morrison (Wm) Supermarkets, Prudential, SafeCharge International Group Limited (DI), Somero Enterprises Inc. (DI), StatPro Group
INTERIMS
Brooks Macdonald Group, Northamber
TRADING ANNOUNCEMENTS
Charles Taylor
EGMS
3i Infrastructure, 3i Infrastructure
AGMS
Sydbank A/S Sydbank Ord Shs, Toople
FINAL DIVIDEND PAYMENT DATE
Shoe Zone
Thursday March 15
INTERNATIONAL ECONOMIC ANNOUNCEMENTS
Continuing Claims (US) (12:30)
Import and Export Price Indices (US) (13:30)
Initial Jobless Claims (US) (12:30)
Philadelphia Fed Index (US) (13:30)
FINALS
Cineworld Group, Curtis Banks Group, Forbidden Technologies, Just Group, Manx Telecom , Oakley Capital Investments Ltd. (DI), Old Mutual, OneSavings Bank, Phoenix Group Holdings (DI), PJSC Megafon GDR (Reg S), Portmeirion Group, Savills, Spirax-Sarco Engineering, TMT Investments
INTERIMS
Kier Group
TRADING ANNOUNCEMENTS
Amryt Pharma
ANNUAL REPORT
AstraZeneca
SPECIAL EX-DIVIDEND DATE
3i Infrastructure, River and Mercantile Group , Spirent Communications
AGMS
Banco Bilbao Vizcaya Argentaria SA, Henderson Opportunities Trust, Lonmin, Oxford Biodynamics
FINAL DIVIDEND PAYMENT DATE
LLoyds Banking Group 6.475% Non-Cum Pref Shares
FINAL EX-DIVIDEND DATE
Anglo American, Apax Global Alpha Limited , Crest Nicholson Holdings, Domino's Pizza Group, Essentra, Glanbia, Globaldata, Hammerson, Law Debenture Corp., Millennium & Copthorne Hotels, PCF Group, Rights & Issues Inv Trust Income Shares, RM, Spirent Communications, SSP Group , Triple Point Social Housing Reit
INTERIM DIVIDEND PAYMENT DATE
Rank Group, Springfield Properties
INTERIM EX-DIVIDEND DATE
Abcam, AdEPT Telecom, Galliford Try, Haynes Publishing Group, JPMorgan Mid Cap Inv Trust, London Finance & Investment Group, Maven Income & Growth 3 VCT, Maven Income & Growth 4 VCT, Maven Income & Growth VCT, Maven Income and Growth VCT 5, River and Mercantile Group , TR European Growth Trust, Trifast
QUARTERLY PAYMENT DATE
Canadian General Investments Ltd.
QUARTERLY EX-DIVIDEND DATE
Aberdeen Diversified Income and Growth Trust , Assura , Blackrock North American Income Trust , XP Power Ltd. (DI)
Friday March 16
INTERNATIONAL ECONOMIC ANNOUNCEMENTS
Building Permits (US) (12:30)
Capacity Utilisation (US) (13:15)
Consumer Price Index (EU) (10:00)
Housing Starts (US) (12:30)
U. of Michigan Confidence (Prelim) (US) (14:00)
Wholesale Price Index (GER) (07:00)
FINALS
Capital Drilling Ltd. (DI), Cloudbuy
INTERIMS
Wetherspoon (J.D.)
ANNUAL REPORT
Costain Group, Schroders, Schroders (Non-Voting), Silence Therapeutics, Stratex International
SPECIAL DIVIDEND PAYMENT DATE
Hargreave Hale AIM VCT 2
EGMS
Datang International Power Generation Co Ltd., Stanley Gibbons Group
AGMS
LG Electronics Inc GDS (Reg S), Spitfire Oil Ltd. (DI)
FINAL DIVIDEND PAYMENT DATE
Avon Rubber, Impax Asset Management Group, Sanderson Group
INTERIM DIVIDEND PAYMENT DATE
Aberdeen Private Equity Fund Ltd. Sterling Part Shares, City of London Investment Group, Conviviality, Downing Four VCT DP2011 Low Carb, Downing Four VCT DP67 , Gateley (Holdings) , Motorpoint Group, SSE
QUARTERLY PAYMENT DATE
Carnival