Week ahead: German election eyed; Next, Go-Ahead due to report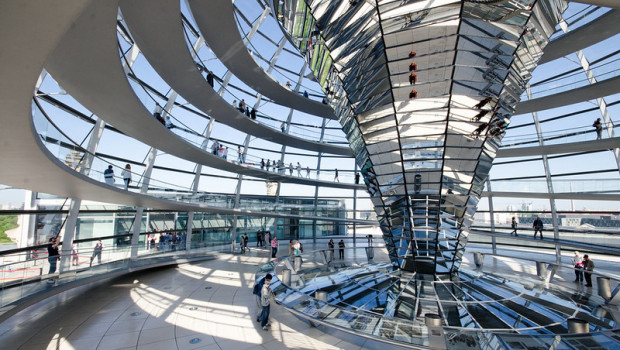 The German federal election is due to take place over the weekend, with Chancellor Angela Merkel stepping down after four terms in office.
Deutsche Bank said: "In terms of what to expect, Politico's Poll of Polls currently puts the centre-left SPD on 25%, ahead of Chancellor Merkel's CDU/CSU on 22%, with the Greens in third place on 16%.
"If those results were realised, that would mark a sea change in German politics. It would be the first time that the SPD have won the popular vote since 2002, as well as the CDU/CSU's worst ever result.
"Furthermore, it would mark the first time in post-war Germany that the two main parties have failed to win a majority of the vote between them, which mirrors the erosion of the traditional big parties we've seen in the rest of continental Europe."
The polls close at 1700 BST, with initial exit polls released immediately afterwards. However, Deutsche pointed out that unlike in the UK, where a new majority government can immediately come to power the day after the election, the use of proportional representation in Germany means it could be weeks or months before a new government is formed.
Closer to home and on the corporate front, results are due from Ferguson, Next and Go-Ahead next week, among others.
Transport operator Go-Ahead is due to report full-year results on Thursday. UBS expects the market to focus primarily on the current pace of recovery in the UK regional bus division, the company's expectations of future patronage.
"We also expect commentary on fees the company expects to receive for running UK rail operations in future as well as an update on the challenges faced with the German rail operations. We also look for further commentary on capital allocation," it said.
UBS said it expects a dividend to be declared, in line with past commentary about a desire to resume dividend distributions this calendar year. Consensus forecasts are wide but the bank expects a dividend per share towards the upper end of the range of 35p.
Monday September 27
INTERIMS
Fireangel Safety Technology Group, Instem, Medica Group , Microsaic Systems, Minds + Machines Group Limited (DI), Octopus Renewables Infrastructure Trust
INTERIM DIVIDEND PAYMENT DATE
IP Group, Rights & Issues Investment Trust , Secure Trust Bank
INTERNATIONAL ECONOMIC ANNOUNCEMENTS
Durable Goods Orders (US) (13:30)
M3 Money Supply (EU) (09:00)
EGMS
Ruffer Investment Company Ltd Red PTG Pref Shares
AGMS
Dish TV India Limited GDR (Each Repr One Shr), Okyo Pharma Limited NPV, Sutton Harbour Group, Sutton Harbour Group, Van Elle Holdings
FINAL DIVIDEND PAYMENT DATE
Cohort
Tuesday September 28
INTERIMS
Aggreko, Animalcare Group, Barr (A.G.), Card Factory, DigitalBox, Ergomed , Escape Hunt , Heiq, Immotion Group, Itaconix , Likewise Group, Lords Group Trading, Mortgage Advice Bureau (Holdings) , NAHL Group, Next Fifteen Communications, S&U, Serica Energy, Sourcebio International
INTERIM DIVIDEND PAYMENT DATE
Abrdn , Endeavour Mining, Foxtons Group , Hochschild Mining
INTERNATIONAL ECONOMIC ANNOUNCEMENTS
Consumer Confidence (US) (15:00)
GFK Consumer Confidence (GER) (07:00)
House Price Index (US) (14:00)
FINALS
Blancco Technology Group, Close Brothers Group, Ferguson, Smiths Group, Transense Technologies
AGMS
DWF Group , First Property Group, Globalworth Real Estate Investments Limited, Ince Group (The), Kodal Minerals , Moonpig Group , Path Investments, Purplebricks Group
TRADING ANNOUNCEMENTS
Pennon Group, United Utilities Group
Wednesday September 29
INTERIMS
1Spatial, CMO Group, Futura Medical, Glantus Holdings, Mobile Tornado Group, MyHealthchecked, NetScientific , Next, Seen, Sumo Group , Yu Group
INTERIM DIVIDEND PAYMENT DATE
M&G
INTERIM EX-DIVIDEND DATE
Mitsubhi Electric Corp.
QUARTERLY EX-DIVIDEND DATE
Yamana Gold Inc. NPV (CDI)
INTERNATIONAL ECONOMIC ANNOUNCEMENTS
Business Climate Indicator (EU) (10:00)
Consumer Confidence (EU) (10:00)
Crude Oil Inventories (US) (15:30)
Economic Sentiment Indicator (EU) (10:00)
Industrial Confidence (EU) (10:00)
MBA Mortgage Applications (US) (12:00)
Pending Homes Sales (US) (15:00)
Services Sentiment (EU) (10:00)
FINALS
Avingtrans, Origin Enterprises (CDI), Quiz
AGMS
AO World, Frasers Group , FRP Advisory Group , Fulcrum Utility Services Ltd. (DI), Great Eastern Energy Corp Ltd. GDR, Novacyt S.A. (CDI), Scholium Group, The Fulham Shore
TRADING ANNOUNCEMENTS
MyHealthchecked
UK ECONOMIC ANNOUNCEMENTS
BRC Shop Price Index (00:01)
Consumer Credit (09:30)
M4 Money Supply (09:30)
Mortgage Approvals (09:30)
Nationwide House Price Index (07:00)
FINAL DIVIDEND PAYMENT DATE
Base Resources Ltd , Miton UK Microcap Trust
Thursday September 30
INTERIMS
Angle, Avacta Group, BION NPV, Ceres Power Holdings, Jade Road Investments Limited NPV (DI), London Security, MyCelx Technologies Corporation (DI), OptiBiotix Health, Rockhopper Exploration, Synairgen
INTERIM DIVIDEND PAYMENT DATE
Aviva 8 3/8% Cumulative Irrd Preference 1, Centamin (DI), Digital 9 Infrastructure NPV, Downing Renewables & Infrastructure Trust, Henry Boot Prf, HSBC Holdings, Keystone Positive Change Investment Trust 5% Cumulative Preference 1, Mondi, Northern Electricity Prf, Polymetal International, S and U 6% Cumulative Prf. £1, Tate & Lyle 6.5% Cum. Prf. £1, Triple Point Energy Efficiency Infrastructure Company
INTERIM EX-DIVIDEND DATE
AVI Japan Opportunity Trust , Central Asia Metals, Christie Group, Fevertree Drinks, Fintel, Frenkel Topping Group, Hays, Ingenta, JPMorgan Russian Securities, JTC, Oxford Technology 3 VCT, Personal Group Holdings, Rightmove, Smith & Nephew, Strix Group , STV Group, TP Icap Group , Travis Perkins, Wynnstay Group
QUARTERLY PAYMENT DATE
HICL Infrastructure , Honeycomb Investment Trust, NextEnergy Solar Fund Limited Red, Premier Miton Global Renewables Trust, Raven Property Group Limited Cum Red Pref, The Renewables Infrastructure Group Limited, UIL Limited (DI)
QUARTERLY EX-DIVIDEND DATE
Aberdeen Diversified Income and Growth Trust , Alpha Real Trust Ltd., British American Tobacco, NB Global Monthly Income Fund Limited Red Ord Shs NPV £, Scottish Inv Trust, Value and Indexed Property Income Trust
INTERNATIONAL ECONOMIC ANNOUNCEMENTS
Chicago PMI (US) (14:45)
Continuing Claims (US) (13:30)
Gross Domestic Product (US) (13:30)
Import Price Index (GER) (07:00)
Initial Jobless Claims (US) (13:30)
Personal Consumption Expenditures (US) (13:30)
Unemployment Rate (EU) (10:00)
Unemployment Rate (GER) (08:55)
GMS
Augean, Bigblu Broadband , BioPharma Credit , Genedrive , San Leon Energy (CDI)
FINALS
Avation, Lekoil Ltd (DI)
SPECIAL DIVIDEND PAYMENT DATE
ICG-Longbow Senior Secured UK Property Debt Investments Ltd
SPECIAL EX-DIVIDEND DATE
Hargreave Hale AIM VCT , Hays, Kings Arms Yard VCT, Travis Perkins
EGMS
PJSC Tatneft ADS
AGMS
ActiveOps, Altitude Group, Anglesey Mining, Argo Group Ltd., BMO Managed Portfolio Trust Grwth Shs, BMO Managed Portfolio Trust Inc Shs, Chill Brands Group, DCD Media, Diageo, Insig AI, Kibo Energy (CDI), Merit Group, NWF Group, Ormonde Mining (CDI), Pennpetro Energy , PHSC, Sosandar, Supreme , TheWorks.Co.Uk, Trafalgar Property Group
UK ECONOMIC ANNOUNCEMENTS
Current Account (07:00)
Gross Domestic Product (07:00)
FINAL DIVIDEND PAYMENT DATE
Accrol Group Holdings, Alpha Financial Markets Consulting, Gresham House Strategic
FINAL EX-DIVIDEND DATE
Barratt Developments, FRP Advisory Group , Hansard Global, Heavitree Brewery 11 1/2% Cum Prf , Kainos Group , Latham (James) 8% Cumulative Preference 1, Mattioli Woods, Mid Wynd International Inv Trust, PHSC
Friday October 01
INTERIM DIVIDEND PAYMENT DATE
Admiral Group, Antofagasta, Bristol Water 'A' 8 3/4% Cum Irrd Prf, Capital Limited (DI), Concurrent Technologies, General Accident (Prf), Glanbia (CDI), Globaldata, Globalworth Real Estate Investments Limited, Grafton Group Ut (CDI), H&T Group, International Personal Finance, Jadestone Energy, John Menzies 9% Cumulative Preference 1, Maven Income & Growth 4 VCT, Morgan Advance Materials 5% Cumulative 2nd Preference 1, Morgan Advance Materials 5.5% Cumulative 1st preference 1, Robert Walters, RSA Insurance Group Limited 7 3/8% Cum Irrd Prf #1, Stand.Ch.7te%pr, Standard Chartered 8 1/4% Non-Cum Irrd Pref, Tclarke , TotalEnergies SE
QUARTERLY PAYMENT DATE
BlackRock Sustainable American Income Trust
INTERNATIONAL ECONOMIC ANNOUNCEMENTS
Construction Spending (US) (15:00)
ISM Manufacturing (US) (15:00)
Personal Consumption Expenditures (US) (13:30)
Personal Income (US) (13:30)
Personal Spending (US) (13:30)
PMI Manufacturing (GER) (08:55)
PMI Manufacturing (EU) (09:00)
PMI Manufacturing (US) (14:45)
Retail Sales (GER) (07:00)
Unemployment Rate (US) (13:30)
GMS
Kape Technologies
FINALS
Sensyne Health
SPECIAL DIVIDEND PAYMENT DATE
Admiral Group
SPECIAL EX-DIVIDEND DATE
Bigblu Broadband
EGMS
Genesis Emerging Markets Fund Ltd Ptg NPV
AGMS
Arcontech Group, Henderson Smaller Companies Inv Trust
UK ECONOMIC ANNOUNCEMENTS
PMI Manufacturing (09:30)
FINAL DIVIDEND PAYMENT DATE
Appreciate Group, Best of the Best, Jupiter Green Inv Trust, The Panoply Holdings, Walker Crips Group