Week ahead: Fedspeak, Chinese CPI, BoJ in the spotlight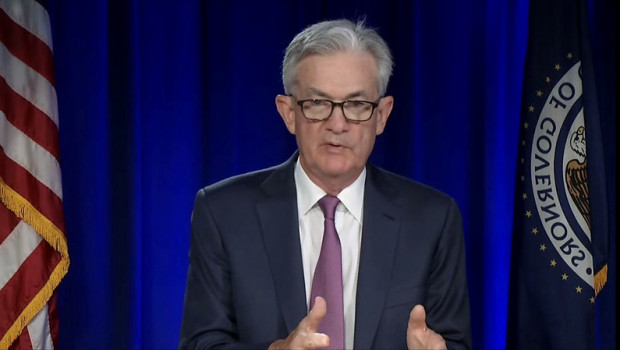 The US central bank was expected to remain in focus, even as investors digested an unexpected and far stronger than anticipated reading on the US jobs market at the end of the previous week.
At least six top Federal Reserve officials were scheduled to take to the podium over the coming week with Wednesday's calendar of Fed speakers expected to be the heaviest.
Of particular interest however be an interview of Fed chief, Jerome Powell, at the Economic Club of Washington, on Tuesday.
Also due out in the US was a preliminary reading for US consumer confidence in February come Friday.
Against that backdrop, investors would be waiting on Chinese consumer and producer price data, on Friday as well.
Investors would also be keeping a close eye on the nominations to head the Bank of Japan, which were also due at the end of the week.
Barclays Research's base case was that they would set the stage for a revision of the central bank's policy of Yield Curve Control on 9-10 March with full fledged changes expected on 27-28 April.
"We would fade any knee-jerk yen selling if current deputy Amamiya is nominated to succeed Kuroda, especially if he is coupled with a hawkish deputy, such as Okina," the investment bank's economists said.
Across the Channel meanwhile, readings were expected for German industrial production, on Tuesday, and consumer prices, on Thursday.
On home shores, Friday would bring with it gross domestic product figures for December (consensus: -0.3%) and for the fourth quarter as a whole (consensus: 0.0%).
Rate-setters in Australia and India would announce their latest interest rate decisions on Tuesday and Wednesday, respectively.
Monday 06 February
TRADING ANNOUNCEMENTS
Hyve Group, Plant Health Care, Seen, Bonhill Group, Darktrace, EKF Diagnostics Holdings, Eqtec (CDI), B90 Holdings NPV, Balanced Commercial Property Trust Limited, EPE Special Opportunities Limited (DI)
GMs
Smithson Investment Trust
DRILLING REPORT
Andrada Mining Limited NPV, Caledonia Mining Corporation (DI), Lexington Gold Ltd (DI), 88 Energy Limited (DI), Touchstone Exploration Inc NPV (DI), Empire Metals Limited NPV (DI), Hamak Gold Limited NPV (DI)
FINAL DIVIDEND PAYMENT DATE
Henderson European Focus Trust, Origin Enterprises (CDI)
FINAL DIVIDEND PAYMENT DATE
Henderson European Focus Trust, Origin Enterprises (CDI)
INTERIM DIVIDEND PAYMENT DATE
BT Group
SPECIAL DIVIDEND PAYMENT DATE
Henderson European Focus Trust
UK ECONOMIC ANNOUNCEMENTS
PMI Construction (09:30)
INTERNATIONAL ECONOMIC ANNOUNCEMENTS
Factory Orders (GER) (07:00)
Retail Sales (EU) (10:00)
Tuesday 07 February
FINALS
Kosmos Energy (DI), React Group, BP
INTERIMS
Genus, Mattioli Woods, Feedback, Alumasc Group
Q4
BP
TRADING ANNOUNCEMENTS
SSE, Syncona Limited NPV
AGMs
Ten Lifestyle Group, Blackrock Frontiers Investment Trust, Numis Corporation
UK ECONOMIC ANNOUNCEMENTS
Halifax House Price Index (07:00)
INTERNATIONAL ECONOMIC ANNOUNCEMENTS
Industrial Production (GER) (07:00)
Balance of Trade (US) (13:30)
Consumer Credit (US) (20:00
Wednesday 08 February
FINALS
Hardide, Smurfit Kappa Group (CDI)
INTERIMS
Barratt Developments, CAP-XX Limited, Ashmore Group
TRADING ANNOUNCEMENTS
Severn Trent
AGMs
Keystone Positive Change Investment Trust, AJ Bell, Grainger
FINAL DIVIDEND PAYMENT DATE
Britvic
Cerillion
FINAL DIVIDEND PAYMENT DATE
Britvic, Cerillion
SPECIAL DIVIDEND PAYMENT DATE
BlackRock Latin American Inv Trust
QUARTERLY PAYMENT DATE
BlackRock Latin American Inv Trust
International Economic Announcements
MBA Mortgage Applications (US) (12:00)
Wholesales Inventories (US) (15:00)
Crude Oil Inventories (US) (15:30)
Thursday 09 February
FINALS
Unilever, AstraZeneca
INTERIMS
Redrow
Q4
AstraZeneca, Unilever
TRADING ANNOUNCEMENTS
Bellway, Compass Group, Watches of Switzerland Group
AGMs
Polar Capital Global Healthcare Trust, easyJet, Tritax Eurobox (GBP), Compass Group, Zytronic, Oxford Metrics
EGMs
Ethernity Networks Ltd, Compass Group
FINAL EX-DIVIDEND PAYMENT DATE
Avon Protection, Impax Asset Management Group, Titon Holdings, Victorian Plumbing Group, Zytronic, Renew Holdings, Aberforth Smaller Companies Trust, Blackrock Income And Growth Investment Trust, Gulf Investment Fund
FINAL DIVIDEND PAYMENT DATE
Smiths News
INTERIM EX-DIVIDEND DATE
Impax Environmental Markets, Target Healthcare Reit Ltd, Ecofin U.S. Renewables Infrastructure Trust, Abrdn Property Income Trust Limited
Greencoat UK Wind, Impact Healthcare Reit, Taylor Maritime Investments Limited NPV, CVC Income & Growth Limited NPV GBP, Alternative Income Reit, Taylor Maritime Investments Limited NPV, Balanced Commercial Property Trust Limited, CVC Income & Growth Limited NPV Euro, Aberforth Split Level Income Trust, Residential Secure Income, UK Commercial Property Reit Limited, Ediston Property Investment Company, Henderson Smaller Companies Inv Trust, GCP Infrastructure Investments Ltd, Ecofin U.S. Renewables Infrastructure Trust
INTERIM DIVIDEND PAYMENT DATE
Ashtead Group
SPECIAL EX-DIVIDEND DATE
Victorian Plumbing Group, Life Settlement Assets, Aberforth Smaller Companies Trust
QUARTERLY EX-DIVIDEND DATE
Picton Property Income Ltd, The Renewables Infrastructure Group Limited, Custodian Property Income Reit, Octopus Renewables Infrastructure Trust, Chenavari Toro Income Fund Limited NPV, JPMorgan Claverhouse Inv Trust, INTERNATIONAL BUSINESS MACHINES CORPORATION COM STK USD0.20 (CDI)
UK ECONOMIC ANNOUNCEMENTS
RICS Housing Market Survey (00:01)
Friday 10 February
Q4
Lancashire Holdings Limited
AGMs
Red Rock Resources, Victrex plc
FINAL DIVIDEND PAYMENT DATE
Numis Corporation, Schroder Asia Pacific Fund, Baillie Gifford European Growth Trust, Hargreave Hale AIM VCT, Sage Group, Tracsis, Premier Miton Group
INTERIM DIVIDEND PAYMENT DATE
I3 Energy, Industrials Reit Limited, Abrdn New Dawn Investment Trust, Schroder Oriental Income Fund Ltd., Montanaro UK Smaller Companies Inv Trust
SPECIAL DIVIDEND PAYMENT DATE
Centaur Media, Hargreave Hale AIM VCT, Panther Securities
QUARTERLY PAYMENT DATE
Tufton Oceanic Assets Limited NPV
UK ECONOMIC ANNOUNCEMENTS
Index of Services (07:00)
Industrial Production (07:00)
Gross Domestic Product (07:00)
GDP (Preliminary) (07:00)
Manufacturing Production (07:00)
Balance of Trade (07:00)
INTERNATIONAL ECONOMIC ANNOUNCEMENTS
U. of Michigan Confidence (Prelim) (US) (15:00)