Week ahead: Fed's Powell, UK and euro area manufacturing PMIs in focus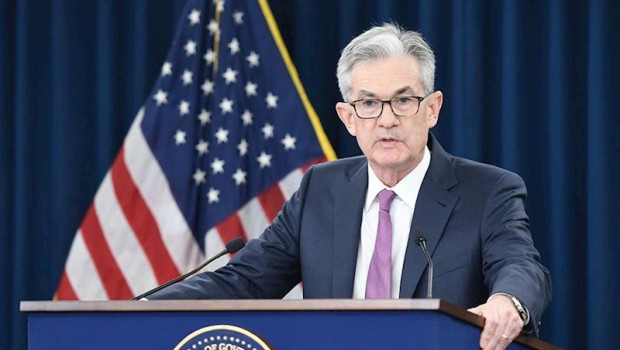 Financial markets' focus over the coming week is likely to be on the head of the Federal Reserve, Jerome Powell, who is due to make at least three public appearances, starting with a panel from the US House of Representatives on Tuesday and again on each of one of the next two days, before the House panel on Covid-19 on Wednesday and the Senate Banking Committee on Thursday.
Treasury Secretary Steven Mnuchin will accompany during the latter.
Next in line are a raft of manufacturing and services sectors Purchasing Managers surveys for the euro area and UK referencing the month of September, all of which are due out on Wednesday.
On home shores, investors will be keeping an eye out for public sector borrowing data on Tuesday.
Across the Channel, European Central Bank President, Christine Lagarde, is due to speak at an online meeting of the Franco-German parliamentary assembly.
The European Council meanwhile will convene for a special meeting on Thursday and Friday.
Central bankers in China, Sweden and New Zealand will meet to decide on interest rates on Monday, Tuesday and Wednesday, respectively.
To take note of, on Monday and Tuesday, investors in Japan will be enjoying a national holiday.
Monday 21 September
INTERIMS
Augean, Maxcyte (DI), Pennant International Group
INTERIM DIVIDEND PAYMENT DATE
Hikma Pharmaceuticals, Pearson, Quilter
QUARTERLY PAYMENT DATE
Royal Dutch Shell 'A', Royal Dutch Shell 'B'
INTERNATIONAL ECONOMIC ANNOUNCEMENTS
GFK Consumer Confidence (GER) (07:00)
GMS
Societatea Nationala De Gaze Naturale Romgaz S.A. GDR (Reg S)
FINALS
Superdry
EGMS
Societatea Nationala De Gaze Naturale Romgaz S.A. GDR (Reg S)
AGMS
Finncap Group , Henderson Smaller Companies Inv Trust, Hidong Estate, IG Design Group, Induction Healthcare Group, Knights Group Holdings , Vertu Capital Limited (DI)
FINAL DIVIDEND PAYMENT DATE
Meikles Ltd.
Tuesday 22 September
INTERIMS
ADES International Holding (DI) , Alliance Pharma, Barr (A.G.), Cambridge Cognition Holdings, Ergomed , Frenkel Topping Group, Inspects Group , Judges Scientific, Kingfisher, LongBoat Energy (Reg S), NAHL Group, Oriole Resources , Parity Group, Personal Group Holdings, Tremor International LTD (DI)
INTERIM DIVIDEND PAYMENT DATE
London Stock Exchange Group
INTERNATIONAL ECONOMIC ANNOUNCEMENTS
Existing Home Sales (US) (15:00)
FINALS
1pm, Bluefield Solar Income Fund Limited, Litigation Capital Management Limited (DI)
AGMS
Ashmore Global Opportunities Limited USD NPV, Blue Planet Investment Trust, Cathay International Holdings Ltd., Draper Esprit VCT, Empyrean Energy, Gail (India) Ltd GDR (Reg S), Grafenia , Ilika, Liontrust Asset Management, Manolete Partners, Miton UK Microcap Trust, Morses Club , Odyssean Investment Trust, Pantheon International , Prime People, Trifast, Utilico Emerging Markets Ltd (DI), Yourgene Health
UK ECONOMIC ANNOUNCEMENTS
CBI Industrial Trends Surveys (11:00)
Public Sector Net Borrowing (09:30)
FINAL DIVIDEND PAYMENT DATE
BHP Group
Wednesday 23 September
INTERIMS
Cloudcall Group, ECSC Group, Equals Group , Loopup Group , Staffline Group, Strix Group , Ten Entertainment Group , The Mission Group, Warpaint London , Xeros Technology Group
INTERIM DIVIDEND PAYMENT DATE
Anexo Group , Property Franchise Group
INTERNATIONAL ECONOMIC ANNOUNCEMENTS
Crude Oil Inventories (US) (15:30)
House Price Index (US) (14:00)
Import Price Index (GER) (07:00)
MBA Mortgage Applications (US) (12:00)
GMS
Salt Lake Potash Limited (DI)
FINALS
Allergy Therapeutics, PZ Cussons
AGMS
Aberdeen New India Investment Trust, Aberdeen New India Investment Trust, Alpha Financial Markets Consulting, City Merchants High Yield Trust, Collagen Solutions, Dillistone Group, Downing Three VCT F Shs, Downing Two VCT F Shs , First Property Group, Fulcrum Utility Services Ltd. (DI), Hornby, Joules Group, Mothercare, Reabold Resources, Real Good Food , SDI Group , Tavistock Investments, Twentyfour Income Fund Limited Ord Red, Zoo Digital Group
FINAL DIVIDEND PAYMENT DATE
Blue Planet Investment Trust, Solid State
Thursday 24 September
INTERIMS
Biome Technologies, Ebiquity, Faron Pharmaceuticals Oy (DI), GYG, Pendragon, Portmeirion Group, RTW Venture Fund Limited NPV, SIG
INTERIM DIVIDEND PAYMENT DATE
Aviva, Legal & General Group, Schroders, Schroders (Non-Voting), SEGRO
INTERIM EX-DIVIDEND DATE
Advanced Medical Solutions Group, Computacenter, Fevertree Drinks, Fidelity European Values, Gamma Communications, HGCapital Trust, John Laing Group , JTC, Kenmare Resources, Medica Group , Morrison (Wm) Supermarkets, Phoenix Spree Deutschland Limited Shs NPV , Science Group , Wynnstay Group
QUARTERLY EX-DIVIDEND DATE
Aberdeen Diversified Income and Growth Trust , Law Debenture Corp., Mercantile Investment Trust (The), Standard Life Private Equity Trust, Supermarket Income Reit
INTERNATIONAL ECONOMIC ANNOUNCEMENTS
Continuing Claims (US) (00:00)
IFO Business Climate (GER) (09:00)
IFO Current Assessment (GER) (09:00)
IFO Expectations (GER) (09:00)
Initial Jobless Claims (US) (13:30)
New Homes Sales (US) (15:00)
GMS
Premier Veterinary Group
FINALS
CVS Group, DFS Furniture
SPECIAL EX-DIVIDEND DATE
Eckoh, Ferrexpo, Hargreaves Lansdown, Somero Enterprises Inc. (DI)
AGMS
Alcentra Euorpean Floating Rate Income Fund Ltd Red Ord Shs, BMO Managed Portfolio Trust Grwth Shs, BMO Managed Portfolio Trust Inc Shs, Caffyns, Foresight Solar & Technology VCT, Integumen, Kainos Group , Mercia Technologies , Miton Global Opportunities, NWF Group, Premier Veterinary Group , Securities Trust of Scotland, Shearwater Group , Sure Ventures , Triad Group, Versarien
TRADING ANNOUNCEMENTS
United Utilities Group
FINAL DIVIDEND PAYMENT DATE
XPS Pensions Group
FINAL EX-DIVIDEND DATE
Alumasc Group, Brickability Group , Brooks Macdonald Group, Draper Esprit VCT, DWF Group , Hargreaves Lansdown, Henderson Alternative Strategies Trust , IG Group Holdings, Jupiter Green Inv Trust, Pembroke Vct, Pembroke Vct B, Redde Northgate
Friday 25 September
INTERIMS
Camellia
INTERIM DIVIDEND PAYMENT DATE
Anglo American, Apax Global Alpha Limited , Athelney Trust, Bodycote, Capital Limited (DI), CLS Holdings, CRH, Downing Four VCT DP67 , Polymetal International, Rotork
QUARTERLY PAYMENT DATE
BlackRock World Mining Trust, BP, Contour Global , Diversified Gas & Oil, RM Secured Direct Lending, UIL Limited (DI)
QUARTERLY EX-DIVIDEND DATE
General Electric Co (CDI), Total SE
INTERNATIONAL ECONOMIC ANNOUNCEMENTS
Durable Goods Orders (US) (13:30)
M3 Money Supply (EU) (09:00)
GMS
Hydrogen Group, Star Phoenix Group Ltd NPV (DI)
AGMS
Catenae Innovation, En+ Group International Public Joint-Stock Company GDR (Reg S), Fusion Antibodies , ICG-Longbow Senior Secured UK Property Debt Investments Ltd, India Capital Growth Fund Ltd., Lekoil Ltd (DI), Marble Point Loan Financing Limited NPV, Okyo Pharma Limited NPV, Otaq , Schroder Real Estate Investment Trust Ltd, Solo Oil, Subex Ltd GDR (Reg S)
TRADING ANNOUNCEMENTS
Pennon Group
UK ECONOMIC ANNOUNCEMENTS
CBI Distributive Trades Surveys (11:00)
GFK Consumer Confidence (00:01)
FINAL DIVIDEND PAYMENT DATE
First Property Group