Week ahead: Federal Reserve, UK employment in focus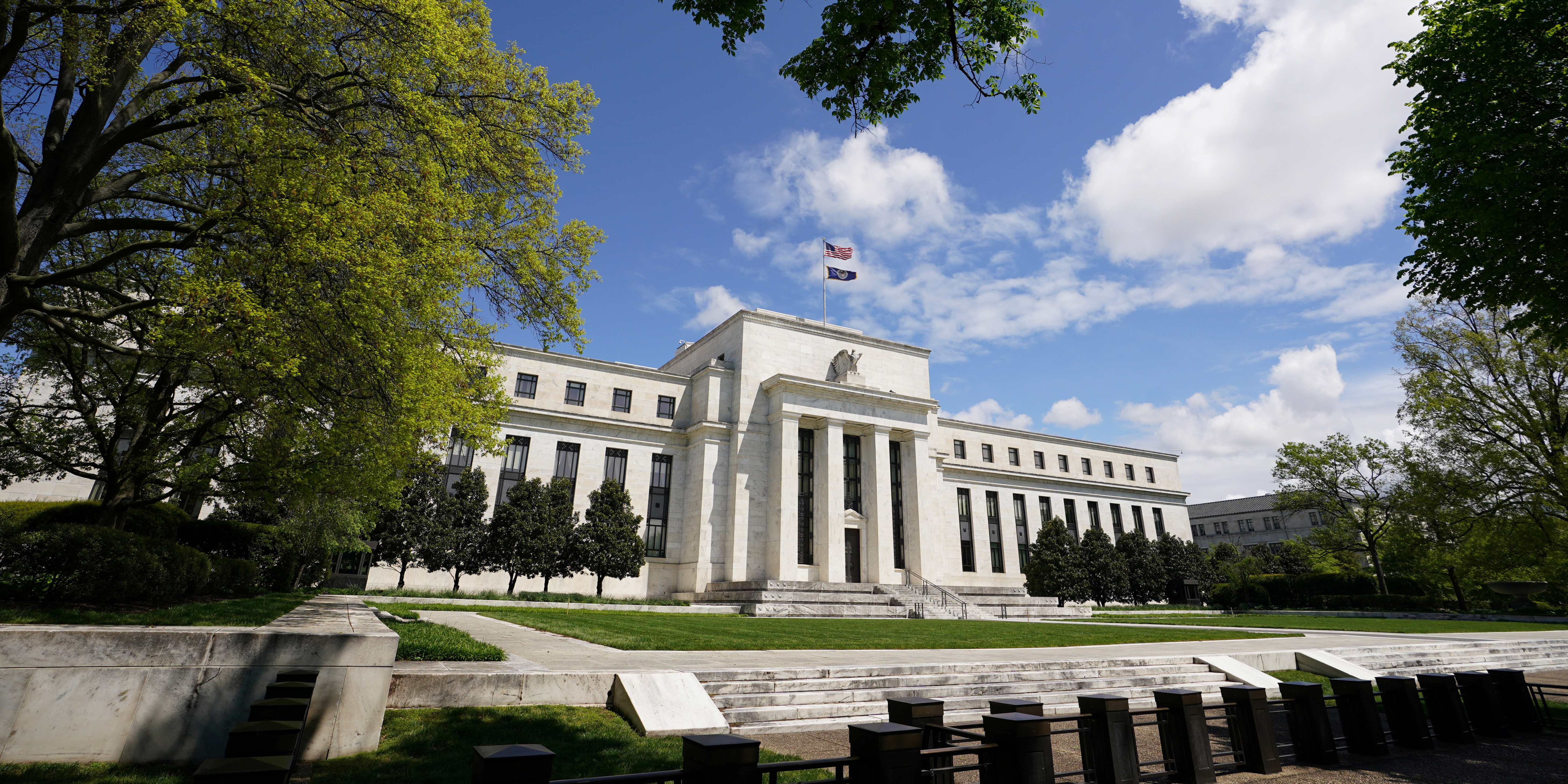 The coming week's focus will be on the US central bank's policy meeting with investors keen to see whether and to what extent policymakers' bias towards continued easy policy has shifted - if at all.
Straddling the Federal Reserve meeting on Wednesday will be reports on the UK labour market in April, on Tuesday, followed by readings on monthly CPI and retail sales on Thursday and Friday, respectively.
Also due out on Wednesday - and with ample potential to move financial markets - are a batch of monthly activity indicators in the People's Republic of China referencing the month of May.
Retail sales figures in the US for May on Tuesday also bare watching out for as will the latest weekly jobless claims figures.
Rate-setters in Switzerland are also scheduled to meet to decide on monetary policy, on Thursday, followed by their peers in Japan the next day.
Not to lose sight of either, in the background traders will be carefully monitoring the debate around the reopening timeline in the UK, and perhaps elsewhere, on account of the Delta variant of Covid-19.
Monday 14 June
INTERIMS
Crest Nicholson Holdings
INTERNATIONAL ECONOMIC ANNOUNCEMENTS
Industrial Production (EU) (10:00)
GMS
Belvoir Group
FINALS
Augmentum Fintech, Draper Esprit
AGMS
Altus Strategies , Arix Bioscience , Lexington Gold Ltd (DI), Medica Group , Mirriad Advertising , NB Global Monthly Income Fund Limited Red Ord Shs NPV £, Plant Health Care, Saga , Sourcebio International, Spectra Systems Corporation, TBC Bank Group, The Mission Group, Trian Investors 1 Limited NPV
TRADING ANNOUNCEMENTS
SThree
FINAL DIVIDEND PAYMENT DATE
Genel Energy, Reckitt Benckiser Group
Tuesday 15 June
INTERIMS
On The Beach Group , Oxford Biodynamics , Pressure Technologies, Ramsdens Holdings
INTERIM DIVIDEND PAYMENT DATE
Aeci 5 1/2% Prf
QUARTERLY PAYMENT DATE
Canadian General Investments Ltd.
INTERNATIONAL ECONOMIC ANNOUNCEMENTS
Balance of Trade (EU) (10:00)
Business Inventories (US) (15:00)
Capacity Utilisation (US) (14:15)
Consumer Price Index (GER) (07:00)
Industrial Production (US) (14:15)
Producer Price Index (US) (13:30)
Retail Sales (US) (13:30)
Q3
Renalytix Ai (Reg S)
Q4
Ashtead Group
FINALS
Anemoi International Ltd NPV (DI), CML Microsystems, Iomart Group, Tatton Asset Management , Thalassa Holdings Ltd. (DI), TP Group, Vianet Group
AGMS
Andrews Sykes Group, Bermele, Concurrent Technologies, Coro Energy, Evraz, London & Associated Properties, Loopup Group , Northbridge Industrial Services, Panther Metals, Pelatro , Property Franchise Group, Silence Therapeutics, Somero Enterprises Inc. (DI), Starwood European Real Estate Finance Ltd, Wentworth Resources NPV
UK ECONOMIC ANNOUNCEMENTS
Claimant Count Rate (07:00)
Unemployment Rate (07:00)
FINAL DIVIDEND PAYMENT DATE
Centamin (DI), Gem Diamonds Ltd. (DI)
Wednesday 16 June
INTERIM DIVIDEND PAYMENT DATE
Diploma
INTERNATIONAL ECONOMIC ANNOUNCEMENTS
Building Permits (US) (13:30)
Crude Oil Inventories (US) (15:30)
Housing Starts (US) (13:30)
Import and Export Price Indices (US) (13:30)
MBA Mortgage Applications (US) (12:00)
GMS
Toyota Motor Corp., Toyota Motor Corp.
FINALS
Best of the Best, Castings
AGMS
Anexo Group , Augean, Dillistone Group, e-Therapeutics, Echo Energy , Elixirr International , Fireangel Safety Technology Group, Foresight Solar Fund Limited, International Consolidated Airlines Group SA (CDI), Jadestone Energy, Kooth , Life Settlement Assets, Standard Life Investments Property Income Trust Ltd., Tullow Oil, Tullow Oil, WANdisco
TRADING ANNOUNCEMENTS
Origin Enterprises (CDI)
UK ECONOMIC ANNOUNCEMENTS
Consumer Price Index (07:00)
Producer Price Index (07:00)
Retail Price Index (07:00)
FINAL DIVIDEND PAYMENT DATE
Belvoir Group, Gamesys Group, IP Group
Thursday 17 June
INTERIM EX-DIVIDEND DATE
Gabelli Value Plus Trust , Renew Holdings, Tharisa (DI), Up Global Sourcing Holdings , Witan Investment Trust Plc
QUARTERLY EX-DIVIDEND DATE
Aberdeen Diversified Income and Growth Trust , Brunner Inv Trust, TwentyFour Select Monthly Income Fund Limited , XP Power Ltd. (DI)
INTERNATIONAL ECONOMIC ANNOUNCEMENTS
Consumer Price Index (EU) (10:00)
Continuing Claims (US) (13:30)
Initial Jobless Claims (US) (13:30)
Philadelphia Fed Index (US) (13:30)
FINALS
Halfords Group, NextEnergy Solar Fund Limited Red, Record, Renold, Syncona Limited NPV, Volex
AGMS
Aberdeen New Thai Inv Trust, Anpario, BioPharma Credit , Bluejay Mining, BMO Commercial Property Trust Limited, CEIBA Investments Limited NPV, Ceres Power Holdings, Microsaic Systems, Middlefield Canadian Income PCC, Mustang Energy , Petrofac Ltd., RBG Holdings, Shield Therapeutics, Sumo Group , Whitbread
TRADING ANNOUNCEMENTS
Brown (N.) Group, Whitbread
FINAL DIVIDEND PAYMENT DATE
Cenkos Securities
FINAL EX-DIVIDEND DATE
3i Infrastructure, Amati AIM Vct , Electrocomponents, Ferrexpo, Fidelity China Special Situations , Forterra, Inspired Energy, Intermediate Capital Group, Land Securities Group, Maven Income & Growth VCT, Pets at Home Group , S&U, Templeton Emerging Markets Inv Trust, TR Property Inv Trust, Warpaint London , Xpediator
Friday 18 June
INTERIMS
Blue Prism Group
INTERIM DIVIDEND PAYMENT DATE
Cerillion , Foresight 4 VCT, Majedie Investments, Numis Corporation, Sage Group, Stock Spirits Group
QUARTERLY PAYMENT DATE
BP, Pershing Square Holdings Ltd NPV, Pershing Square Holdings Ltd NPV (USD), Tritax Eurobox (EUR), Tritax Eurobox (GBP)
INTERNATIONAL ECONOMIC ANNOUNCEMENTS
Current Account (EU) (09:00)
Producer Price Index (GER) (07:00)
GMS
Chariot Oil & Gas Ltd., City of London Inv Trust
FINALS
Inspects Group , Telecom Plus
ANNUAL REPORT
Caledonia Investments, SSE
SPECIAL DIVIDEND PAYMENT DATE
Howden Joinery Group
EGMS
JZ Capital Partners Ltd
AGMS
Alba Mineral Resources, Beowulf Mining, Boohoo Group, Drumz , Gulf Keystone Petroleum Ltd Com Shs (DI), Katoro Gold, Location Sciences Group, Raven Property Group Limited, Synairgen, Trinity Exploration & Production, UK Commercial Property Reit Limited
TRADING ANNOUNCEMENTS
Tesco
UK ECONOMIC ANNOUNCEMENTS
Retail Sales (07:00)
FINAL DIVIDEND PAYMENT DATE
Advanced Medical Solutions Group, Andrews Sykes Group, Avast, BlackRock Smaller Companies Trust, Burford Capital NPV (DI), Howden Joinery Group, Intertek Group, LMS Capital, M. P. Evans Group, Mincon Group (CDI), Science Group