Week ahead: Fed policy, NFPs, Brexit bill, results from Astra, Glencore, Shell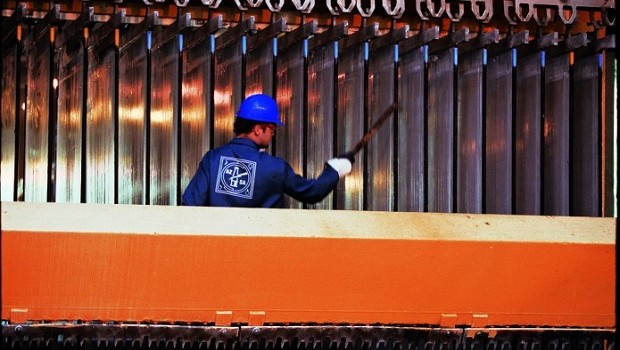 Next week the financial agenda is dotted with some big events, including a US policy announcement and the pivotal non-farm payroll numbers, with UK corporate updates including results from AstraZeneca, Glencore, Shell, SSE and Vodafone, plus there's a serious Brexit debate in the House of Lords.
UK data including a consumer lending and credit update from the Bank of England on Tuesday, with Governor Mark Carney being grilled at the House of Lords' economic affairs committee hearing on Tuesday afternoon. Wednesday will see Gfk's consumer confidence report and retail price data from the British Retail Consortium, with purchasing managers index surveys on the manufacturing and construction sectors coming on Thursday and Friday.
Corporate results also will include AG Barr, Britvic, Cranswick, Centamin, CYBG, Dairy Crest Group, Domino's Pizza, Flybe Group, PZ Cussons, T Clarke, Wizz Air and ZPG.
It's a big week for Brexit debate, with Monday seeing Brexit secretary David Davis give evidence to the Lords European Union Committee, and on Tuesday and Wednesday a key piece of Brexit legislation, the EU withdrawal bill, will have its second reading in the Lords, with 185 peers so far putting their name down to speak in the debate. On Monday the EU General Affairs Council will also meet in Brussels to formally agree negotiating terms on the Brexit transition period.
In the eurozone, the major data points are the GDP reading the fourth quarter on Tuesday and consumer price inflation, the European Central Bank's main focus, as well as an unemployment reading on Wednesday.
In the US it is the Federal Reserve policy week, though the central bank is not expected to change rates on Wednesday, nor make any major change to its statement. The market has priced in three hikes this year already in line with the Fed's 'dot plot' of rate expectations.
"At first blush, this is expected be one of the more uneventful FOMC meetings in some time," said RBC Capital Markets in its preview. "The likelihood of a hike is near zero, and the fact that there is no press conference or update to economic projections means the statement will be in focus. But we think there will be important tweaks that will make this statement much more hawkish than the December version."
Jerome Powell will officially start work as the new Fed Chairman at the end of the week after he received a final seal of approval by the Senate earlier this week.
Next Friday in the US is non-farm payroll day, where earnings are more likely to be the key focus, with, said analysts at Danske Bank, "upside could add fuel to the global reflation theme".
There will be various other PMI surveys through the week, including a handful from China that could move commodities prices.

Monday January 29
INTERNATIONAL ECONOMIC ANNOUNCEMENTS
Personal Income (US) (13:30)
Personal Spending (US) (13:30)
FINALS
Porvair, SThree
INTERIMS
Conviviality
TRADING ANNOUNCEMENTS
Petra Diamonds Ltd.(DI), Yu Group
SPECIAL DIVIDEND PAYMENT DATE
Worldpay, Inc Class A Com Stk (DI)
EGMS
European Wealth Group Limited
AGMS
easyHotel, Invesco Perpetual Enhanced Income Limited, Lowland Investment Co
FINAL DIVIDEND PAYMENT DATE
Character Group, Marston's
Tuesday January 30
INTERNATIONAL ECONOMIC ANNOUNCEMENTS
Business Climate Indicator (EU) (10:00)
Consumer Confidence (US) (10:00)
Economic Sentiment Indicator (EU) (10:00)
GDP (Preliminary) (EU) (10:00)
Import Price Index (GER) (07:00)
Industrial Confidence (EU) (10:00)
Services Confidence (EU) (10:00)
UK ECONOMIC ANNOUNCEMENTS
Consumer Credit (09:30)
M4 Money Supply (09:30)
Mortgage Approvals (09:30)
FINALS
Oxford Biodynamics
INTERIMS
Filtronic, NWF Group, PZ Cussons
TRADING ANNOUNCEMENTS
Avocet Mining, CYBG , Domino's Pizza Group, Restore, UDG Healthcare Public Limited Company
GMS
Wizz Air Holdings
AGMS
Greencore Group, Hollywood Bowl Group, Patisserie Holdings , Servoca, Solgold, UDG Healthcare Public Limited Company, Utilitywise plc, ZPG Plc
FINAL DIVIDEND PAYMENT DATE
Hargreave Hale AIM VCT 1, Up Global Sourcing Holdings
QUARTERLY EX-DIVIDEND DATE
Marsh & Mclennan Cos Inc.
Wednesday January 31
INTERNATIONAL ECONOMIC ANNOUNCEMENTS
Chicago PMI (US) (14:45)
Crude Oil Inventories (US) (15:30)
MBA Mortgage Applications (US) (12:00)
Pending Homes Sales (US) (15:00)
Retail Sales (GER) (07:00)
Unemployment Rate (EU) (10:00)
Unemployment Rate (GER) (09:00)
UK ECONOMIC ANNOUNCEMENTS
BRC Shop Price Index (00:01)
GFK Consumer Confidence (00:01)
FINALS
Centamin (DI), Infrastrata, Low & Bonar
INTERIMS
Angle, Best of the Best, Joules Group
TRADING ANNOUNCEMENTS
Britvic, Dairy Crest Group, Flybe Group, SSE, Wizz Air Holdings
GMS
Bilby
ANNUAL REPORT
Infrastrata
EGMS
Hon Hai Precision Industry Co. Ltd. GDR (Reg S)
AGMS
BMR Group, Britvic, CYBG , Finsbury Growth & Income Trust, Renew Holdings, Schroder UK Mid Cap Fund, Sunrise Resources , Tertiary Minerals, Topps Tiles
FINAL DIVIDEND PAYMENT DATE
DotDigital Group, European Investment Trust, International Biotech Trust, Lowland Investment Co, Standard Life Private Equity Trust
INTERIM DIVIDEND PAYMENT DATE
BCA Marketplace, Bilby, F&C Global Smaller Companies, Iomart Group, Vianet Group
INTERIM EX-DIVIDEND DATE
Tongaat-Hulett Ltd.
QUARTERLY PAYMENT DATE
F&C Commercial Property Trust Ltd., F&C Private Equity Trust, Funding Circle SME Income Fund, Middlefield Canadian Income PCC, Schroder Income Growth Fund
Thursday February 01
INTERNATIONAL ECONOMIC ANNOUNCEMENTS
Auto Sales (US) (20:30)
Construction Spending (US) (15:00)
Continuing Claims (US) (13:30)
Initial Jobless Claims (US) (13:30)
ISM Manufacturing (US) (15:00)
ISM Prices Paid (US) (15:00)
PMI Manufacturing (US) (14:45)
UK ECONOMIC ANNOUNCEMENTS
Nationwide House Price Index (07:00)
FINALS
Royal Dutch Shell 'A', Royal Dutch Shell 'B', Unilever
INTERIMS
F&C Managed Portfolio Trust Growth Shares, Rank Group
TRADING ANNOUNCEMENTS
3i Group, Barr (A.G.), Clarke (T.), Cranswick, Euromoney Institutional Investor, Glencore , Intermediate Capital Group, Royal Dutch Shell, UK Commercial Property Trust, Vodafone Group
INTERIM DIVIDEND PAYMENT DATE
United Utilities Group
INTERIM EX-DIVIDEND DATE
Cohort, CPL Resources, Downing One VCT , IG Group Holdings, Motorpoint Group
QUARTERLY PAYMENT DATE
Mercantile Investment Trust (The)
QUARTERLY EX-DIVIDEND DATE
APQ Global Limited, JPMorgan Claverhouse Inv Trust, SQN Asset Finance Income Fund Limited, SQN Asset Finance Income Fund Limited 'C Shares', SQN Secured Income Fund
SPECIAL EX-DIVIDEND DATE
Hollywood Bowl Group, Victrex plc
AGMS
Avon Rubber, Euromoney Institutional Investor, Premier Veterinary Group , Redhall Group, Stride Gaming
FINAL DIVIDEND PAYMENT DATE
BBA Aviation 5% Cum Prf, McCarthy & Stone, Stride Gaming, WH Smith
FINAL EX-DIVIDEND DATE
Blackrock Income And Growth Investment Trust, Chrysalis VCT, Hollywood Bowl Group, Renew Holdings, Tharisa (DI), Tracsis, Victrex plc
Friday February 02
INTERNATIONAL ECONOMIC ANNOUNCEMENTS
Non-Farm Payrolls (US) (13:30)
Producer Price Index (EU) (10:00)
U. of Michigan Confidence (US) (15:00)
Unemployment Rate (US) (13:30)
FINALS
AstraZeneca
TRADING ANNOUNCEMENTS
AstraZeneca, BT Group, Cineworld Group, Gem Diamonds Ltd. (DI)
UK ECONOMIC ANNOUNCEMENTS
PMI Construction (09:30)
SPECIAL DIVIDEND PAYMENT DATE
F & C UK High Income Trust , Henderson European Focus Trust, Pacific Industrial & Logistics REIT
AGMS
Autins Group, Brewin Dolphin Holdings, Scottish Inv Trust
FINAL DIVIDEND PAYMENT DATE
Henderson European Focus Trust, Topps Tiles, Unicorn AIM VCT
INTERIM DIVIDEND PAYMENT DATE
Burberry Group, Experian, Nex Group , Vodafone Group
QUARTERLY PAYMENT DATE
F & C UK High Income Trust