Week ahead: Fed decision, US and euro area GDP in focus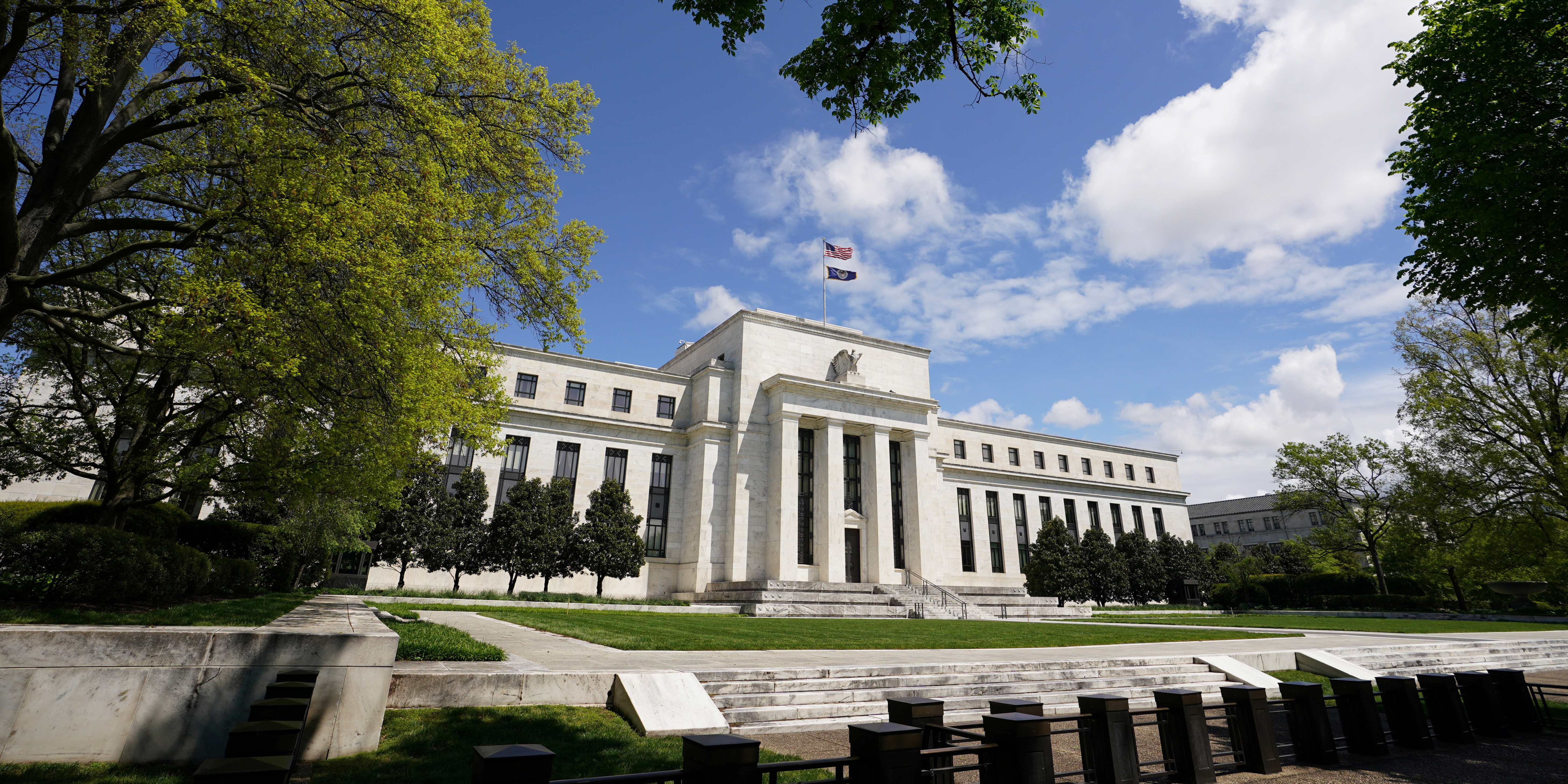 Investors' focus over the coming week will be squarely on the US central bank's policy decision on Wednesday.
No change in policy is anticipated at this stage, nor are any signals that change is afoot, some economists, such as those at Barclays Research, believe that the rate-setters will become incrementally more hawkish in their assessment of the balance of risks.
Financial markets will also be waiting on preliminary readings for gross domestic product in the US and euro area, on Thursday and Friday.
Economic growth in the US is expected to have accelerated from an annualised pace of 6.4% in the first quarter to 8.3% in the second.
Meanwhile, in the Eurozone, GDP is projected to have rebounded at a quarter-on-quarter pace of 1.5% following a dip of 0.3% over the three months to June.
On home shores, consumer credit and lending for June are due out on Thursday.
On the corporate side of things meanwhile, things are set to really heat up, with half of US and European corporates set to update investors over the incoming week.
Among the firms due to publish their latest quarterly accounts are Barclays, Lloyds and NatWest in the latter half of the week, preceded by US tech giants Apple, Tesla and Microsoft in the front half.
Monday 26 July
INTERIMS
Science Group
QUARTERLY PAYMENT DATE
General Electric Co (CDI)
INTERNATIONAL ECONOMIC ANNOUNCEMENTS
Import Price Index (GER) (07:00)
New Homes Sales (US) (15:00)
AGMS
Cranswick, Deepverge Plc , Gresham House Strategic , National Grid, Oakley Capital Investments Ltd. (DI), Tinybuild Inc. (DI) (Reg s, CAT 3)
TRADING ANNOUNCEMENTS
Cranswick
FINAL DIVIDEND PAYMENT DATE
Helical, Inspired
Tuesday 27 July
INTERIMS
Ascential, Capital & Counties Properties , Croda International, International Personal Finance, Kitwave Group, Reach, Restore, Sabre Insurance Group, Unite Group, Vivo Energy
QUARTERLY PAYMENT DATE
Yew Grove Reit (CDI)
INTERNATIONAL ECONOMIC ANNOUNCEMENTS
Consumer Confidence (US) (15:00)
Durable Goods Orders (US) (13:30)
House Price Index (US) (14:00)
M3 Money Supply (EU) (09:00)
FINALS
Cohort, Foresight Group Holdings Limited NPV, Games Workshop Group, In the Style Group, Ince Group (The), Moonpig Group
ANNUAL REPORT
Games Workshop Group
EGMS
SDIC Power Holdings Co.,Ltd GDR (Reg S)
AGMS
Arkle Resources (CDI), BMO UK High Income Trust , Hibernia Reit (CDI), Mediclinic International , Mitie Group, Motorpoint Group, MyCelx Technologies Corporation (DI), NewRiver REIT, OnTheMarket, Petrel Resources (CDI), Prospex Energy , Record, TR Property Inv Trust, Vodafone Group, Wizz Air Holdings , Zoltav Resources Inc (DI)
TRADING ANNOUNCEMENTS
Greencore Group (CDI), Mitie Group, Virgin Money UK
FINAL DIVIDEND PAYMENT DATE
Fidelity China Special Situations , Wynnstay Properties
Wednesday 28 July
INTERIMS
Aptitude Software Group , Barclays, British American Tobacco, Conduit Holdings Limited Com Shs (DI), Getbusy, HUTCHMED (China) Limited, MusicMagpie, Primary Health Properties, Quartix Technologies, Rathbone Brothers, Rio Tinto, Smurfit Kappa Group (CDI), St James's Place
QUARTERLY EX-DIVIDEND DATE
Marsh & Mclennan Cos Inc.
INTERNATIONAL ECONOMIC ANNOUNCEMENTS
Crude Oil Inventories (US) (15:30)
GFK Consumer Confidence (GER) (07:00)
Gross Domestic Product (US) (13:30)
MBA Mortgage Applications (US) (12:00)
Q2
GlaxoSmithKline, Lancashire Holdings Limited
GMS
Telit Communications, TP Group
FINALS
Hargreaves Services, Shearwater Group
EGMS
Triple Point Income VCT D
AGMS
Alien Metals Limited NPV (DI), Aquila Services Group, Card Factory, Chariot Limited, Cropper (James), JPMorgan Japan Small Cap Growth & Income, Reabold Resources, Staffline Group, Ted Baker, Triad Group, Trifast, Triple Point Income VCT E
UK ECONOMIC ANNOUNCEMENTS
BRC Shop Price Index (00:01)
FINAL DIVIDEND PAYMENT DATE
Tatton Asset Management
Q1
Wizz Air Holdings
Thursday 29 July
INTERIMS
Anglo American, AstraZeneca, BAE Systems, Compagnie de St-Gobain SA, Devro, Drax Group, Elementis, Equiniti Group , Inchcape, Indivior, Informa, Lloyds Banking Group, Mail.ru Group Ltd GDR (Reg S), National Express Group, Nokia OYJ, Nokia OYJ, Relx plc, Rentokil Initial, Schroders, SEGRO, Smith & Nephew, Spectris, Totally, Vesuvius
INTERIM EX-DIVIDEND DATE
BB Healthcare Trust (Red), Independent Inv Trust, Moneysupermarket.com Group, Nichols, Northern Venture Trust, RBG Holdings
QUARTERLY EX-DIVIDEND DATE
Greencoat Renewables (CDI), NB Global Monthly Income Fund Limited Red Ord Shs NPV £, SME Credit Realisation Fund Limited NPV
INTERNATIONAL ECONOMIC ANNOUNCEMENTS
Business Climate Indicator (EU) (10:00)
Consumer Confidence (EU) (10:00)
Continuing Claims (US) (13:30)
Economic Sentiment Indicator (EU) (10:00)
Industrial Confidence (EU) (10:00)
Initial Jobless Claims (US) (13:30)
Pending Homes Sales (US) (15:00)
Services Sentiment (EU) (10:00)
Unemployment Rate (GER) (08:55)
Q2
AstraZeneca, Nokia OYJ, Royal Dutch Shell 'A', Royal Dutch Shell 'B', Smith & Nephew, Totally
FINALS
Amigo Holdings, Platform HG Finance 1.625% Sec Bds 10/08/55, SRT Marine Systems
SPECIAL DIVIDEND PAYMENT DATE
Edinburgh Inv Trust, KKV Secured Loan Fund Limited 'C Shares', KKV Secured Loan Fund Limited NPV
SPECIAL EX-DIVIDEND DATE
Bloomsbury Publishing, CML Microsystems, Gulf Keystone Petroleum Ltd Com Shs (DI), Jarvis Securities, Northern Venture Trust
EGMS
Amiad Water Systems Ltd
AGMS
Amiad Water Systems Ltd, Aminex (CDI), B&M European Value Retail S.A. (DI), CMC Markets, Discoverie Group, Dr. Martens , GB Group, Intermediate Capital Group, Johnson Matthey, MS International, Ovoca Bio (CDI), Palace Capital , Powerhouse Energy Group, Tate & Lyle, TMT Investments, Volex
TRADING ANNOUNCEMENTS
Compass Group, Discoverie Group, Evraz, Headlam Group, Intermediate Capital Group, Sage Group, Smith & Nephew
UK ECONOMIC ANNOUNCEMENTS
Consumer Credit (09:30)
M4 Money Supply (09:30)
Mortgage Approvals (09:30)
Nationwide House Price Index (07:00)
FINAL DIVIDEND PAYMENT DATE
Anglo Asian Mining, Edinburgh Inv Trust, Integrated Diagnostics Holdings, Tribal Group
FINAL EX-DIVIDEND DATE
Bloomsbury Publishing, Blue Planet Investment Trust, Downing One VCT , Monks Inv Trust, NewRiver REIT, QinetiQ Group, Royal Mail, SSE, Triad Group, Ventus VCT D Shs, Ventus 2 VCT, Ventus 2 VCT 'C' Shares, Ventus 2 VCT D Shs, Ventus VCT, Ventus VCT 'C' Shares
Q1
Airtel Africa
Friday 30 July
INTERIMS
Essentra, IMI, International Consolidated Airlines Group SA (CDI), Intertek Group, Jupiter Fund Management , Man Group, NATWEST GROUP PLC ORD 100P, Rightmove
INTERIM DIVIDEND PAYMENT DATE
BP 8% Cum 1st Prf, BP 9% 2nd Prf, Character Group, Gooch & Housego, Hargreave Hale AIM VCT , S and U 31.5% Prf. Cum. Prf 12.5P, Smiths News , Triple Point Income VCT C, Triple Point Income VCT D, Triple Point Income VCT E, Triple Point VCT 2011 Venture, Up Global Sourcing Holdings
QUARTERLY PAYMENT DATE
BMO Private Equity Trust, Ediston Property Investment Company, Marble Point Loan Financing Limited NPV, Middlefield Canadian Income PCC, Real Estate Credit Investments Ltd, Standard Life Private Equity Trust, TwentyFour Select Monthly Income Fund Limited , Value and Indexed Property Income Trust
INTERNATIONAL ECONOMIC ANNOUNCEMENTS
Chicago PMI (US) (14:45)
GDP (Preliminary) (EU) (10:00)
GDP (Preliminary) (GER) (07:00)
Import Price Index (GER) (07:00)
Personal Consumption Expenditures (US) (13:30)
Personal Income (US) (13:30)
Personal Spending (US) (13:30)
U. of Michigan Confidence (US) (15:00)
Unemployment Rate (EU) (10:00)
Q2
NATWEST GROUP PLC ORD 100P
GMS
Sutton Harbour Group
FINALS
Victoria
IMSS
Kerry Group 'A' Shares (CDI)
SPECIAL DIVIDEND PAYMENT DATE
Albion Venture Capital Trust
EGMS
Castillo Copper Limited NPV (DI)
AGMS
Advanced Oncotherapy, Bezant Resources, Danakali Limited NPV, DP Poland, Edenville Energy , Puma Vct 13, [email protected] Capital
TRADING ANNOUNCEMENTS
Glencore , Paragon Banking Group, Vodafone Group, Yamana Gold Inc. NPV (CDI)
FINAL DIVIDEND PAYMENT DATE
Anpario, B.P. Marsh & Partners, Big Yellow Group, Calculus VCT , Hibernia Reit (CDI), iEnergizer Ltd., Inspiration Healthcare Group , JPMorgan European Discovery Trust, Mobeus Income & Growth 2 Vct, Morses Club , Norcros, Premier Foods, ProVen Growth & Income VCT, ProVen VCT, Riverfort Global Opportunities , Steppe Cement Ltd, Telecom Plus