Week ahead: Central banks, US-China trade talks in focus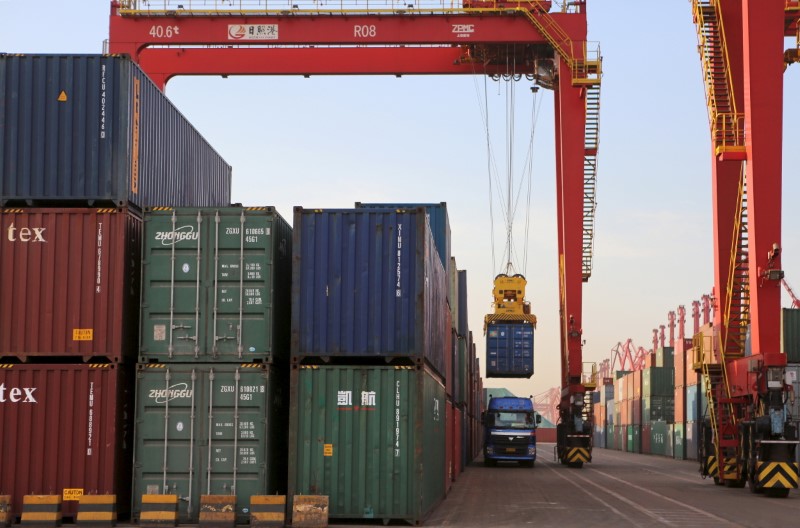 The flow of fresh economic data is set to slow perceptibly over the coming week, with investors' focus likely to continue to be on all things related with the ongoing trade negotiations between the US and China.
Against that backdrop, the minutes of the most recent policy meetings of the US Federal Reserve and European Central Bank are set for release on Wendesday and Thursday, respectively.
In the case of the Fed, Michael Hewson at CMC Markets said the market spotlight would be on any clues contained in the meeting minutes for the reasoning behind the apparent pause in the US central bank's interest rate cutting cycle.
For the ECB on the other hand, investors would be looking for greater colour into the recent differences of opinion among monetary policymakers as regards the decison taken by the Governing Council, on 12 September, to easy policy further.
To take of note as well, rate-setters at the Peoples Bank of China are set to meet to decide on policy on Wednesday.
Monday November 18
INTERIMS
Chamberlin, Mckay Securities, Mirada
FINALS
Diploma
TRADING ANNOUNCEMENTS
DWF Group
FINAL DIVIDEND PAYMENT DATE
Springfield Properties
Tuesday November 19
INTERIMS
Big Yellow Group, CML Microsystems, Halma, Homeserve, Palace Capital , Scapa Group, SRT Marine Systems, Telecom Plus, Trifast
INTERNATIONAL ECONOMIC ANNOUNCEMENTS
Building Permits (US) (20:30)
Current Account (EU) (09:00)
Housing Starts (US) (13:30)
Wholesale Price Index (GER) (07:00)
Q3
MHP SE GDR (Reg S)
AGMS
BMO Real Estate Investments Limited, Dunelm Group, Jupiter UK Growth Investment Trust, Petro Matad Ltd., Physiomics
Wednesday November 20
INTERIMS
Alpha Financial Markets Consulting, Argentex Group , Creightons, Intermediate Capital Group, Liontrust Asset Management, United Utilities Group
INTERIM DIVIDEND PAYMENT DATE
STM Group
INTERNATIONAL ECONOMIC ANNOUNCEMENTS
Crude Oil Inventories (US) (15:30)
MBA Mortgage Applications (US) (12:00)
Producer Price Index (GER) (07:00)
Q3
Inmarsat
FINALS
Mitchells & Butlers, SSP Group
AGMS
Brand Architekts Group, Finsbury Food Group, Jupiter US Smaller Companies , Origin Enterprises, Rainbow Rare Earths Limited NPV
TRADING ANNOUNCEMENTS
Direct Line Insurance Group
UK ECONOMIC ANNOUNCEMENTS
CBI Industrial Trends Surveys (11:00)
FINAL DIVIDEND PAYMENT DATE
Henderson EuroTrust
Thursday November 21
INTERIMS
Charles Stanley Group, CMC Markets, Dart Group, First Property Group, iEnergizer Ltd., Jlen Environmental Assets Group Limited NPV, Manolete Partners, Mitie Group, NewRiver REIT, Severn Trent, Syncona Limited NPV
INTERIM DIVIDEND PAYMENT DATE
CareTech Holding, Centrica
INTERIM EX-DIVIDEND DATE
B&M European Value Retail S.A. (DI), British American Inv Trust, Castings, DCC, DWF Group , Great Portland Estates, iEnergizer Ltd., Prime People, Rotala, Scottish Mortgage Inv Trust, Tate & Lyle, Tatton Asset Management , Ten Entertainment Group , Wynnstay Properties, Young & Co's Brewery 'A' Shares, Young & Co's Brewery (Non-Voting)
QUARTERLY PAYMENT DATE
M Winkworth
QUARTERLY EX-DIVIDEND DATE
BlackRock World Mining Trust, Carnival, NextEnergy Solar Fund Limited Red, Pershing Square Holdings Ltd NPV, Pershing Square Holdings Ltd NPV (USD), Premier Global Infrastructure Trust, Regional REIT Limited
INTERNATIONAL ECONOMIC ANNOUNCEMENTS
Continuing Claims (US) (13:30)
Existing Home Sales (US) (15:00)
Initial Jobless Claims (US) (13:30)
Philadelphia Fed Index (US) (13:30)
FINALS
Euromoney Institutional Investor, Residential Secure Income
SPECIAL EX-DIVIDEND DATE
BBA Aviation
AGMS
Avation, Close Brothers Group, Diurnal Group, Diurnal Group, Doric Nimrod Air One Ltd, Doric Nimrod Air Three Limited Red Ord Pref Shs Npv, Doric Nimrod Air Two Ltd Pref Shs Npv, Ferguson, Hotel Chocolat Group , Netcall, SQN Asset Finance Income Fund Limited, Thorpe (F.W.), Wetherspoon (J.D.)
TRADING ANNOUNCEMENTS
Centrica, Close Brothers Group, Knights Group Holdings
UK ECONOMIC ANNOUNCEMENTS
Public Sector Net Borrowing (09:30)
FINAL DIVIDEND PAYMENT DATE
Mulberry Group, North Atlantic Smaller Companies Inv Trust, Ricardo
FINAL EX-DIVIDEND DATE
Aeorema Communications, Asia Dragon Trust , Balfour Beatty Cum Cnv Red Prf , CVS Group, European Opportunities Trust, Finsbury Food Group, Hotel Chocolat Group , Kin and Carta , Northern Venture Trust, Sanditon Investment Trust, Tristel, Volution Group
Friday November 22
INTERIM DIVIDEND PAYMENT DATE
Aberdeen New Thai Inv Trust, Amati AIM Vct , Animalcare Group, Bovis Homes Group, Foresight Solar & Infrastructure VCT, Howden Joinery Group, Lookers, Maven Income & Growth VCT, Morgan Advanced Materials , Next Fifteen Communications, Saga , Smart Metering Systems, Ted Baker, Tesco, Walker Greenbank
INTERIM EX-DIVIDEND DATE
NB Distressed Debt Investment Fund Limited Ext Shs
QUARTERLY PAYMENT DATE
Primary Health Properties, SME Credit Realisation Fund Limited NPV, Tufton Oceanic Assets Limited NPV
INTERNATIONAL ECONOMIC ANNOUNCEMENTS
Gross Domestic Product (GER) (07:00)
U. of Michigan Confidence (US) (15:00)
SPECIAL DIVIDEND PAYMENT DATE
Catalyst Media Group, Life Settlement Assets, Life Settlement Assets, River and Mercantile Group
AGMS
Crystal Amber Fund Ltd., Eqtec, Highway Capital, Mc Mining Limited, Sylvania Platinum Ltd (DI)
UK ECONOMIC ANNOUNCEMENTS
CBI Distributive Trades Surveys (11:00)
FINAL DIVIDEND PAYMENT DATE
Dunelm Group, Go-Ahead Group, Jupiter UK Growth Investment Trust