Week ahead: BoE, global manufacturing in focus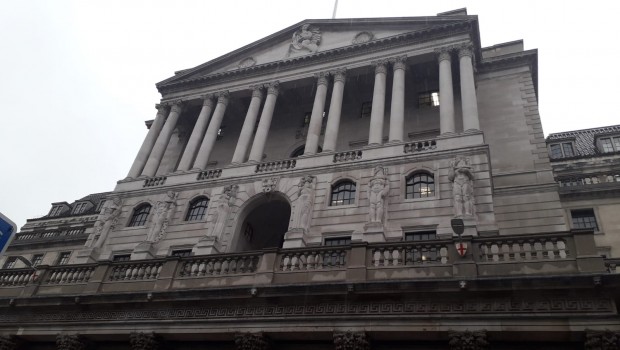 The last full week of trading in 2019 will see a raft of economic indicators released in all the main geographies.
On home turf, readings on monthly employment, consumer prices, retail sales and public sector net borrowing will be released starting from Monday, followed by a Monetary Policy Committee's meeting come Thursday.
Across the Channel, also on Monday, the focus will be on preliminary readings for manufacturing and services sector activity in December, alongside similar survey readings for the UK.
The start of the week will also see a barrage of releases for retail sales, industrial production and fixed asset investment published in the People's Republic of China.
And on Friday, rate-setters in China are set to meet to decide on monetary policy.
Stateside, Thursday will bring with it the Philly Fed's regional manufacturing sector index for December, followed by the University of Michigan's consumer confidence for that same month on the next day.
Monday 16 December
INTERIMS
Sports Direct International, Studio Retail Group , The Fulham Shore
INTERIM DIVIDEND PAYMENT DATE
TalkTalk Telecom Group
FINALS
Chemring Group
EGMS
Global Ports Investments GDR (REG S), Huatai Securities Co., Ltd GDR (Each Repr 10 A Shs RMB1) (Reg S)
AGMS
AFI Development, AIQ Limited (DI), Arc Minerals Limited NPV (DI), Conroy Gold & Natural Resources, Karelian Diamond Resources
FINAL DIVIDEND PAYMENT DATE
Aeorema Communications, YouGov
Tuesday 17 December
INTERIM DIVIDEND PAYMENT DATE
Mediclinic International
INTERNATIONAL ECONOMIC ANNOUNCEMENTS
Balance of Trade (EU) (10:00)
Building Permits (US) (13:30)
Capacity Utilisation (US) (14:15)
CBI Industrial Trends Surveys (11:00)
Housing Starts (US) (13:30)
Industrial Production (US) (14:15)
FINALS
Pressure Technologies
EGMS
Glenveagh Properties, Leaf Clean Energy Co (DI)
AGMS
Applied Graphene Materials , DotDigital Group, Sareum Holdings, Schroder Income Growth Fund, Tristel
UK ECONOMIC ANNOUNCEMENTS
CBI Industrial Trends Surveys (11:00)
Claimant Count Rate (09:30)
Unemployment Rate (09:30)
FINAL DIVIDEND PAYMENT DATE
Asia Dragon Trust , Kin and Carta
Wednesday 18 December
INTERIM DIVIDEND PAYMENT DATE
Creightons, Investec
QUARTERLY PAYMENT DATE
Royal Dutch Shell 'A', Royal Dutch Shell 'B'
INTERNATIONAL ECONOMIC ANNOUNCEMENTS
Consumer Price Index (EU) (10:00)
Crude Oil Inventories (US) (16:00)
IFO Business Climate (GER) (09:00)
IFO Current Assessment (GER) (09:00)
IFO Expectations (GER) (09:00)
Producer Price Index (GER) (07:00)
Wholesale Price Index (GER) (07:00)
EGMS
Qannas Investments Limited (DI)
AGMS
GCM Resources, Northamber, Northern Venture Trust
UK ECONOMIC ANNOUNCEMENTS
Consumer Price Index (09:30)
Retail Price Index (09:30)
FINAL DIVIDEND PAYMENT DATE
Aberdeen Frontier Markets Investment Company, Volution Group
Thursday 19 December
INTERIM DIVIDEND PAYMENT DATE
Card Factory
INTERIM EX-DIVIDEND DATE
Alliance Pharma, Avation, Burberry Group, Circle Property , Crystal Amber Fund Ltd., Finncap Group , Fuller Smith & Turner, International Biotech Trust, Iomart Group, Mind Gym, Mitie Group, MS International, Octopus AIM VCT, Octopus Apollo VCT, Petrotal Corporation NPV (DI), Polar Capital Holdings, RHI Magnesita N.V. (DI), Sirius Real Estate Ltd., Superdry, United Utilities Group, Vianet Group
QUARTERLY PAYMENT DATE
Regional REIT Limited
QUARTERLY EX-DIVIDEND DATE
Mercantile Investment Trust (The), Standard Life Private Equity Trust, Tritax Eurobox (EUR), Tritax Eurobox (GBP)
INTERNATIONAL ECONOMIC ANNOUNCEMENTS
Continuing Claims (US) (13:30)
Current Account (US) (13:30)
Existing Home Sales (US) (15:00)
Initial Jobless Claims (US) (13:30)
SPECIAL DIVIDEND PAYMENT DATE
Card Factory
SPECIAL EX-DIVIDEND DATE
Alternative Liquidity Fund Limited, LMS Capital, Octopus AIM VCT
EGMS
Air China Ltd., Etalon Group GDR (Reg S)
AGMS
Egdon Resources, Fragrant Prosperity Holdings Limited, Haydale Graphene Industries, Parkmead Group (The), SkinBioTherapeutics , Smart (J) & Co., Transense Technologies
UK ECONOMIC ANNOUNCEMENTS
BoE Interest Rate Decision (12:00)
GFK Consumer Confidence (00:01)
Retail Sales (09:30)
FINAL DIVIDEND PAYMENT DATE
Craneware
FINAL EX-DIVIDEND DATE
Cambria Automobiles, Countryside Properties, Netcall, Topps Tiles
Friday 20 December
INTERIM DIVIDEND PAYMENT DATE
Aberdeen Japan Investment Trust , Aquila Services Group, B&M European Value Retail S.A. (DI), Biffa, Brickability Group , Cake Box Holdings, DWF Group , iEnergizer Ltd., Kainos Group , Sainsbury (J), Sanditon Investment Trust, SDCL Energy Efficiency Income Trust, U And I Group, Walker Crips Group, Wynnstay Properties
QUARTERLY PAYMENT DATE
BlackRock World Mining Trust, BP, Diversified Gas & Oil, Pershing Square Holdings Ltd NPV, Pershing Square Holdings Ltd NPV (USD), UIL Limited (DI)
INTERNATIONAL ECONOMIC ANNOUNCEMENTS
Current Account (EU) (09:00)
GFK Consumer Confidence (GER) (07:00)
Gross Domestic Product (US) (13:30)
Personal Consumption Expenditures (US) (13:30)
Personal Income (US) (13:30)
Personal Spending (US) (13:30)
U. of Michigan Confidence (US) (15:00)
FINALS
Benchmark Holdings , Jersey Electricity 'A' Shares
SPECIAL DIVIDEND PAYMENT DATE
Keystone Inv Trust, River and Mercantile Group , Triple Point Income VCT C
AGMS
European Metals Holding Limited (DI), Focusrite, Riverfort Global Opportunities
UK ECONOMIC ANNOUNCEMENTS
BBA Mortgage Lending Figures (09:30)
CBI Distributive Trades Surveys (11:00)
Current Account (09:30)
Public Sector Net Borrowing (09:30)
FINAL DIVIDEND PAYMENT DATE
Gresham House Renewable Energy VCT 1 , Gresham House Renewable Energy VCT 1 A Shares, Gresham House Renewable Energy VCT 2, Gresham House Renewable Energy VCT 2 A Shares, Hotel Chocolat Group , Northern Venture Trust, River and Mercantile Group , Sanditon Investment Trust, Thinksmart Limited (DI), Tristel