Week ahead: BoE, Federal Reserve in focus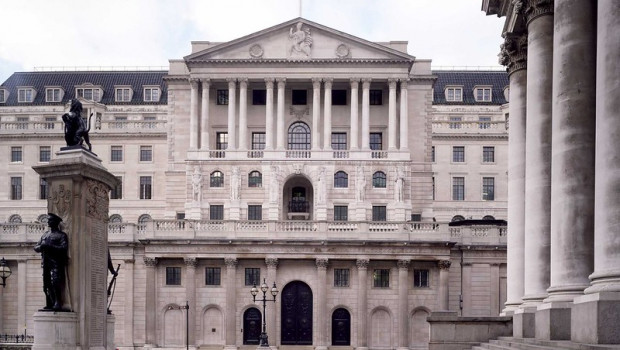 Central bank policy decisions will dominate the coming week's economic calendar.
On Thursday, rate-setters at the Bank of England will are expected to stay put on policy, but investors will be looking to see if the more hawkish members on the Monetary Policy Committee react to recent weak readings for the economy.
They wil be preceded the day before by their peers in China, Japan and the US.
Policymakers at both the People's Bank of China and the Federal Reserve may also react to recent weak economic data, especially in the case of the former.
Also on Thursday, consultancy IHS Markit will release its purchasing managers' indices for euro area and UK services and manufacturing in September.
Other UK data to watch out for during the week include Rightmove's house price index for September, on Monday, and public sector borrowing requirement figures for August, on Tuesday.
Monday 20 September
INTERIMS
Frenkel Topping Group, Open Orphan
INTERIM DIVIDEND PAYMENT DATE
Hikma Pharmaceuticals, Legal & General Group, Pearson, Quilter
QUARTERLY PAYMENT DATE
Chenavari Toro Income Fund Limited NPV, Royal Dutch Shell 'A', Royal Dutch Shell 'B'
INTERNATIONAL ECONOMIC ANNOUNCEMENTS
Producer Price Index (GER) (07:00)
FINALS
Finsbury Food Group, Wilmington
ANNUAL REPORT
Dechra Pharmaceuticals
AGMS
Cohort, IG Design Group, Redde Northgate, Zoo Digital Group
Tuesday 21 September
INTERIMS
Alliance Pharma, Alphawave IP Group , Cambridge Cognition Holdings, Dignity, Fintel, JTC, Kingfisher, Learning Technologies Group , M&C Saatchi, PensionBee Group , Personal Group Holdings, SIG
INTERIM DIVIDEND PAYMENT DATE
4Imprint Group, London Stock Exchange Group
INTERIM EX-DIVIDEND DATE
TotalEnergies SE
INTERNATIONAL ECONOMIC ANNOUNCEMENTS
Building Permits (US) (13:30)
Current Account (US) (13:30)
Housing Starts (US) (13:30)
FINALS
Litigation Capital Management Limited (DI), Time Finance
ANNUAL REPORT
Time Finance
SPECIAL DIVIDEND PAYMENT DATE
Glencore
AGMS
Augmentum Fintech, Knights Group Holdings , Manolete Partners, Oxford Instruments, Regional REIT Limited
TRADING ANNOUNCEMENTS
Compass Group
UK ECONOMIC ANNOUNCEMENTS
Public Sector Net Borrowing (07:00)
FINAL DIVIDEND PAYMENT DATE
Ashtead Group, BHP Group
Wednesday 22 September
INTERIMS
Deepmatter Group, ECSC Group, IGas Energy, Oxford Biomedica, Pennant International Group, Quixant, Strix Group , Ten Entertainment Group , The Mission Group, Trellus Health, WANdisco
INTERIM DIVIDEND PAYMENT DATE
Hiscox Limited (DI), OSB Group
INTERNATIONAL ECONOMIC ANNOUNCEMENTS
Crude Oil Inventories (US) (15:30)
Existing Home Sales (US) (15:00)
MBA Mortgage Applications (US) (12:00)
FINALS
PZ Cussons
AGMS
Babcock International Group, Civitas Social Housing , IG Group Holdings, Ilika, Miton UK Microcap Trust, Odyssean Investment Trust, Seed Innovations Limited, Shearwater Group , SRT Marine Systems, Stanley Gibbons Group, Studio Retail Group , Worsley Investors Limited NPV
FINAL DIVIDEND PAYMENT DATE
Kinovo
Thursday 23 September
INTERIMS
Arecor Therapeutics , Distribution Finance Capital Holdings, Ebiquity, Eve Sleep PLC, Everyman Media Group , Gemfields Group Limited, Playtech, Safestyle UK , The City Pub Group , Xeros Technology Group , XLMedia
INTERIM DIVIDEND PAYMENT DATE
Capital & Counties Properties , Rio Tinto, Schroders, Schroders (Non-Voting)
INTERIM EX-DIVIDEND DATE
Advanced Medical Solutions Group, Anexo Group , Barclays Bank 9% Perm Int Brg Cap Bds 1, Computacenter, Crest Nicholson Holdings, Driver Group, Elecosoft Public Limited Company, Epwin Group, Essentra, Fidelity European Trust, Forterra, Gamma Communications, Harworth Group, Henry Boot, Kenmare Resources (CDI), Keystone Law Group , Oakley Capital Investments Ltd. (DI), Property Franchise Group, Randall & Quilter Investment Holdings (DI), Smurfit Kappa Group (CDI), Somero Enterprises Inc. (DI), TT Electronics, Vitec Group, Wickes Group
QUARTERLY EX-DIVIDEND DATE
Mercantile Investment Trust (The), Standard Life Private Equity Trust
INTERNATIONAL ECONOMIC ANNOUNCEMENTS
Continuing Claims (US) (13:30)
Initial Jobless Claims (US) (13:30)
FINALS
DFS Furniture, Fonix Mobile , Hansard Global, Supermarket Income Reit
SPECIAL DIVIDEND PAYMENT DATE
Rio Tinto
SPECIAL EX-DIVIDEND DATE
Hargreaves Lansdown
AGMS
Adept Technology Group, Alpha Financial Markets Consulting, Begbies Traynor Group, Boussard & Gavaudan Holding Ltd. EUR Shares, Boussard & Gavaudan Holding Ltd. GBP Shares, Bradda Head Holdings Limited NPV (DI), Colefax Group, daVictus, Empyrean Energy, Enteq Upstream, Finncap Group , Fuller Smith & Turner, Kainos Group , President Energy, The Panoply Holdings, Trakm8 Holdings, Versarien , Vertu Capital Limited (DI)
TRADING ANNOUNCEMENTS
Investec
UK ECONOMIC ANNOUNCEMENTS
BoE Interest Rate Decision (12:00)
FINAL DIVIDEND PAYMENT DATE
Brickability Group , SSE, XPS Pensions Group
FINAL EX-DIVIDEND DATE
Alumasc Group, Brooks Macdonald Group, Diverse Income Trust (The), Eckoh, ECO Animal Health Group, Hargreaves Lansdown, IG Group Holdings, Mercia Asset Management, Norish Units (CDI), Redrow, The Panoply Holdings
Friday 24 September
INTERIMS
Judges Scientific
INTERIM DIVIDEND PAYMENT DATE
Anglo American, Arbuthnot Banking Group, Ariana Resources, Athelney Trust, CLS Holdings, CPP Group, Domino's Pizza Group, Genuit Group, Reach, Rotork, SEGRO, St James's Place, Vector Capital
QUARTERLY PAYMENT DATE
BlackRock World Mining Trust, BP, Diversified Energy Company , RM Infrastructure Income
QUARTERLY EX-DIVIDEND DATE
General Electric Co (CDI)
INTERNATIONAL ECONOMIC ANNOUNCEMENTS
IFO Business Climate (GER) (09:00)
IFO Current Assessment (GER) (09:00)
IFO Expectations (GER) (09:00)
New Homes Sales (US) (15:00)
GMS
Bacanora Lithium, Eden Research
SPECIAL DIVIDEND PAYMENT DATE
Anglo American
AGMS
Accrol Group Holdings, BH Macro Ltd. GBP Shares, Fusion Antibodies , In the Style Group, Otaq , SME Credit Realisation Fund Limited NPV
UK ECONOMIC ANNOUNCEMENTS
GFK Consumer Confidence (00:01)
FINAL DIVIDEND PAYMENT DATE
Auto Trader Group , Currys , Downing Four Vct Generalist, Downing Four Vct Healthcare , Foresight Group Holdings Limited NPV, Redde Northgate, Solid State, Speedy Hire