Week ahead: BoE, Fed and BoJ in the spotlight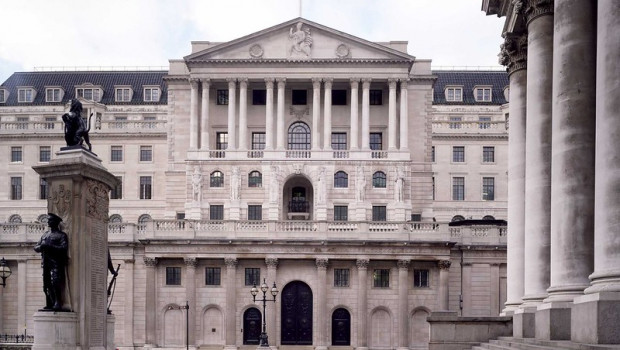 All eyes over the coming week will be on the world's central banks, the Bank of England foremost among them.
On Thursday, the Monetary Policy Committee is expected to announce a 50 basis point hike in Bank Rate to 2.25%.
Barclays Research anticipates that the MPC will maintain a hawkish tilt but that a more profound reset of its guidance will not occur until November, when policymakers will have the details of the government's fiscal plans.
But first it will be the turn of the US Federal Reserve the day before, on Wednesday, to tell economic agents what they should expect.
Consensus is for a 75 basis point interest rate hike that will take the target range for the Fed funds rate to 3.0-3.25%.
More important however will be the content of the Fed's updated economic projections, which Barclays Research expects will show that interest rates will be raised to 4.1% by the end of 2022, remaining at that level through 2023 and then being lowered in 2024 and 2025.
Worth noting, Fed chairman, Jerome Powell, is scheduled to take to the podium both on Wednesday, following the Fed's policy announcement as well as on Friday.
On Thursday the Bank of Japan is also due to make its own policy announcement.
Across the Channel meanwhile, European Central Bank vice-president, Luis de Guindos, is due to deliver speeches on Monday and Wednesday and his boss Christine Lagarde on Tuesday.
Manufacturing and services Purchasing Managers' Indices in the euro area, UK and US covering the month of September are all due out on Friday and may well elicit a reaction in financial markets.
Monday 19 September
FINALS
City of London Inv Trust
INTERIMS
Globaltrans Investment GDR (Reg S)
Tasty
AGMs
Hidong Estate
GMs
Carr's Group
ANNUAL REPORT
City of London Inv Trust
DRILLING REPORT
URU Metals Ltd. (DI)
INTERIM DIVIDEND PAYMENT DATE
IP Group
Tuesday 20 September
FINALS
City of London Investment Group, Tlou Energy Limited (DI), Craneware, Feedback, Brown Advisory US Smaller Companies, Ross Group, Litigation Capital Management Limited (DI), Springfield Properties
INTERIMS
EKF Diagnostics Holdings, Unbound Group, Alliance Pharma, Anexo Group, Strip Tinning Holdings, First Tin, HydrogenOne Capital Growth, Good Energy Group, Eve Sleep PLC, Fintel, Spectral Md Holdings, Ltd (DI), Trinity Exploration & Production, ASA International Group, Cambridge Cognition Holdings, CT Automotive Group, British Smaller Companies VCT 2, Xaar, Belluscura, KRM22, Globalworth Real Estate Investments Limited, Jadestone Energy, Predator Oil & Gas Holdings NPV, Trufin, Kingfisher, Gaming Realms, Elixirr International, Northcoders Group, Deltex Medical Group, Haleon
TRADING ANNOUNCEMENTS
SThree, Zoo Digital Group, TUI AG Reg Shs (DI), Moonpig Group, HydrogenOne Capital Growth
IMSs
British Smaller Companies VCT
AGMs
Moonpig Group, Ilika, Utilico Emerging Markets Ltd (DI), Manolete Partners, DSW Capital, Petrotal Corporation NPV (DI), Cake Box Holdings, Gore Street Energy Storage Fund, Zoo Digital Group, Twentyfour Income Fund Limited Ord Red, Global Ports Holding, FIH Group, Shearwater Group, Adept Technology Group, Quiz, ProCook Group, Appreciate Group
EGMs
DP Eurasia N.V. (DI)
ANNUAL REPORT
Ross Group, Scholium Group
DRILLING REPORT
Serinus Energy NPV
FINAL DIVIDEND PAYMENT DATE
Alpha Financial Markets Consulting
INTERIM DIVIDEND PAYMENT DATE
Pearson, Capital & Counties Properties, Scottish American Inv Company, Hiscox Limited (DI), London Stock Exchange Group, Quilter, JPMorgan Elect Managed Growth, Shell, JPMorgan Elect Managed Income Shares, Atalaya Mining, Hikma Pharmaceuticals
QUARTERLY PAYMENT DATE
Chenavari Toro Income Fund Limited NPV
INTERNATIONAL ECONOMIC ANNOUNCEMENTS
Producer Price Index (GER) (07:00)
Current Account (EU) (09:00)
Housing Starts (US) (13:30)
Building Permits (US) (13:30)
Wednesday 21 September
FINALS
Galliford Try, Supermarket Income Reit
INTERIMS
Pennant International Group, S4 Capital, Keywords Studios, Hostmore, Warpaint London, LBG Media, The City Pub Group, Dianomi, MyHealthchecked, Ten Entertainment Group, Pendragon, Alphawave IP Group, Ingenta
AGMs
Hipgnosis Songs Fund Limited NPV, SRT Marine Systems, India Capital Growth Fund Ltd., Merit Group, Seraphine Group, IG Group Holdings, Odyssean Investment Trust, Enteq Technologies, SDI Group, Tintra
FINAL EX-DIVIDEND DATE
Eckoh
INTERIM EX-DIVIDEND DATE
TotalEnergies SE
INTERIM DIVIDEND PAYMENT DATE
Domino's Pizza Group, OSB Group
UK ECONOMIC ANNOUNCEMENTS
Public Sector Net Borrowing (07:00)
INTERNATIONAL ECONOMIC ANNOUNCEMENTS
MBA Mortgage Applications (US) (12:00)
Existing Home Sales (US) (15:00)
Crude Oil Inventories (US) (15:30)
Thursday 22 September
FINALS
Wilmington, Hansard Global, Time Finance
INTERIMS
Distribution Finance Capital Holdings, Osirium, Technologies, Ceres Power Holdings, Forward Partners Group, Playtech, Biome Technologies, Brave Bison Group, Life Science REIT, Aquis Exchange, Safestyle UK, Judges Scientific, PensionBee Group, Learning Technologies Group
TRADING ANNOUNCEMENTS
Investec, Time Finance
AGMs
IG Design Group, Begbies Traynor Group, Trakm8 Holdings, Worsley Investors Limited NPV
FINAL EX-DIVIDEND DATE
Brooks Macdonald Group, Finncap Group, FRP Advisory Group, IG Group Holdings, Mercia Asset Management, FIH Group, Walker Crips Group, Hargreaves Lansdown, Gateley (Holdings), Redrow
Mid Wynd International Inv Trust, Mattioli Woods, Hargreaves Services
FINAL DIVIDEND PAYMENT DATE
BHP Group Limited NPV (DI), XPS Pensions Group, SSE, Brickability Group, Base Resources Ltd
INTERIM EX_DIVIDEND DATE
Elecosoft Public Limited Company, BlackRock Energy and Resources Income Trust, Gamma Communications, Fidelity European Trust, Videndum, Somero Enterprises Inc. (DI), Thungela Resources Limited NPV (DI), Palace Capital, Kenmare Resources (CDI), Chelverton UK Dividend Trust, Essentra, Oakley Capital Investments Ltd. (DI), Forterra, Driver Group, Income & Growth VCT, Keystone Law Group, STV Group, Mobeus Income & Growth 4 Vct, Crest Nicholson Holdings, JTC, TT Electronics, HGCapital Trust, Gulf Keystone Petroleum Ltd Com Shs (DI), Property Franchise Group, RBG Holdings, Churchill China, Portmeirion Group, Robinson, EPWIN GROUP, Old Mutual Limited NPV (DI)
INTERIM DIVIDEND PAYMENT DATE
Riverstone Credit Opportunities Income, Provident Financial, Abrdn Equity Income Trust, Entain, Glencore, Rio Tinto, Sabre Insurance Group
SPECIAL EX-DIVIDEND DATE
Mid Wynd International Inv Trust, Hargreaves Services
QUARTERLY EX-DIVIDEND DATE
Aberdeen Diversified Income and Growth Trust, Abrdn Private Equity Opportunities Trust
UK ECONOMIC ANNOUNCEMENTS
BoE Interest Rate Decision (12:00)
INTERNATIONAL ECONOMIC ANNOUNCEMENTS
Continuing Claims (US) (13:30)
Current Account (US) (13:30)
Initial Jobless Claims (US) (13:30)
Friday 23 September
FINALS
European Opportunities Trust
AGMs
In the Style Group, Wise Class A, Biffa, Accsys Technologies, Fusion Antibodies, Safestay, Speedy Hire
ANNUAL REPORT
European Opportunities Trust
FINAL DIVIDEND PAYMENT DATE
Speedy Hire, Auto Trader Group
INTERIM DIVIDEND PAYMENT DATE
Athelney Trust, Apax Global Alpha Limited, Anglo American, Henderson Opportunities Trust, Franchise Brands, Arbuthnot Banking Group, BioPharma Credit, Rotork, Momentum Multi-Asset Value Trust, RHI Magnesita N.V. (DI), SEGRO, Utilico Emerging Markets Ltd (DI), Abrdn European Logistics Income, St James's Place, Hochschild Mining, Reach, Jlen Environmental Assets Group Limited NPV
QUARTERLY PAYMENT DATE
BP, Vaalco Energy, Inc (DI)
UK ECONOMIC ANNOUNCEMENTS
GFK Consumer Confidence (00:01)