Week ahead: Bank of England (and Fed), Shell in focus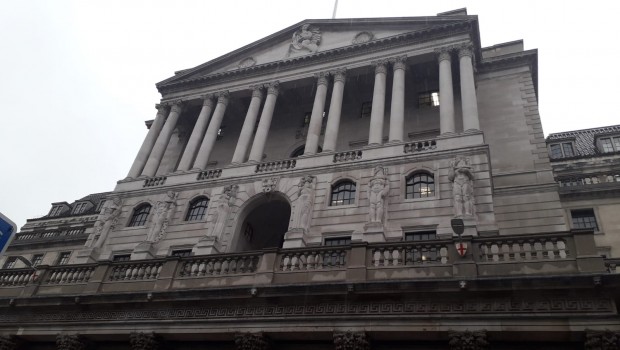 Central banks will be front and centre on investors' minds over the coming week, with the Bank of England possibly set to cut interest rates and the US Federal Reserve having the power to stop the current sharp gains in the stockmarket in its tracks, according to analysts.
Analysts at both Barclays Research and Bank of America expect that the Monetary Policy Committee will opt to take out insurance against sluggish growth at its next policy meeting by cutting Bank Rate by 25 basis points to 0.50%.
"We continue to expect a cut by the BoE next week to insure the economy remains on the recovery path," Fabrice Montagne and Abbas Khan at Barclays told clients.
And in the case of BofA, a continued lack of momentum in UK Purchasing Managers' Indices in February could see a second rate cut which they had penciled in for August also brought forward.
As for the Fed, BofA said the Federal Open Market Committee meeting, on Wednesday, held the key to an extension in the current irrational exuberance in stocks in the first quarter.
Key corporate updates are due out over the coming week on both sides of the Pond, with Apple due to update investors on Tuesday, followed by Boeing, Microsoft and Tesla on the following day.
On home turf, Shell is due to publish its full-year numbers on Thursday.
CMC Markets UK's David Madden sees scope for a repeat of the oil giant's negative earnings surprise in the third quarter, which showed that management had underestimated just how weak crude oil prices were going to be in the backhalf of 2019.
"This is unlikely to have changed in the weeks since then, despite recent spikes in prices due to tension in the middle East," he said.
"The biggest problem for the large oil companies is their reluctance to take more than baby steps when it comes to renewables at a time when climate change is becoming more mainstream.
"The world is pulling away from big oil as an investment case, and the big oil majors will need to commit more to renewables to keep the climate activists at bay."
Lastly, come Friday, the UK will formally exit the European Union.
Monday January 27
INTERIMS
ITM Power
INTERNATIONAL ECONOMIC ANNOUNCEMENTS
Economic Sentiment Indicator (EU) (10:00)
IFO Business Climate (GER) (09:00)
IFO Current Assessment (GER) (09:00)
IFO Expectations (GER) (09:00)
New Homes Sales (US) (15:00)
Personal Consumption Expenditures (US) (13:30)
Services Confidence (EU) (10:00)
FINALS
Global Invacom Group Limited (DI), SThree
TRADING ANNOUNCEMENTS
Petra Diamonds Ltd.(DI)
FINAL DIVIDEND PAYMENT DATE
Marston's
Tuesday January 28
INTERIMS
NWF Group, PZ Cussons
QUARTERLY EX-DIVIDEND DATE
Marsh & Mclennan Cos Inc.
INTERNATIONAL ECONOMIC ANNOUNCEMENTS
Consumer Confidence (US) (15:00)
Durable Goods Orders (US) (13:30)
FINALS
Crest Nicholson Holdings, McCarthy & Stone
AGMS
Euromoney Institutional Investor, Greencore Group, Lowland Investment Co, Schroder UK Mid Cap Fund, Wey Education
TRADING ANNOUNCEMENTS
Barr (A.G.), DP Eurasia N.V. (DI) , UDG Healthcare Public Limited Company
UK ECONOMIC ANNOUNCEMENTS
CBI Distributive Trades Surveys (11:00)
FINAL DIVIDEND PAYMENT DATE
Majedie Investments
Wednesday January 29
INTERIMS
Hargreaves Services
INTERIM DIVIDEND PAYMENT DATE
Amigo Holdings
INTERNATIONAL ECONOMIC ANNOUNCEMENTS
Crude Oil Inventories (US) (15:30)
GFK Consumer Confidence (GER) (07:00)
M3 Money Supply (EU) (09:00)
MBA Mortgage Applications (US) (12:00)
Pending Homes Sales (US) (15:00)
SPECIAL DIVIDEND PAYMENT DATE
Prime People
AGMS
Proactis Holdings, Red Rock Resources, Renew Holdings, Tharisa (DI), Virgin Money UK
UK ECONOMIC ANNOUNCEMENTS
Nationwide House Price Index (07:00)
Thursday January 30
INTERIMS
Best of the Best, Haynes Publishing Group, Rank Group, Renishaw
INTERIM EX-DIVIDEND DATE
Cohort, CPL Resources, IG Group Holdings, NB Private Equity Partners Ltd., Totally
QUARTERLY PAYMENT DATE
Marble Point Loan Financing Limited NPV
QUARTERLY EX-DIVIDEND DATE
APQ Global Limited, Custodian Reit , Merchants Trust
INTERNATIONAL ECONOMIC ANNOUNCEMENTS
Business Climate Indicator (EU) (10:00)
Consumer Confidence (EU) (10:00)
Consumer Price Index (GER) (07:00)
Continuing Claims (US) (13:30)
GDP (Preliminary) (US) (13:30)
Import Price Index (GER) (07:00)
Industrial Confidence (EU) (10:00)
Initial Jobless Claims (US) (13:30)
Unemployment Rate (EU) (10:00)
Unemployment Rate (GER) (08:55)
Q4
Royal Dutch Shell 'A', Royal Dutch Shell 'B', Samsung Electronics Co Ltd (ATT) GDR (Reg S), Unilever
FINALS
Samsung Electronics Co Ltd (ATT) GDR (Reg S), Unilever
SPECIAL EX-DIVIDEND DATE
Hollywood Bowl Group
AGMS
Avon Rubber, Hollywood Bowl Group, Inspirit Energy Holdings, Schroder Asia Pacific Fund, Unicorn AIM VCT
TRADING ANNOUNCEMENTS
Evraz, Fuller Smith & Turner
UK ECONOMIC ANNOUNCEMENTS
BoE Interest Rate Decision (12:00)
Consumer Credit (09:30)
M4 Money Supply (09:30)
Mortgage Approvals (09:30)
FINAL DIVIDEND PAYMENT DATE
Up Global Sourcing Holdings , WH Smith
FINAL EX-DIVIDEND DATE
Chrysalis VCT, Hollywood Bowl Group, Renew Holdings, Stock Spirits Group , Sureserve Group, Tracsis, Victrex plc
Friday January 31
INTERIMS
Hargreaves Lansdown
INTERIM DIVIDEND PAYMENT DATE
Aberdeen New Dawn Investment Trust, BMO Global Smaller Companies, Burberry Group, Experian, International Biotech Trust, Iomart Group
QUARTERLY PAYMENT DATE
BMO Commercial Property Trust Limited, BMO Private Equity Trust, Middlefield Canadian Income PCC, Value and Income Trust
INTERNATIONAL ECONOMIC ANNOUNCEMENTS
Chicago PMI (US) (14:45)
GDP (Preliminary) (EU) (10:00)
Personal Consumption Expenditures (US) (13:30)
Personal Income (US) (13:30)
Personal Spending (US) (13:30)
U. of Michigan Confidence (US) (15:00)
FINALS
Premier Veterinary Group
AGMS
Britvic, C4X Discovery Holdings , Henderson European Focus Trust, Infrastrata, Regency Mines, Shaftesbury
TRADING ANNOUNCEMENTS
SSE
UK ECONOMIC ANNOUNCEMENTS
BRC Shop Price Index (00:01)
GFK Consumer Confidence (00:01)
FINAL DIVIDEND PAYMENT DATE
AJ Bell, Baillie Gifford European Growth Trust , BP 8% Cum 1st Prf, BP 9% 2nd Prf, Character Group, DotDigital Group, Focusrite, Lowland Investment Co, Topps Tiles