Directors dealings: Abcam's top ranks buy-in after Trump sinks shares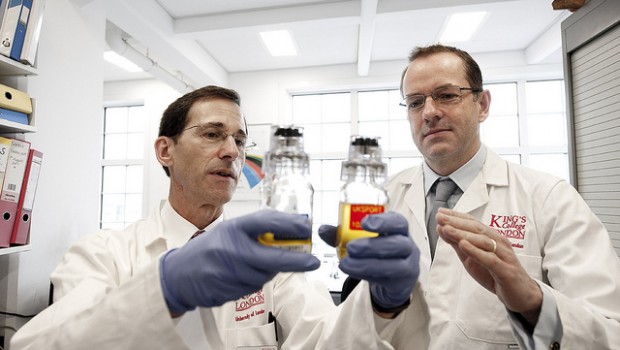 Abcam's top ranks bought into the company in the days following a report of deep cuts to come at one of the world´s top medical research centres, which sent the shares reeling lower.
Boss Alan Hirzel and Gavin Wood, the company's finance chief, picked up £50,340 and £48,999-worth of stock, respectively, on 17 March, the company said in a statement.
They were followed in quick succession by chairman Murray Hennessy who bought another £50,164.45-worth on 20 March. Mara Aspinall, one of the company's non-executive directors pitched in with another £20,117.65.
On 15 March, The Washington Post reported that the Trump Administration intended to slash the annual budget for the National Institutes of Health in Bethesda, Maryland by $6.0bn, a 20% reduction.
That sent shares in the supplier of research tools for the life sciences industry reeling towards technical support at their 200-day moving average.
"This is an enormous cut which would be by far the biggest cut in US biomedical R&D funding in history. At the moment, we are very sceptical whether this will ever be able to be implemented as it will likely meet with significant political opposition, even within the Republican party which has recently been supportive of increased basic science spending. However, this development potentially signals a change in the direction of travel on US biomedical research spending," analysts at Numis said in a report sent to clients the following day.
Should the cuts finally come through, they might be expected to impact negatively on Abcam beginning from the fiscal year 2018 ending in June, knocking a few percentage points of growth forecasts for the firm, the same broker said.
Shares in Abcam ended the Tuesday session 4.84% lower at 806.00p.
Top Director Buys
Kingspan Group (KGP)
Director name: Murtagh,Eugene
Amount purchased: 1,000,000 @ € 30.00
Value: € 30,000,000.00

Abcam (ABC)
Director name: Hirzel,Alan Thomas
Amount purchased: 6,000 @ 839.00p
Value: £50,340.00

Abcam (ABC)
Director name: Hennessy,Murray
Amount purchased: 5,922 @ 847.09p
Value: £50,164.45

Abcam (ABC)
Director name: Wood,Gavin
Amount purchased: 5,815 @ 842.63p
Value: £48,998.93

Bacanora Minerals Ltd Npv (di) (BCN)
Director name: Strauss, Jamie
Amount purchased: 27,000 @ 79.00p
Value: £21,330.00

Zinc Media Group (ZIN)
Director name: Galan,David
Amount purchased: 500,000 @ 1.05p
Value: £5,245.00

Severfield (SFR)
Director name: Lawson,Ian
Amount purchased: 155 @ 80.74p
Value: £125.15

Severfield (SFR)
Director name: Sanderson,Mark
Amount purchased: 154 @ 80.74p
Value: £124.34

Severfield (SFR)
Director name: Dunsmore,Alan
Amount purchased: 154 @ 80.74p
Value: £124.34

Severfield (SFR)
Director name: Cochrane,Ian
Amount purchased: 154 @ 80.74p
Value: £124.34

Aberdeen Private Equity Fund Ltd. Sterling Part Shares (APEF)
Director name: Hebson,Philip
Amount purchased: 95 @ 121.00p
Value: £114.95


Top Director Sells
Pendragon (PDG)
Director name: Casha,MS
Amount sold: 683,341 @ 34.21p
Value: £233,770.95

Pendragon (PDG)
Director name: Holden ,Tim
Amount sold: 541,854 @ 34.21p
Value: £185,368.25