Director dealings: Workspace chairman makes share purchase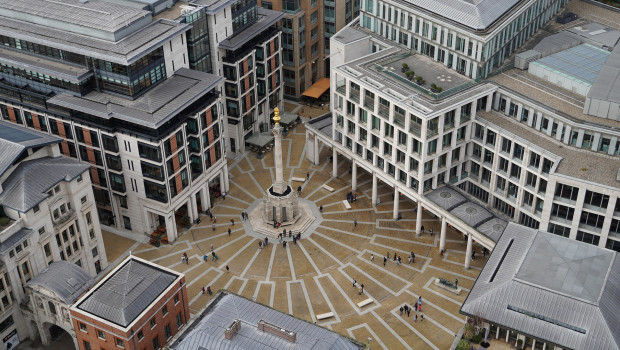 Workspace revealed on Thursday that chairman Stephen Hubbard had acquired 8,350 ordinary shares in the FTSE 250-listed office space provider.
Hubbard, who took over as chairman in late January, purchased the shares on Wednesday at an average price of 591.43p each, for a total value of £49,384.70.
Workspace said in July that customer demand had improved in the first quarter but that activity remains well below pre-Covid levels.
The company also said that enquiries in June rose to 765 from 272 in April. However, average monthly enquiries in the first quarter were 506 versus 1,060 in the same period a year ago, while monthly average lettings dropped to 43 from 121.
Cash collection of rent due for the first quarter is now at 75%, net of rent reductions and deferrals and the 50% rent reduction offered to business centre customers ended at the end of June.
As of 1645 BST, Workspace shares were down 0.84% at 590p.
Top Director Buys
British Land Company (BLND)
Director name: Carter,Simon
Amount purchased: 19,452 @ 380.61p
Value: £74,036.26

British Land Company (BLND)
Director name: Grigg,Chris
Amount purchased: 16,664 @ 380.61p
Value: £63,424.85

Workspace Group (WKP)
Director name: Hubbard,Stephen
Amount purchased: 8,350 @ 591.43p
Value: £49,384.70

British American Tobacco (BATS)
Director name: Fowden,Jeremy
Amount purchased: 1,300 @ 3,326.50p
Value: £43,244.50

British Land Company (BLND)
Director name: Carter,Simon
Amount purchased: 9,726 @ 380.61p
Value: £37,018.13

Smiths Group (SMIN)
Director name: Tata ,Noel Naval
Amount purchased: 2,000 @ 1,419.66p
Value: £28,393.20

British American Tobacco (BATS)
Director name: Fowden,Jeremy
Amount purchased: 700 @ $33.26
Value: $19,201.37

Tyman (TYMN)
Director name: Ashton,Jason
Amount purchased: 8,341 @ 178.81p
Value: £14,914.85

Ariana Resources (AAU)
Director name: Sener,Kerim
Amount purchased: 238,439 @ 5.50p
Value: £13,114.14

Burberry Group (BRBY)
Director name: Key,Matthew
Amount purchased: 871 @ 1,309.50p
Value: £11,405.75

Keller Group (KLR)
Director name: Bell,Paula
Amount purchased: 1,581 @ 628.24p
Value: £9,932.52

Burberry Group (BRBY)
Director name: Key,Matthew
Amount purchased: 497 @ 1,309.00p
Value: £6,505.73

Keller Group (KLR)
Director name: Raju ,Venu
Amount purchased: 1,000 @ 596.18p
Value: £5,961.80

Burberry Group (BRBY)
Director name: Key,Matthew
Amount purchased: 349 @ 1,308.50p
Value: £4,566.67

Burberry Group (BRBY)
Director name: Key,Matthew
Amount purchased: 316 @ 1,307.00p
Value: £4,130.12

Burberry Group (BRBY)
Director name: Key,Matthew
Amount purchased: 297 @ 1,307.50p
Value: £3,883.27

Gran Tierra Energy Inc. (cdi) (GTE)
Director name: Guidry,Gary
Amount purchased: 10,391 @ $0.29
Value: $2,484.86

Gran Tierra Energy Inc. (cdi) (GTE)
Director name: Ellson,Ryan
Amount purchased: 7,360 @ $0.29
Value: $1,760.04

Ariana Resources (AAU)
Director name: Sener,Kerim
Amount purchased: 11,561 @ 5.43p
Value: £627.76

Primary Health Properties (PHP)
Director name: Hyman,Harry Abraham
Amount purchased: 63 @ 153.90p
Value: £96.96

Primary Health Properties (PHP)
Director name: Hyman,Harry Abraham
Amount purchased: 63 @ 153.90p
Value: £96.96


Top Director Sells
Xp Power Ltd. (di) (XPP)
Director name: Peters,James E
Amount sold: 100,000 @ 4,271.61p
Value: £4,271,609.88

Xp Power Ltd. (di) (XPP)
Director name: Penny,Duncan
Amount sold: 100,000 @ 4,195.66p
Value: £4,195,660.02

Xp Power Ltd. (di) (XPP)
Director name: Peters,James E
Amount sold: 50,000 @ 4,300.00p
Value: £2,150,000.00

Vodafone Group (VOD)
Director name: Read,Nick
Amount sold: 398,212 @ 118.02p
Value: £469,958.64

Mitie Group (MTO)
Director name: Dickinson,Peter
Amount sold: 182,623 @ 32.80p
Value: £59,900.35

United Utilities Group (UU.)
Director name: Aspin,Phil
Amount sold: 4,017 @ 909.43p
Value: £36,531.80

Ariana Resources (AAU)
Director name: Sener,Kerim
Amount sold: 250,000 @ 5.43p
Value: £13,575.00