Director dealings: Spouse of Reckitt Benckiser director buys in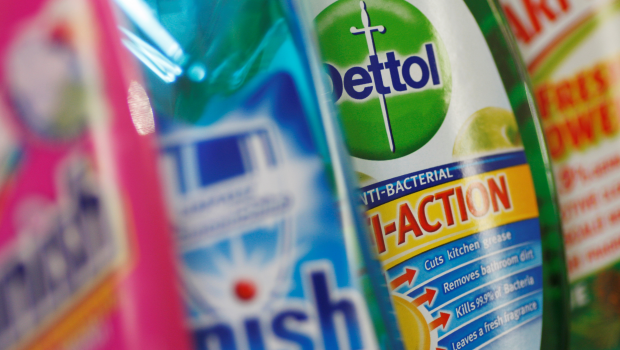 Reckitt Benckiser board member Warren Tucker's spouse picked up some shares in the consumer goods giant.
Katherine Victoria Tucker bought 1,000 shares in Reckitt on 25 October for a total transaction amount of 58,074.8 in two batches at 5,804.0p and 5,810.0p, respectively.
Just three days before, Reckitt had cut its full-year sales growth forecast following a "disappointing" third quarter, amid slowing demand for some of its products in the US and China.
On 15 October, analysts at Berenberg restarted their coverage of Reckitt with a 'buy' recommendation, setting a 12-month target price for the shares of 7,420.0p.
They highlighted what they believed would be two upcoming catalysts for the shares, the new chief executive officer, Laxman Narasimhan's strategy review on 27 February and the delivery of improved organic sales growth trends through 2020 with the rate of increase seen rising to 4.0%.
Top Director Buys
Cip Merchant Capital Limited Npv (CIP)
Director name: Sgarbi ,Carlo
Amount purchased: 200,000 @ 56.00p
Value: £112,000.00

Shearwater Group (SWG)
Director name: Southwell,Robin S
Amount purchased: 42,500 @ 228.33p
Value: £97,040.25

Supermarket Income Reit (SUPR)
Director name: Hewson,Andrew Nicholas
Amount purchased: 80,000 @ 103.50p
Value: £82,800.00

Reckitt Benckiser Group (RB.)
Director name: Tucker,Warren
Amount purchased: 580 @ 5,810.00p
Value: £33,698.00

Enquest (ENQ)
Director name: Bseisu,Amjad
Amount purchased: 145,039 @ 17.60p
Value: £25,526.86

Reckitt Benckiser Group (RB.)
Director name: Tucker,Warren
Amount purchased: 420 @ 5,804.00p
Value: £24,376.80

Minds + Machines Group Limited (di) (MMX)
Director name: Turcan,Henry
Amount purchased: 250,000 @ 6.00p
Value: £15,000.00

Uk Mortgages Limited (UKML)
Director name: Waldron,Christopher
Amount purchased: 20,000 @ 66.00p
Value: £13,200.00

Flowtech Fluidpower (FLO)
Director name: Wilson,Bill
Amount purchased: 10,000 @ 113.70p
Value: £11,370.00

Petrofac Ltd. (PFC)
Director name: Cochran,Alastair
Amount purchased: 1,665 @ 412.00p
Value: £6,859.80

Tr European Growth Trust (TRG)
Director name: Mettenheimer,Alexander
Amount purchased: 600 @ 850.00p
Value: £5,100.00


Top Director Sells
Bidstack Group (BIDS)
Director name: Draper,James
Amount sold: 1,500,000 @ 20.00p
Value: £300,000.00

Bidstack Group (BIDS)
Director name: Petruzzelli,Francesco
Amount sold: 1,500,000 @ 20.00p
Value: £300,000.00

Tremor International Ltd (di) (TRMR)
Director name: Carmi ,Yaniv
Amount sold: 75,000 @ 150.00p
Value: £112,500.00

Supermarket Income Reit (SUPR)
Director name: Hewson,Andrew Nicholas
Amount sold: 80,000 @ 103.00p
Value: £82,400.00