Director dealings: Spouse of Marshalls CEO disposes of shares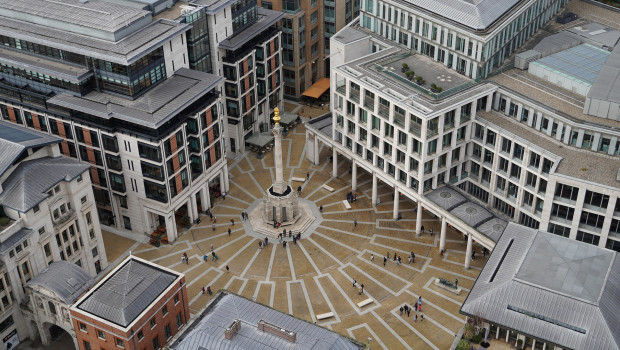 Marshalls revealed on Friday that chief executive Gillian Coffey's spouse Martin had disposed of 118,498 ordinary shares in the FTSE 250-listed block and concrete paving firm.
Coffey's husband sold the shares at an average price of 679p each, for a total value of £804,601.42.
Last Thursday, the landscape products specialist posted a rise in first-half profit and revenue as it said it was confident of "at least achieving" its expectations for the year.
In the six months to the end of June, pre-tax profit increased 14% to £37.1m on revenue of £280.1m, up 15% on the first half of last year.
The interim dividend was boosted by 18% to 4.70p a share and operating margins ticked up to 13.9% from 13.7%.
As of 1530 BST, Marshalls shares had picked up 2.12% to 697.50p.
Top Director Buys
Capital & Counties Properties (CAPC)
Director name: Hawksworth,Ian
Amount purchased: 50,321 @ 197.73p
Value: £99,501.22

Capital & Counties Properties (CAPC)
Director name: Hawksworth,Ian
Amount purchased: 9,029 @ 198.35p
Value: £17,908.69

Capital & Counties Properties (CAPC)
Director name: Hawksworth,Ian
Amount purchased: 9,049 @ 197.90p
Value: £17,907.69

Carr's Group (CARR)
Director name: Wood ,Ian
Amount purchased: 10,000 @ 130.90p
Value: £13,090.00

Condor Gold (CNR)
Director name: Mellon ,James(Jim)
Amount purchased: 50,000 @ 23.00p
Value: £11,500.00

Minds + Machines Group Limited (di) (MMX)
Director name: Turcan,Henry
Amount purchased: 125,000 @ 5.80p
Value: £7,250.00

Norman Broadbent (NBB)
Director name: Brennan,Mike
Amount purchased: 166,666 @ 3.00p
Value: £4,999.98

Norman Broadbent (NBB)
Director name: Stephens,Brian
Amount purchased: 166,666 @ 3.00p
Value: £4,999.98

Oxford Biomedica (OXB)
Director name: Tallarigo ,Lorenzo
Amount purchased: 427 @ 626.00p
Value: £2,673.02

Norman Broadbent (NBB)
Director name: Gerrand,William
Amount purchased: 66,667 @ 3.00p
Value: £2,000.01

Norman Broadbent (NBB)
Director name: McAnena,Fiona
Amount purchased: 33,333 @ 3.00p
Value: £999.99
Top Director Sells
Marshalls (MSLH)
Director name: Coffey,Martyn
Amount sold: 118,498 @ 679.00p
Value: £804,601.42

Capital & Counties Properties (CAPC)
Director name: Hawksworth,Ian
Amount sold: 68,399 @ 197.22p
Value: £134,895.34