Director dealings: Spouse of BAE chairman makes share purchase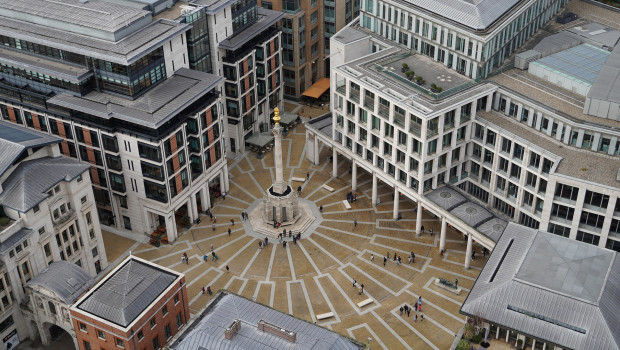 BAE Systems revealed on Monday that chairman Roger Carr's wife Stephanie had acquired 40,546 ordinary shares in the FTSE 100-listed arms maker.
Stephanie Carr, the spouse of the man who was named BAE's chairman back in October 2013, bought the shares on Friday at an average price of 493.26p each, for a total value of £199,997.20.
Last Thursday, BAE said full-year profits would be slightly lower due to the coronavirus pandemic, but expected a good second half as it reinstated dividend payments.
The company said annual earnings per share would be a mid-single-digit percentage lower than last year's result of 45.8 pence and also reinstated a 13.8p-a-share £460m payout deferred from April and declared an interim dividend of 9.4p a share.
As of 1630 BST, BAE shares were down 0.29% at 488.80p.
Top Director Buys
Banco Santander S.a. (BNC)
Director name: Botin,Ana Patricia
Amount purchased: 300,000 @ 1.83
Value: 494,594.61

Bae Systems (BA.)
Director name: Carr,Roger
Amount purchased: 40,546 @ 493.26p
Value: £199,997.20

Barclays (BARC)
Director name: Gilvary,Brian
Amount purchased: 97,309 @ 102.26p
Value: £99,508.19

Inchcape (INCH)
Director name: Stein,Nigel
Amount purchased: 20,000 @ 425.60p
Value: £85,120.00

Assura (AGR)
Director name: Davies,Jonathan
Amount purchased: 63,360 @ 78.91p
Value: £49,997.38

Inchcape (INCH)
Director name: Tait,Duncan
Amount purchased: 11,502 @ 432.45p
Value: £49,740.63

Barclays (BARC)
Director name: El-Erian,Mohamed A
Amount purchased: 29,390 @ 103.10p
Value: £30,301.09

Barclays (BARC)
Director name: Higgins,Nigel
Amount purchased: 25,535 @ 103.10p
Value: £26,326.59

Rsa Insurance Group (RSA)
Director name: Bousfield,Clare
Amount purchased: 5,732 @ 433.70p
Value: £24,859.64

Fuller Smith & Turner (FSTA)
Director name: Councell ,Adam
Amount purchased: 3,550 @ 558.06p
Value: £19,811.14

Fuller Smith & Turner (FSTA)
Director name: Councell ,Adam
Amount purchased: 3,550 @ 558.06p
Value: £19,811.14

Barclays (BARC)
Director name: Fitzpatrick,Dawn
Amount purchased: 14,380 @ 103.10p
Value: £14,825.78

Smiths Group (SMIN)
Director name: Buckley,George
Amount purchased: 919 @ 1,360.50p
Value: £12,502.99

Barclays (BARC)
Director name: Schueneman,Diane
Amount purchased: 11,561 @ 103.10p
Value: £11,919.39

Barclays (BARC)
Director name: Gilvary,Brian
Amount purchased: 9,777 @ 103.10p
Value: £10,080.09

Hardide (HDD)
Director name: Goddard,Robert
Amount purchased: 37,000 @ 27.00p
Value: £9,990.00

Barclays (BARC)
Director name: Citrino,Mary Anne
Amount purchased: 8,669 @ 103.10p
Value: £8,937.74

Barclays (BARC)
Director name: Francis,Mary
Amount purchased: 7,945 @ 103.10p
Value: £8,191.30

Barclays (BARC)
Director name: Cheshire,Ian
Amount purchased: 7,656 @ 103.10p
Value: £7,893.34

Barclays (BARC)
Director name: Breedon,Tim J
Amount purchased: 7,656 @ 103.10p
Value: £7,893.34

Barclays (BARC)
Director name: Ashley,Michael
Amount purchased: 7,656 @ 103.10p
Value: £7,893.34

Barclays (BARC)
Director name: Gillies,Crawford S
Amount purchased: 7,511 @ 103.10p
Value: £7,743.84

Hardide (HDD)
Director name: Kirkham,Philip
Amount purchased: 20,000 @ 27.00p
Value: £5,400.00

Inchcape (INCH)
Director name: Vestring,Till
Amount purchased: 679 @ 430.56p
Value: £2,923.50

Inchcape (INCH)
Director name: Langston,John
Amount purchased: 466 @ 430.56p
Value: £2,006.41

Great Portland Estates (GPOR)
Director name: Sanderson,Nick
Amount purchased: 26 @ 589.62p
Value: £153.30

Great Portland Estates (GPOR)
Director name: Courtauld,Toby
Amount purchased: 26 @ 589.62p
Value: £153.30


Top Director Sells