Director dealings: Schroders CFO offloads shares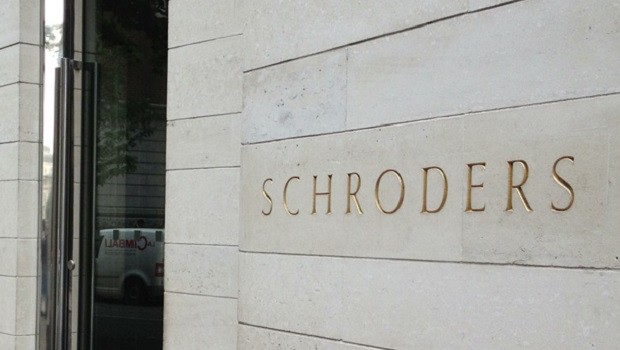 Schroders chief financial officer Richard Keers disposed of 24,181 ordinary shares in the FTSE 100-listed global investment manager on Thursday.
Keers, who joined the group from PriceWaterhouseCoopers back in May 2013, sold the shares at an average price of 3,178.10p each, for a total transaction value of £768,496.
The CFO had been awarded the shares as part of the firm's equity compensation plan on Wednesday.
Schroders reported a drop in assets under management and full-year profits back in March after a bruising year but still managed to beat estimates on both metrics, allowing management to bump dividends.
Chief executive Peter Harrison said he was "delighted" with the firm's £85bn in net inflows and highlighted the "strong" demand from its wealth management clients.
As of 1620 BST, Schroders shares had inches ahead 0.44% to 3,198p.
Top Director Buys
Capital & Counties Properties (CAPC)
Director name: Mr Jonathan S Lane
Amount purchased: 23,650 @ 241.34p
Value: £57,077
F&C Investment Trust (FCIT)
Director name: Mr Francesca Ecsery
Amount purchased: 7,000 @ 706.54p
Value: £49,458
Discoverie Group (DSCV)
Director name: Mr Bruce Thompson
Amount purchased: 8,000 @ 400.00p
Value: £32,000
EMIS Group (EMIS)
Director name: Mr Andy Thorburn
Amount purchased: 2,652 @ 1,131.20p
Value: £29,999
Henry Boot (BOOT)
Director name: Mr John T Sutcliffe
Amount purchased: 7,735 @ 273.50p
Value: £21,155
Capital & Counties Properties (CAPC)
Director name: Mr Jonathan S Lane
Amount purchased: 8,650 @ 241.34p
Value: £20,876
Capital & Counties Properties (CAPC)
Director name: Mr Jonathan S Lane
Amount purchased: 8,650 @ 241.34p
Value: £20,876
Henry Boot (BOOT)
Director name: Mr John T Sutcliffe
Amount purchased: 7,625 @ 273.50p
Value: £20,854
EMIS Group (EMIS)
Director name: Mr Andy Thorburn
Amount purchased: 1,813 @ 1,130.40p
Value: £20,494
Discoverie Group (DSCV)
Director name: Mr Simon Gibbins
Amount purchased: 5,000 @ 400.00p
Value: £20,000
Top Director Sells
Schroders (SDR)
Director name: Mr Richard Keers
Amount sold: 24,181 @ 3,178.10p
Value: £768,496
Fisher (James) & Sons (FSJ)
Director name: Mr Stuart Kilpatrick
Amount sold: 4,400 @ 1,999.14p
Value: £87,962
Henry Boot (BOOT)
Director name: Mr John T Sutcliffe
Amount sold: 15,360 @ 273.00p
Value: £41,933