Director dealings: Rio Tinto CEO invests a day after disappointing results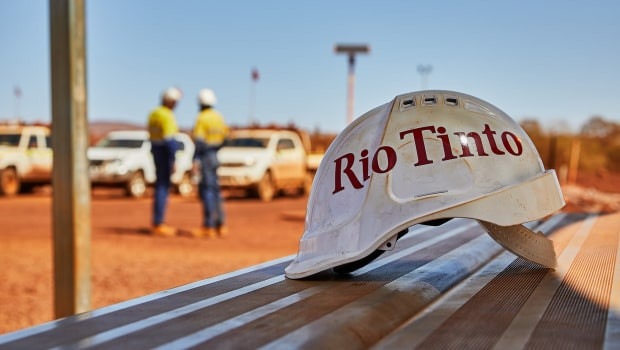 Rio Tinto was at the top of the list of director buys on Friday, after its chief executive officer bought almost half a million pounds worth of shares.
The Anglo-Australian mining giant said Jakob Stausholm purchased 10,000 shares on Thursday in a market transaction on the London Stock Exchange.
Stausholm paid 4,856.87p for each share, spending a total of £485,686.91 in the process.
The purchase was made a day after the FTSE 100 company slashed its dividend, following a 29% tumble in first-half profit.
It cited weaker iron ore prices, labour shortages and higher costs for the fall, which sent its shares southwards after the results announcement on Wednesday.
Reporting by Josh White at Sharecast.com.
Top Director Buys
Rio Tinto (RIO)
Director name: Stausholm,Jakob
Amount purchased: 10,000 @ 4,856.87p
Value: £485,686.91

Everyman Media Group (EMAN)
Director name: Rosehill,Michael
Amount purchased: 200,000 @ 110.50p
Value: £221,000.00

Jupiter Fund Management (JUP)
Director name: Yates,Roger
Amount purchased: 100,000 @ 125.24p
Value: £125,240.00

Haleon (HLN)
Director name: Mahlan,Deirdre
Amount purchased: 38,484 @ $3.51
Value: $111,386.86

Jupiter Fund Management (JUP)
Director name: Pease,Nichola
Amount purchased: 40,000 @ 125.98p
Value: £50,392.00

Insig Ai (INSG)
Director name: Bernstein,Richard
Amount purchased: 115,000 @ 28.00p
Value: £32,200.00

Haleon (HLN)
Director name: Aymerich,Marie-Anne
Amount purchased: 8,334 @ 298.80p
Value: £24,901.99

Jupiter Fund Management (JUP)
Director name: Murray,Dale Jane
Amount purchased: 20,090 @ 123.81p
Value: £24,873.43

Rolls-royce Holdings (RR.)
Director name: East,Warren
Amount purchased: 27,672 @ 87.37p
Value: £24,177.03

Hotel Chocolat Group (HOTC)
Director name: Gerrie,Andrew
Amount purchased: 14,814 @ 135.00p
Value: £19,998.90

Metro Bank (MTRO)
Director name: Torpey,Michael
Amount purchased: 20,000 @ 80.62p
Value: £16,123.98

Foxtons Group (FOXT)
Director name: Hough,Chris
Amount purchased: 30,000 @ 42.48p
Value: £12,743.25

Rolls-royce Holdings (RR.)
Director name: Kakoullis ,Panos
Amount purchased: 13,295 @ 87.37p
Value: £11,615.84

Foxtons Group (FOXT)
Director name: Rollings,Peter
Amount purchased: 20,149 @ 44.38p
Value: £8,942.97

Great Southern Copper (GSCU)
Director name: Bond,Charles Richard William
Amount purchased: 185,310 @ 4.22p
Value: £7,822.12

Great Southern Copper (GSCU)
Director name: Bond,Charles Richard William
Amount purchased: 151,055 @ 4.10p
Value: £6,196.43

Lifesafe Holdings (LIFS)
Director name: James Stilwell,Michael
Amount purchased: 9,300 @ 53.00p
Value: £4,929.00

Haleon (HLN)
Director name: Mahlan,Deirdre
Amount purchased: 1,516 @ $3.51
Value: $4,384.74

Gensource Potash Corporation Npv (di) (GSP)
Director name: O'Shea,Amy Lynn
Amount purchased: 10,000 @ $0.19
Value: $1,566.75

Great Portland Estates (GPE)
Director name: Courtauld,Toby
Amount purchased: 25 @ 605.98p
Value: £151.50

Great Portland Estates (GPE)
Director name: Nicholson,Dan
Amount purchased: 25 @ 605.98p
Value: £151.50

Great Portland Estates (GPE)
Director name: Sanderson,Nick
Amount purchased: 25 @ 605.98p
Value: £151.50


Top Director Sells
Gsk (GSK)
Director name: Walmsley,Emma
Amount sold: 148,525 @ 1,763.41p
Value: £2,619,104.70

Avi Global Trust (AGT)
Director name: Noble,Susan Margaret
Amount sold: 13,175 @ 185.36p
Value: £24,421.21

Card Factory (CARD)
Director name: Lee,Kristian
Amount sold: 6,704 @ 52.03p
Value: £3,488.18