Director dealings: Photo-me CEO ups stake via Tibergest interest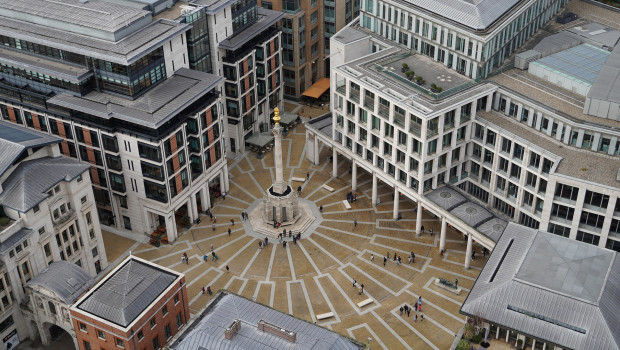 Photo-me International revealed on Friday that Tibergest, an entity closely associated with chief executive Serge Crasnianski, had acquired 3.56m ordinary shares in the London-listed Photo Booth operator.
Crasnianski, who was reappointed to the role of chief executive in 2010, purchased the shares via his interest in Tibergest on Wednesday at an average price of 53.0p each, for a total value of £1.89m.
Back in October 2019, Photo-me said it had continued to make strategic and operational progress in line with its strategy to diversify its range of products and services.
As of 1635 BST, Photo-me shares were up1.13% at 53.60p.
Top Director Buys
Photo-me International (PHTM)
Director name: Crasnianski,Serge
Amount purchased: 3,568,448 @ 53.00p
Value: £1,891,277.34

Ninety One (N91)
Director name: McFarland,Kim Mary
Amount purchased: 124,996 @ 208.72p
Value: £260,890.15

Ninety One (N91)
Director name: Toit,Hendrik du
Amount purchased: 124,996 @ 208.72p
Value: £260,890.15

Chaarat Gold Holdings Ltd. (di) (CGH)
Director name: Andersson,Martin
Amount purchased: 144,134 @ 37.31p
Value: £53,776.69

Abcam (ABC)
Director name: Allen,Peter
Amount purchased: 3,602 @ 1,253.00p
Value: £45,133.06

Chaarat Gold Holdings Ltd. (di) (CGH)
Director name: Andersson,Martin
Amount purchased: 100,000 @ 38.20p
Value: £38,201.00

Wandisco (WAND)
Director name: Monaghan,Karl Upton
Amount purchased: 7,000 @ 405.00p
Value: £28,350.00

Wandisco (WAND)
Director name: Richards,David James
Amount purchased: 6,000 @ 405.00p
Value: £24,300.00

Wandisco (WAND)
Director name: Aahlad ,Yeturu
Amount purchased: 6,000 @ 405.00p
Value: £24,300.00

Abcam (ABC)
Director name: Aspinall,Mara G
Amount purchased: 1,623 @ 1,253.00p
Value: £20,336.19

Wandisco (WAND)
Director name: Corey,Bob L
Amount purchased: 5,000 @ 405.00p
Value: £20,250.00

Chaarat Gold Holdings Ltd. (di) (CGH)
Director name: Andersson,Martin
Amount purchased: 50,000 @ 37.18p
Value: £18,592.25

Greencore Group (GNC)
Director name: Weir,Helen A
Amount purchased: 14,000 @ 109.25p
Value: £15,294.44

Abcam (ABC)
Director name: Patten,Louise
Amount purchased: 1,126 @ 1,253.00p
Value: £14,108.78

Abcam (ABC)
Director name: Kerr,Giles
Amount purchased: 1,025 @ 1,253.00p
Value: £12,843.25

Abcam (ABC)
Director name: Milner,Jonathan Simon
Amount purchased: 953 @ 1,253.00p
Value: £11,941.09

Chaarat Gold Holdings Ltd. (di) (CGH)
Director name: Andersson,Martin
Amount purchased: 30,000 @ 37.00p
Value: £11,100.00

Dp Aircraft I Limited Pref (DPA)
Director name: Bridel,Jonathan (Jon)
Amount purchased: 82,500 @ $0.08
Value: $6,600.00

Wood Group (john) (WG.)
Director name: Watson,Robin
Amount purchased: 2,832 @ 232.00p
Value: £6,570.24

Bmo Private Equity Trust (BPET)
Director name: Conrad ,Swantje
Amount purchased: 1,909 @ 257.00p
Value: £4,906.13

Coca-cola Hbc Ag (cdi) (CCH)
Director name: Bogdanovic,Zoran
Amount purchased: 200 @ 2,087.94p
Value: £4,174.68

Wood Group (john) (WG.)
Director name: Kemp,David
Amount purchased: 1,794 @ 232.00p
Value: £4,162.08

Gran Tierra Energy Inc. (cdi) (GTE)
Director name: Guidry,Gary
Amount purchased: 13,116 @ $0.23
Value: $2,487.57

Gran Tierra Energy Inc. (cdi) (GTE)
Director name: Ellson,Ryan
Amount purchased: 9,290 @ $0.23
Value: $1,761.94

Ocado Group (OCDO)
Director name: Richardson,Mark
Amount purchased: 7 @ 2,355.00p
Value: £164.85

Ocado Group (OCDO)
Director name: Jensen,Luke
Amount purchased: 7 @ 2,355.00p
Value: £164.85

Ocado Group (OCDO)
Director name: Abrams,Neill
Amount purchased: 7 @ 2,355.00p
Value: £164.85

Ocado Group (OCDO)
Director name: Steiner,Tim
Amount purchased: 7 @ 2,355.00p
Value: £164.85

Ocado Group (OCDO)
Director name: Tatton-Brown,Duncan
Amount purchased: 6 @ 2,355.00p
Value: £141.30


Top Director Sells
Gaming Realms (GMR)
Director name: Ryan,Jim
Amount sold: 581,044 @ 22.57p
Value: £131,141.63

Dechra Pharmaceuticals (DPH)
Director name: Heslop,Julian
Amount sold: 4,000 @ 3,248.26p
Value: £129,930.40

Gaming Realms (GMR)
Director name: Ryan,Jim
Amount sold: 343,926 @ 22.37p
Value: £76,936.25

Electrocomponents (ECM)
Director name: Guerra,Karen
Amount sold: 4,187 @ 716.25p
Value: £29,989.39

Tharisa (di) (THS)
Director name: Jones,Michael
Amount sold: 27,208 @ R16.47
Value: R20,000.37

Gaming Realms (GMR)
Director name: Ryan,Jim
Amount sold: 75,030 @ 22.94p
Value: £17,211.88

Electrocomponents (ECM)
Director name: Guerra,Karen
Amount sold: 2,168 @ 716.25p
Value: £15,528.30

Electrocomponents (ECM)
Director name: Guerra,Karen
Amount sold: 1,368 @ 716.00p
Value: £9,794.88

Electrocomponents (ECM)
Director name: Guerra,Karen
Amount sold: 1,046 @ 716.25p
Value: £7,491.97

Electrocomponents (ECM)
Director name: Guerra,Karen
Amount sold: 901 @ 716.25p
Value: £6,453.41

Electrocomponents (ECM)
Director name: Guerra,Karen
Amount sold: 884 @ 716.25p
Value: £6,331.65

Electrocomponents (ECM)
Director name: Guerra,Karen
Amount sold: 872 @ 716.25p
Value: £6,245.70

Electrocomponents (ECM)
Director name: Guerra,Karen
Amount sold: 872 @ 716.25p
Value: £6,245.70

Electrocomponents (ECM)
Director name: Guerra,Karen
Amount sold: 872 @ 716.25p
Value: £6,245.70

Electrocomponents (ECM)
Director name: Guerra,Karen
Amount sold: 872 @ 716.00p
Value: £6,243.52

Tharisa (di) (THS)
Director name: Jones,Michael
Amount sold: 7,468 @ R16.47
Value: R5,489.66

Tharisa (di) (THS)
Director name: Jones,Michael
Amount sold: 7,366 @ R16.47
Value: R5,414.69

Electrocomponents (ECM)
Director name: Guerra,Karen
Amount sold: 695 @ 716.00p
Value: £4,976.20

Electrocomponents (ECM)
Director name: Guerra,Karen
Amount sold: 695 @ 716.00p
Value: £4,976.20

Electrocomponents (ECM)
Director name: Guerra,Karen
Amount sold: 695 @ 716.00p
Value: £4,976.20

Electrocomponents (ECM)
Director name: Guerra,Karen
Amount sold: 679 @ 716.25p
Value: £4,863.34

Electrocomponents (ECM)
Director name: Guerra,Karen
Amount sold: 550 @ 716.00p
Value: £3,938.00

Electrocomponents (ECM)
Director name: Guerra,Karen
Amount sold: 454 @ 716.25p
Value: £3,251.77

Electrocomponents (ECM)
Director name: Guerra,Karen
Amount sold: 454 @ 716.25p
Value: £3,251.77

Electrocomponents (ECM)
Director name: Guerra,Karen
Amount sold: 417 @ 716.00p
Value: £2,985.72

Electrocomponents (ECM)
Director name: Guerra,Karen
Amount sold: 414 @ 715.50p
Value: £2,962.17

Electrocomponents (ECM)
Director name: Guerra,Karen
Amount sold: 350 @ 715.50p
Value: £2,504.25

Electrocomponents (ECM)
Director name: Guerra,Karen
Amount sold: 350 @ 715.50p
Value: £2,504.25

Electrocomponents (ECM)
Director name: Guerra,Karen
Amount sold: 350 @ 715.50p
Value: £2,504.25

Electrocomponents (ECM)
Director name: Guerra,Karen
Amount sold: 350 @ 715.50p
Value: £2,504.25

Electrocomponents (ECM)
Director name: Guerra,Karen
Amount sold: 350 @ 715.50p
Value: £2,504.25

Electrocomponents (ECM)
Director name: Guerra,Karen
Amount sold: 350 @ 715.50p
Value: £2,504.25

Electrocomponents (ECM)
Director name: Guerra,Karen
Amount sold: 350 @ 715.50p
Value: £2,504.25

Electrocomponents (ECM)
Director name: Guerra,Karen
Amount sold: 350 @ 715.50p
Value: £2,504.25

Electrocomponents (ECM)
Director name: Guerra,Karen
Amount sold: 350 @ 715.50p
Value: £2,504.25

Electrocomponents (ECM)
Director name: Guerra,Karen
Amount sold: 350 @ 715.50p
Value: £2,504.25

Electrocomponents (ECM)
Director name: Guerra,Karen
Amount sold: 340 @ 715.50p
Value: £2,432.70

Electrocomponents (ECM)
Director name: Guerra,Karen
Amount sold: 262 @ 715.50p
Value: £1,874.61

Electrocomponents (ECM)
Director name: Guerra,Karen
Amount sold: 260 @ 716.00p
Value: £1,861.60

Electrocomponents (ECM)
Director name: Guerra,Karen
Amount sold: 224 @ 715.50p
Value: £1,602.72

Electrocomponents (ECM)
Director name: Guerra,Karen
Amount sold: 195 @ 716.00p
Value: £1,396.20

Electrocomponents (ECM)
Director name: Guerra,Karen
Amount sold: 195 @ 716.00p
Value: £1,396.20

Electrocomponents (ECM)
Director name: Guerra,Karen
Amount sold: 93 @ 715.50p
Value: £665.42

Electrocomponents (ECM)
Director name: Guerra,Karen
Amount sold: 55 @ 715.50p
Value: £393.53

Electrocomponents (ECM)
Director name: Guerra,Karen
Amount sold: 3 @ 715.50p
Value: £21.47

Electrocomponents (ECM)
Director name: Guerra,Karen
Amount sold: 2 @ 716.00p
Value: £14.32