Director dealings: Pantheon International director makes share purchase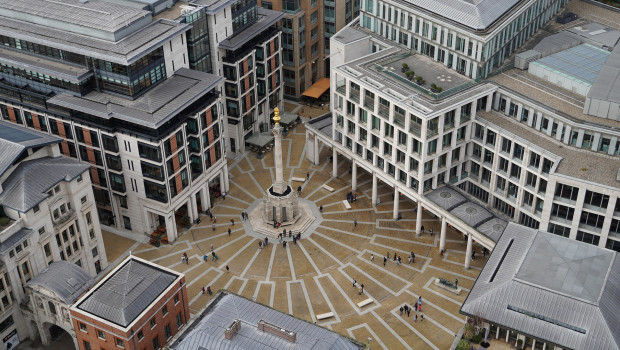 Pantheon International revealed on Tuesday that non-executive director Mary Sieghart had purchased 1,400 ordinary shares in the FTSE 250-listed private equity investor.
Sieghart, who joined Pantheon's board in August 2019, acquired the shares on Monday at an average price of 2,140.0p each, for a total value of £29,960.
Back in February, Pantheon said underlying assets generated returns of 5.2% in the first six months of its financial year, which, after the effect of foreign exchange movements, resulted in net asset value per share growth of 1.0% to 2,799.2p.
As of 1620 BST, Pantheon shares were untraded at 2,140.0p.
Top Director Buys
Pantheon International (PIN)
Director name: Sieghart,Mary Ann
Amount purchased: 1,400 @ 2,140.00p
Value: £29,960.00

(ELIX)
Director name: Ferguson,Ian James Anthony
Amount purchased: 4,500 @ 198.50p
Value: £8,932.50

Cloudcoco Group (CLCO)
Director name: Duckworth,Simon D'Olier
Amount purchased: 250,000 @ 1.15p
Value: £2,875.00

Cloudcoco Group (CLCO)
Director name: Duckworth,Simon D'Olier
Amount purchased: 250,000 @ 1.15p
Value: £2,875.00

F&c Investment Trust (FCIT)
Director name: Bone,Roger
Amount purchased: 144 @ 695.20p
Value: £1,001.09

F&c Investment Trust (FCIT)
Director name: Hewitt,Jeffrey
Amount purchased: 72 @ 695.20p
Value: £500.54

Mondi (MNDI)
Director name: King,Andrew
Amount purchased: 20 @ 1,482.50p
Value: £296.50

Prudential (PRU)
Director name: Wells,Mike
Amount purchased: 15 @ 1,220.50p
Value: £183.07

Prudential (PRU)
Director name: FitzPatrick,Mark
Amount purchased: 15 @ 1,220.50p
Value: £183.07

Oxford Instruments (OXIG)
Director name: Barkshire,Ian
Amount purchased: 11 @ 1,407.76p
Value: £154.85

Oxford Instruments (OXIG)
Director name: Hill,Gavin
Amount purchased: 11 @ 1,407.76p
Value: £154.85

Softcat (SCT)
Director name: Charlton,Graham
Amount purchased: 11 @ 1,378.00p
Value: £151.58

Judges Scientific (JDG)
Director name: Lavelle,Mark
Amount purchased: 3 @ 5,020.00p
Value: £150.60

Judges Scientific (JDG)
Director name: Ormsby,Bradley Leonard
Amount purchased: 3 @ 5,020.00p
Value: £150.60

Judges Scientific (JDG)
Director name: Cicurel,David
Amount purchased: 3 @ 5,020.00p
Value: £150.60

Qinetiq Group (QQ.)
Director name: Wadey ,Steve
Amount purchased: 48 @ 313.63p
Value: £150.54

Qinetiq Group (QQ.)
Director name: Smith,David
Amount purchased: 48 @ 313.63p
Value: £150.54

The Gym Group (GYM)
Director name: George,Mark
Amount purchased: 98 @ 152.80p
Value: £149.74

Easyjet (EZJ)
Director name: Findlay ,Andrew
Amount purchased: 25 @ 593.58p
Value: £148.40

Softcat (SCT)
Director name: Watt,Graeme
Amount purchased: 10 @ 1,378.00p
Value: £137.80

Unilever (ULVR)
Director name: Pitkethly,Graeme
Amount purchased: 3 @ 4,545.00p
Value: £136.35

Standard Life Aberdeen (SLA)
Director name: Skeoch,Keith
Amount purchased: 46 @ 269.50p
Value: £123.97

F&c Investment Trust (FCIT)
Director name: Knapp,Edward
Amount purchased: 14 @ 695.20p
Value: £97.33

(ELIX)
Director name: Ferguson,Ian James Anthony
Amount purchased: 30 @ 198.50p
Value: £59.55


Top Director Sells
Unilever (ULVR)
Director name: Pitkethly,Graeme
Amount sold: 46,000 @ 4,539.07p
Value: £2,087,972.43

Ceres Power Holdings (CWR)
Director name: Callaghan,Stephen James
Amount sold: 200,000 @ 507.95p
Value: £1,015,900.04

Liontrust Asset Management (LIO)
Director name: Ions,John Stephen
Amount sold: 27,763 @ 1,330.00p
Value: £369,247.91

Liontrust Asset Management (LIO)
Director name: Abrol,Vinay Kumar
Amount sold: 18,297 @ 1,330.00p
Value: £243,350.10

Unilever (ULVR)
Director name: Pitkethly,Graeme
Amount sold: 1,240 @ 4,539.21p
Value: £56,286.16

Joules Group (JOUL)
Director name: Dench,Marc Simon
Amount sold: 26,334 @ 92.95p
Value: £24,477.45

Vitec Group (VTC)
Director name: Bolton,Jon
Amount sold: 322 @ 650.00p
Value: £2,093.00