Director dealings: Metro Bank CEO collects over £2.5m in share sale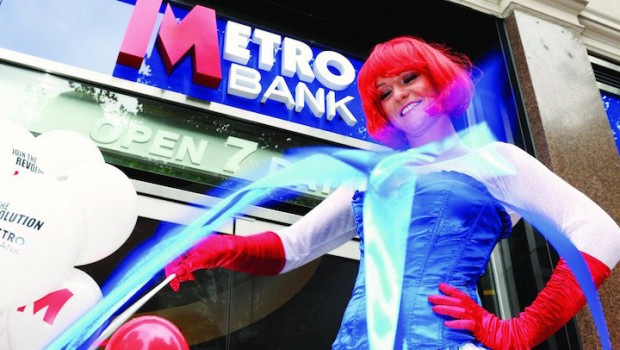 Metro Bank chief executive officer Craig Donaldson disposed of 63,000 ordinary shares in the challenger bank on Monday, collecting more than £2.5m in the process.
Donaldson, Metro's boss since 2010, sold his shares with a price tag of 4,016.64p each.
Metro Bank, apparently boosted by demand for safety deposit boxes, last month posted its first ever annual profit, as record lending to both commercial and residential mortgage customers boosted the group along.
Underlying pre-tax profits for the year ended 31 December 2017 come in at £20.8m, up from a loss of £11.7m in 2016.
Metro also returned record deposit growth of £3.7bn, a 47% increase year-on-year, and record lending growth of £3.8bn, a 64% rise on the previous year's figure.
"2017 has been a fantastic year for Metro Bank," Donaldson said on 21 February.
"We've reported our first full year of profitability, had continued exceptional growth in both deposits and lending, and have the privilege now of looking after over one million customer accounts," he said.
As of 1620 GMT, shares had dipped 0.95% to 3,980.00p.
Top Director Buys
Ecofin Global Utilities And Infrastructure Trust (EGL)
Director name: Negre,Martin
Amount purchased: 77,611 @ 115.00p
Value: £89,252.65

Capital Gearing Trust (CGT)
Director name: Matterson,Jean
Amount purchased: 2,000 @ 3,900.00p
Value: £78,000.00

Capital & Regional (CAL)
Director name: Scott-Barrett,Hugh
Amount purchased: 135,000 @ 53.70p
Value: £72,495.00

Barclays (BARC)
Director name: McFarlane,John
Amount purchased: 15,086 @ 211.30p
Value: £31,876.72

Ecofin Global Utilities And Infrastructure Trust (EGL)
Director name: Negre,Martin
Amount purchased: 25,000 @ 116.00p
Value: £29,000.00

Intertek Group (ITRK)
Director name: Reid,David E
Amount purchased: 325 @ 5,032.00p
Value: £16,354.00

Sig (SHI)
Director name: Allner,Andrew
Amount purchased: 10,940 @ 137.00p
Value: £14,987.80

Barclays (BARC)
Director name: Schueneman,Diane
Amount purchased: 6,702 @ 211.30p
Value: £14,161.33

Barclays (BARC)
Director name: Jeffery III,Reuben
Amount purchased: 6,582 @ 211.30p
Value: £13,907.77

Babcock International Group (BAB)
Director name: Margerie,Victoire de
Amount purchased: 2,000 @ 661.10p
Value: £13,222.00

Barclays (BARC)
Director name: Cheshire,Ian
Amount purchased: 4,786 @ 211.30p
Value: £10,112.82

Barclays (BARC)
Director name: Moyo,Dambisa
Amount purchased: 4,773 @ 211.30p
Value: £10,085.35

Barclays (BARC)
Director name: Grimstone,Gerry
Amount purchased: 4,592 @ 211.30p
Value: £9,702.90

Barclays (BARC)
Director name: Ashley,Michael
Amount purchased: 4,506 @ 211.30p
Value: £9,521.18

Barclays (BARC)
Director name: Gillies,Crawford S
Amount purchased: 4,485 @ 211.30p
Value: £9,476.80

Barclays (BARC)
Director name: Breedon,Tim J
Amount purchased: 4,359 @ 211.30p
Value: £9,210.57

Barclays (BARC)
Director name: Francis,Mary
Amount purchased: 4,262 @ 211.30p
Value: £9,005.61

Barclays (BARC)
Director name: Lester,Matthew
Amount purchased: 3,972 @ 211.30p
Value: £8,392.84

Diageo (DGE)
Director name: Ferrán,Javier
Amount purchased: 337 @ 2,455.00p
Value: £8,273.35

Intertek Group (ITRK)
Director name: Martin,Andrew
Amount purchased: 114 @ 5,032.00p
Value: £5,736.48

Intertek Group (ITRK)
Director name: Rider,Gill
Amount purchased: 114 @ 5,032.00p
Value: £5,736.48

Intertek Group (ITRK)
Director name: Bains,Gurnek
Amount purchased: 112 @ 5,032.00p
Value: £5,635.84

Intertek Group (ITRK)
Director name: Valette,Jean-Michel
Amount purchased: 112 @ 5,012.00p
Value: £5,613.44

Intertek Group (ITRK)
Director name: Allan,Graham
Amount purchased: 110 @ 5,032.00p
Value: £5,535.20

Intertek Group (ITRK)
Director name: Makin,Dame Louise
Amount purchased: 104 @ 5,032.00p
Value: £5,233.28

Intertek Group (ITRK)
Director name: Wilson,Lena
Amount purchased: 104 @ 5,032.00p
Value: £5,233.28

Barclays (BARC)
Director name: Turner,Mike
Amount purchased: 1,405 @ 211.30p
Value: £2,968.76

Foreign And Colonial Inv Trust (FRCL)
Director name: Bone,Roger
Amount purchased: 153 @ 650.72p
Value: £995.60

Temple Bar Inv Trust (TMPL)
Director name: Reeve,John
Amount purchased: 39 @ 1,254.00p
Value: £489.06

Temple Bar Inv Trust (TMPL)
Director name: Reeve,John
Amount purchased: 39 @ 1,253.92p
Value: £489.03

Scottish Mortgage Inv Trust (SMT)
Director name: Subacchi ,Paola
Amount purchased: 100 @ 469.80p
Value: £469.80

Diageo (DGE)
Director name: Mikells,Kathryn
Amount purchased: 9 @ 2,455.00p
Value: £220.95

Qinetiq Group (QQ.)
Director name: Wadey ,Steve
Amount purchased: 95 @ 210.97p
Value: £200.42

British American Tobacco (BATS)
Director name: Sethi,Naresh
Amount purchased: 4 @ 4,222.00p
Value: £168.88

British American Tobacco (BATS)
Director name: Abelman,Jerome
Amount purchased: 4 @ 4,222.00p
Value: £168.88

British American Tobacco (BATS)
Director name: Stevens,Ben
Amount purchased: 4 @ 4,222.00p
Value: £168.88

British American Tobacco (BATS)
Director name: Durante,Nicandro
Amount purchased: 4 @ 4,222.00p
Value: £168.88

British American Tobacco (BATS)
Director name: Marroco,Tadeu
Amount purchased: 3 @ 4,222.00p
Value: £126.66

British American Tobacco (BATS)
Director name: Vandermeulen,Johan
Amount purchased: 3 @ 4,222.00p
Value: £126.66

British American Tobacco (BATS)
Director name: Giordano,Giovanni
Amount purchased: 2 @ 4,222.00p
Value: £84.44


Top Director Sells
Metro Bank (MTRO)
Director name: Donaldson,Craig
Amount sold: 63,000 @ 4,016.64p
Value: £2,530,483.50

Schroders (non-voting) (SDRC)
Director name: Mallinckrodt,Philip
Amount sold: 42,599 @ 2,372.00p
Value: £1,010,448.25

Schroders (non-voting) (SDRC)
Director name: Mallinckrodt,Philip
Amount sold: 42,599 @ 2,372.00p
Value: £1,010,448.25

Helical (HLCL)
Director name: Slade,Michael
Amount sold: 158,903 @ 330.00p
Value: £524,379.89

Intertek Group (ITRK)
Director name: Leigh,Edward
Amount sold: 2,669 @ 5,001.00p
Value: £133,476.69

Capital & Regional (CAL)
Director name: Scott-Barrett,Hugh
Amount sold: 110,000 @ 53.50p
Value: £58,850.00

Numis Corporation (NUM)
Director name: Holloway,Andrew Mark
Amount sold: 4,544 @ 365.50p
Value: £16,608.32